Cork retains Purple Flag Award for 2020
The centre of the Irish city has won recognition for its rich arts and cultural scene, exceptional vibrancy and popular retail areas
R, 07. veebr. 2020, 18:30:00 +0200
Plamen Petrov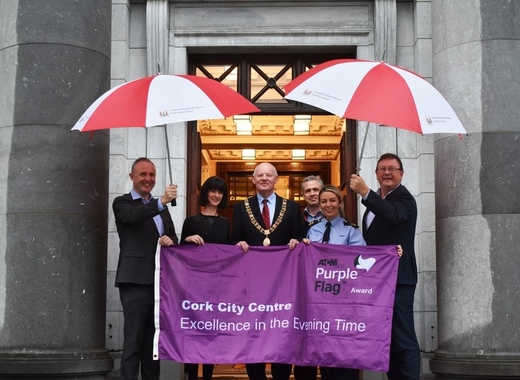 Allikas: Cork City Council
Cork has retained its prestigious Purple Flag award for 2020, which celebrates areas of excellence in night-time economy.
The international accreditation, awarded by the Association of Cities and Towns Management since 2012, requires renewal every two years. The accreditation process is similar to the Green Flag awarded for parks and the Blue Flag for beaches.
Last November the City Centre of Cork was subjected to independent reevaluation based on stringent criteria such as quality of the offering, ease of movement through the area and the level of working partnerships.
Cork excelled in its arts and cultural offering, exceptional vibrancy of nightlife and popular retail areas with big brands and passionate staff.
Approving the renewal of the award, the assessors stressed the popularity of the non-alcohol offer after dark, especially with young adults and teenagers.

"Late at night, there was clear evidence of civic pride and shared sense of purpose between team members, together with practical examples, such as door staff at different premises and the work of the Cork Street Pastors" [a multidenominational volunteer organisation who care for people socialising in Cork city centre on Saturday nights], assessors commented, quoted by the city council website.
The most culturally vibrant medium-sized city in Europe
Lord Mayor, Cllr. John Sheehan said on the occasion: "The award reaffirms that Cork is a destination not to be missed. Achieving the Purple Flag status for a third time is a credit to those who work tirelessly to make the area appealing for an evening out. The fact that the assessors were extremely impressed with our arts and culture offering reinforces the recent EU Monitor report which for the second time assessed Cork City to be the most culturally vibrant medium sized city in Europe."
Like the article? Subscribe to our newsletter to receive the latest from the EU cities right into your inbox.