Tampere

Allikas: Tampere Municipality

Mayor
Lauri Lyly
Biograafia
Lühilugu
Tampere was founded as a market place on the banks of the Tammerkoski channel in 1775 by Gustav III of Sweden and four years later, on 1 October 1779, Tampere was granted full city rights. At this time, it was a rather small town, consisting of only a few square kilometres of land around the rapids.
Tampere grew as a major market town and industrial centre in the 19th century.
Tampere was the centre of many important political events of Finland in the early 20th century. On 1 November 1905, during the general strike, the famous Red Declaration was proclaimed on Keskustori. In 1918, after Finland had gained independence, Tampere played a major role, being one of the strategically important sites during the Civil War in Finland (28 January – 15 May 1918). Tampere was a red stronghold during the war, with Hugo Salmela in command. White forces captured the town after the Battle of Tampere, seizing about 10,000 Red prisoners on 6 April 1918.
Prevalent in Tampere's post-World War II municipal politics was the Brothers-in-Arms Axis.
After World War II, Tampere was enlarged by joining some neighbouring areas. Messukyla was incorporated in 1947, Lielahti in 1950, Aitolahti in 1966 and finally Teisko in 1972. Tampere was known for its textile and metal industries, but these have been largely replaced by information technology and telecommunications during the 1990s.
Source: Wikipedia
Tampere is a city in Pirkanmaa, southern Finland. It is the most populous inland city in the Nordic countries. Tampere has a population of 230,537 with the urban area holding 330,711 people and the metropolitan area, also known as the Tampere sub-region, holding 381,155 inhabitants in an area of 4,970 km2. Tampere is the second-largest urban area and third most-populous individual municipality in Finland, after the cities of Helsinki and Espoo. It's also the most populous Finnish city outside the Greater Helsinki area and a major urban, economic, and cultural hub for central Finland.
City Hall

Address: PL 487, 33101 Tampere
The Tampere region, Pirkanmaa, which includes outlying municipalities, has around 506,000 residents, 244,000 employed people, and a turnover of 28 billion euros as of 2014. The area is strong in mechanical engineering and automation, information and communication technologies, and health and biotechnology, as well as pulp and paper industry.
Source: Wikipedia
TOURISM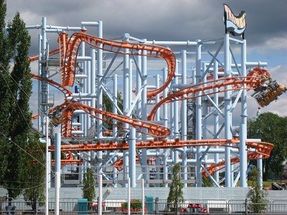 Allikas: Tampere Municipality
One of the main tourist attractions is the Sarkanniemi amusement tower, which includes the landmark Nasinneula tower, topped by a revolving restaurant. In addition to these, it used to house a dolphinarium. Other sites of interest are Tampere Cathedral, Tampere City Hall, Tampere City Library Metso ("wood grouse"), Kavela Church, the Tampere Hall for conferences and concerts, and the Tampere Market Hall.
Tampere is also home to one of the last museums in the world dedicated to Vladimir Lenin. The museum is housed in the Tampere Workers`Hall where during a subsequent Bolshevik conference in the city, Lenin met Joseph Stalin for the first time.
Source: Wikipedia