Leicester receives millions in funding to boost sustainable transport
Some 33 million pounds were allocated for improvements to the local public transport network and the city's cycling and walking infrastructure
L, 28. märts 2020, 12:00:00 +0200
Anton Stoyanov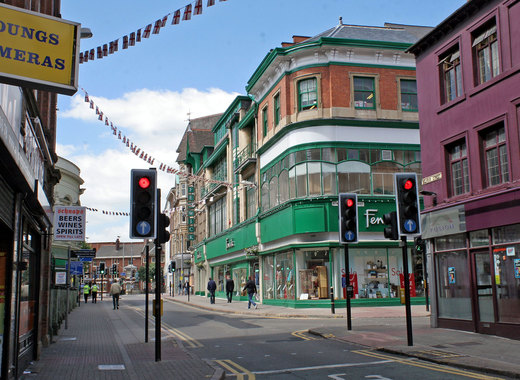 Allikas: fenwicks leicester UK by zaphad1 on Flickr (CC BY 2.0)
Sustainable and healthy transport is set to receive a massive boost over the coming months in the city of Leicester. Thanks to their successful bid, local authorities have managed to secure some 33 million pounds from the United Kingdom's Government's Transforming City Fund for improvements to the city's public transport network and walking and cycling infrastructure.
The grant provided by central authorities constitutes about half of the total funding for an ambitious and wide-ranging package that aims to make travelling across Leicester healthier and more sustainable. In total, the city aims to spend 65 million pounds on such improvements – with 33 million provide by the government, the rest will be divided between local authorities and several other partners and stakeholders.
Upon announcing the Leicester's successful bid, the mayor of the city Peter Soulsby stated that "(It) will allow us to move ahead with our ambitious sustainable transport schemes for cyclists, pedestrians and bus passengers. We are committed to delivering a greener solution to the future growth of our city and its economy, including better links into our existing city neighbourhoods."
Planned improvements
The City Council has already revealed some of the planned improvements that it wants to work on with the newly allocated funding. Among them are:
The creation of Green Growth Bus Priority Corridors that would link Leicester's neighbourhoods and suburbs
Creating additional and improving already existing bicycle and walking paths across the city
Improving sustainable transport options in the city's public transport network
Establishing additional bus lanes that would help with traffic and make buses an even more attractive option for travellers
These planned improvements build upon the previous successful initiatives of the Leicester City Council in the field of transport. Over the last few years, local authorities have invested over 100 million pounds in the city's sustainable transport solutions through the Connecting Leicester Programme that focuses on cycling, walking and buses.
Like the article? Subscribe to our newsletter to receive the latest from the EU cities right into your inbox.