Available in:
Jaga artiklan
Cllr Sheehan: I want to make Cork a welcoming, connected and safe place for all
Conversation with Lord Mayor of Cork, Ireland Councillor John Sheehan
21. marraskuuta 2019 11.30
Aseniya Dimitrova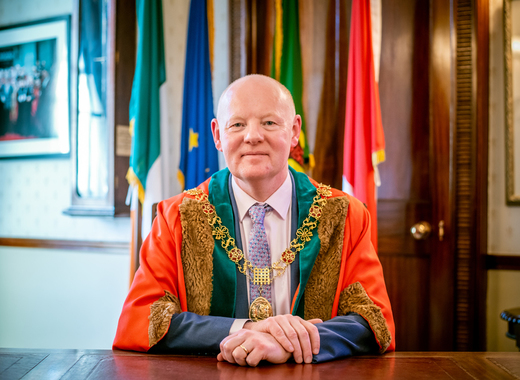 Lähde: City of Cork
Councillor John Sheehan has been a Member of Cork City Council since 2014. In May 2019 he was elected Lord Mayor of Cork for one year. He has a Doctorate in Medicine (Epidemiology and Public Health), Diploma in Medicine of the Elderly and Diploma in Child Health. He is also passionate about running.
Councillor Sheehan, to start with, how would you describe Cork City?
Cork is a city rising. Our city is distinctive and it offers unmissable experiences that can be enjoyed in multiple ways – we are after all, the land of a thousand welcomes. Cork city is steeped in history – with historical landmarks and cultural institutions opening their doors to our 1,600,000 tourists.
Cork has a vibrant culture and arts sector, recognised in its designation as European Capital of Culture in 2005. It is also a designated Healthy City by the World Health Organisation and an UNESCO-designated Learning City.
Could you tell us a bit more about the title of the Lord Mayor, which has a unique significance in Ireland? What does it mean to you to be elected the first citizen of Cork?
There are only three cities in Ireland that have a Lord Mayor, Cork, Dublin and Belfast. The title was conferred on the mayors of Cork City by Queen Victoria by Royal charter in 1900. To me, it holds special significance on account of the inspirational historical figures who held the chain before me, especially Terence McSwiney and Tomás Mac Curtain, who both died in office in 1920, in the struggle for Irish independence.
What are your priorities for the 12-month term, which is halfway through?
The theme of my mayoralty is "connecting communities". Our city underwent a historical boundary extension at the end of May and this meant our population increased by 85,000 people. I want to help build connections between the new areas of the city which were traditionally seen as more rural communities with the old areas of Cork City which are predominantly urban in character.
I also want to build connections between the new groups who have made Ireland their home whether by choice or through fleeing persecution and poverty in their own homelands. Cork's motto is "Statio bene fida carinis" – a safe harbour for ships. I want to make Cork a welcoming, connected, safe place for all who live in, work in and visit the city.
You have spent your entire life in the field of medicine - you have been working as a general practitioner and have published significant papers. What has motivated you to step into politics?
The desire to be an active participant in the community and contribute to help shape our city.
As you mentioned, following an administrative reform, the city increased fivefold in size and welcomed thousands of new residents. What challenges does this expansion entail and what new opportunities do you expect to reveal themselves?
The expansion of the city is of huge strategic importance for the social and economic development of not just the city, but the region as a whole. Cities drive regions and in order to attract investment, funding and drivers of economic growth, Cork must become a counterbalance to Dublin, a true second city.
Of course, there are challenges we must overcome, which include the integration of the new city areas into the wider city network, improving our infrastructure to support a population which is forecasted to increase by 55% in the next 25 years and above all, doing all of this in a sustainable, environmentally friendly way. However, the boundary extension places us in a strong position to attract the type of investment we need to help develop the city and the region as a whole.
Cork city was the first city in Europe to launch a Customer Service Charter, which is part of the strategy to turn it into one of the most friendly, liveable and sustainable cities. Could you tell us more about this and other measures aimed at achieving the goal?
It's no secret that customer service and customer engagement have never been as important within retail circles. More and more recent case studies have indicated that delivering great customer service can help businesses succeed despite all of the competition they face.
Cork City Council's Local Enterprise Office and our local entrepreneurs are working very successfully together in developing an innovative programme of customer service training for local businesses and start-ups. The training courses are regularly fully subscribed. The secret to it is the diverse blend of experience, skills and knowledge that each of the participants brings to the programme.
Finally, Cork is home to economic giants such as Apple, Janssen Pharmaceuticals as well as research leaders of national and international scale. What are the strongest advantages of Cork and what measures will assure its competitiveness in the years to come?
Cork is a thriving foreign investment hub, facilitated by our connectivity, collaboration and innovation. Cork is the second largest urban area in Ireland, having a metropolitan population of c. 300,000 with significant clusters of companies in the key sectors of Healthcare, Cybersecurity, Financial Services, Software, Business Services, ICT Systems, Life Sciences, Maritime and Agri-Food.
Our European city is also a university city, with c. 33,000 third level students, a national centre of excellence for health services and a significant public administration sector. As I mentioned earlier, Cork has a vibrant culture and arts sector, recognised in its designation as European Capital of Culture in 2005. It is also a designated Healthy City by the World Health Organisation and an UNESCO-designated Learning City.
Cork's connectivity is boosted by Ireland's second largest airport, which provides access to international destinations. Finally, our city is also home to the second largest natural harbour in the world, handling exports and imports of sea-borne trade and welcoming visitors through Ireland's only dedicated cruise berth.
TheMayor.EU stands against fake news and disinformation. If you encounter such texts and materials online, contact us at info@themayor.eu