Meet the Advent trams of Europe
Where most festive events are cancelled due to the pandemic, they keep the Christmas spirit alive
Most of them are old, but not as old as Santa. And after decommissioning, they have been given a second chance, to the delight of children and adults alike. Now, even amid the Covid-19 pandemic surge, they are rumbling on in their shining outfits, keeping the Christmas spirit alive. It's about time to meet some of Europe's Advent trams!
Miskolc
For the fourth consecutive year, Czech transport magazine MHD86 has been organizing a competition for Europe's most beautiful Advent tram, based on an international survey. The 2019/2020 winner was a gingerbread-themed, conjoined KT8D5 Tatra 202-type tram running in the Hungarian city of Miskolc (main picture). This fall, residents were asked to decide if the award-winning vehicle should venture out at all amid the worsening epidemiological situation. 76 percent of 14 000 respondents said YES.
Miskolc Advent tram owes much of its popularity to the new makeover it undergoes each year, but this is not the case in 2020. A video posted on the Internet reveals that the tram has retained its last year's gingerbread outlook – yummy brown exterior dotted with stylized cookies that are lit after dark. The interior seems to have been slightly redesigned, however, featuring beige and red-white chequered curtains, a real kitchen corner and a burning, round-bellied stove – all evoking the cosy atmosphere of a home at Christmas. And even though the ride is not free, the tram is full of passengers – with face masks.
Budapest
Sporting a spectacular train of LED bulbs and sticks, the so-called "light trams" (fényvillamos) have been an integral part of Budapest at Christmas time since 2009. Last year, Budapest's illuminated historical tram was ranked third most beautiful in Europe in the MHD86 competition.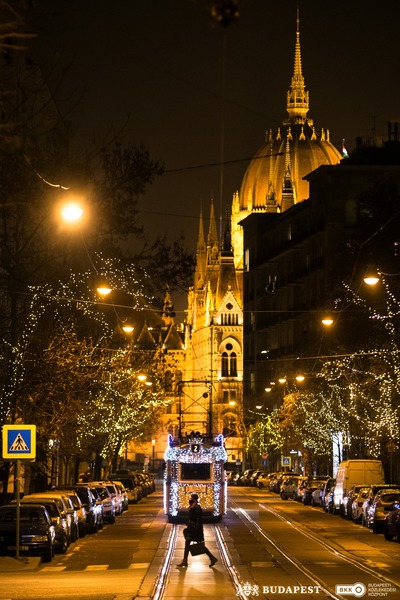 Budapest's illuminated historical tram. Image: BKK
For this holiday season, Budapest transport company BKK has taken a different approach, launching trams decked with 40 000 LED lights on nine different lines besides the original tram 2 route along the banks of the Danube. The trams will run daily until 6 January with a shortened schedule – between 3 pm and 7 pm – due to the curfew in force, with no service on Christmas Eve and New Year's Eve.
Vienna
If you happen to be traveling around Vienna's Old Town on weekends during Advent, you stand a good chance to encounter an antiquated tram topped with evergreen boughs and gilded balls. Built in 1929 and in service until 1978, this venerable old-timer is called Ströck Weihnachtsbim (Ströck Christmas tram), after the bakery chain which partners the municipal transport authority Wiener Linien in this initiative.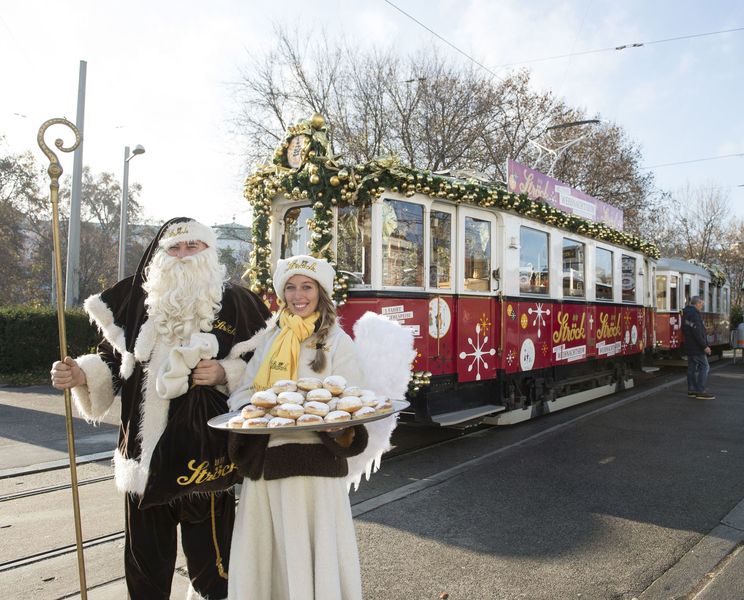 Ströck Weihnachtsbim in Vienna. Image: Wiener Linien / Thomas Jantzen
The Ströck sponsorship means you can expect to be treated with baked sweets on board to the tune of Christmas carols, but the initiative has a more far-reaching aim – to raise money for charity. More than EUR 100 000 have been raised over the years for various charitable causes, including support for work in the field of Chronic Fatigue Syndrome / Myalgic Encephalomyelitis.
Bratislava
Bratislava's Advent tram has been a regular runner-up in the MHD86 contest. Decorated with garlands of lights, it is once again riding the roads of the Slovak capital's Old Town. The interior is executed in red and green with a fireplace installed and the sound system chirping Christmas songs. And to make you feel completely at home, the municipal council has made the ride free for everyone.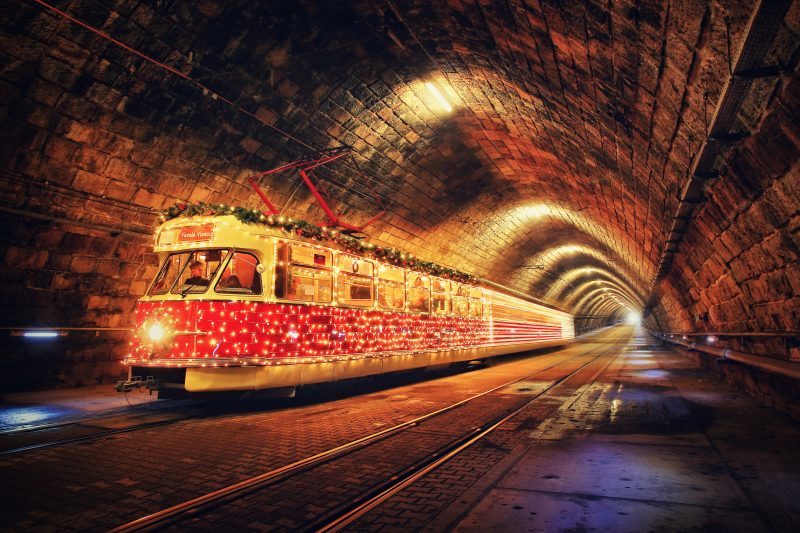 Bratislava's Advent tram. Image: Visit Bratislava