Pilea-Hortiatis has rich cultural heritage and a sophisticated, modern life that is evolving every day
Interview with Ignatios Kaitezidis, Mayor of Pilea-Hortiatis, Greece
In 1994 Ignatios Kaitezidis has been elected as a Municipal Consultant of Panorama. He has been elected as a Mayor of Panorama in 1998 and re-elected in 2002 and in 2006.

After the Kallikratis Reform, in 2010, he has been elected as the first Mayor of the newly formed Municipality of Pilea-Hortiatis, based in Panorama. In 2014 he has been re-elected for the fifth consecutive time.
After the Kleisthenis Reform, in 2019, he has been re-elected for the sixth consecutive time. Ιn the end of 2019 he was elected President of the Regional Union of Municipalities of Central Macedonia.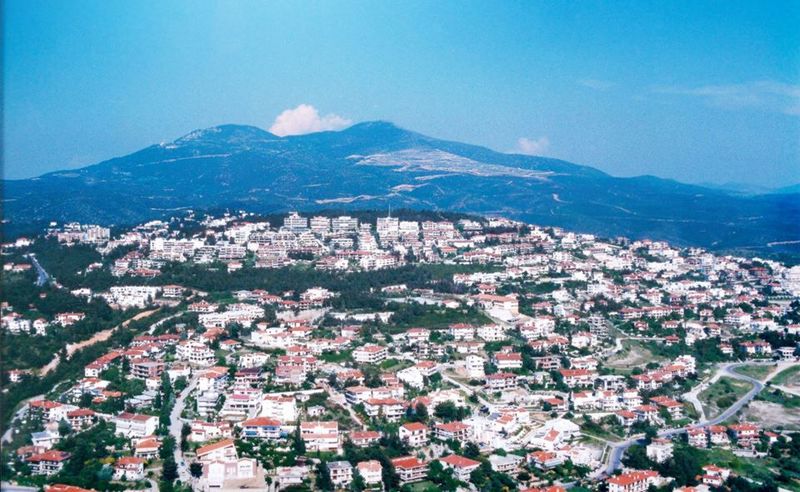 Pilea-Hortiatis from above. Photo by Pilea-Hortiatis Municipality
Mayor Kaitezidis, first of all, congratulations on your re-election as Mayor of Pilea-Hortiatis and your election as President of the Regional Union of Municipalities of Central Macedonia. In your opinion, what is the reason for your long, successful and impressive career in local politics?
First of all, I would like to thank you for the opportunity you gave me to communicate with about 500 million citizens in the 27 countries in the EU. Europe is our common house and that is something that we must not forget!
Secondly: my warmest congratulations for the unified platform «themayor.eu». The portal is a big window open to the world that can bring closer the citizens and the municipalities.
Regarding your question: my first election goes back to 1998, when I was elected as Mayor of Panorama, a municipality of 17.000 people. In 2010 and after a 12-years of administration I was re-elected as Mayor of Pilea-Hortiatis, a much bigger municipality, where about 77.000 people leave.
In all six elections I have won with a very high percentage of votes: last September 71% of the voters chose our party and entrusted us to continue our administration. Finally, last October I was elected as President of the Regional Municipalities Union in the Region of Central Macedonia, a community of 38 Mayors in Central Macedonia, where over 1 million people live.
You ask me about the reason of this long and successful career. Ι could mention three reasons: hundreds of operations and projects, many promises which were kept and the feeling of a big and real trust with the people. Work is what the citizens see in their dayly life in our municipality, which makes their lives better.
Kept promises are very important in politics. All the promises which a candidate has made before the elections must be delivered upon when he becomes as a Mayor. And real trust between a Mayor and the people is something that takes years to build. In my opinion these three things are the secret of success.
What were the main achievements and initiatives completed since you assumed the post of Mayor in 1998?
Twenty years as mayor is a long time and if I had to write down all the work I did in this period, there will be no space left on your portal! In spite of the very difficult economic conditions in Greece, we managed to give the municipality of Pilea-Chortiatis a perspective of growth through infrastructure and other major projects.
Pilea, Chortiatis and Panorama are an area with a rich cultural heritage and a sophisticated, modern life that is evolving and improving every day. At the same time, we emphasize social policy and improvement of the daily lives of citizens. We also run modern and innovative waste-management programs and we try to educate the public on recycling and on circular economy.
Finally, we take advantage of all the financial tools which are at our disposal, including the European programs in which we participate. At the same time, thanks to the excellent financial management of the recent years, we have a big sum of money and many of the aforementioned actions are financed through our own resources.
But let me note something that is very crucial in our philosophy: the fact that we have built a strong relation with our citizens based on confidence. They know that they will never hear anything but the truth from us and that is crucial.
What do you want to change in the municipality during this term?
Among my priorities is the improvement of daily life. To have a beautiful and clean municipality, with citizens who will contribute to the protection of the environment. Sustainable tourism and cultural development. Last but not least I want a municipality that develops along European lines; a community that is modernized and gives solutions to every problem of the citizens.
In this context, our Union of the Regional Municipalities in the Region of Central Macedonia will support every municipality, so that no one will be alone and helpless.
You have implemented online solutions for dealing with citizens' everyday problems. Please tell us more about this innovative approach.
We call it «15195», it's a public phone number and every citizen has the opportunity to report his problem by phone, mobile or e-mail. This service existed since 2000 in the municipality of Panorama and since 2011 we offer it in the municipality of Pilea-Hortiatis.
The service became very popular among the citizens: since 2010 and until today over 150 000 calls were taken! Very important is also the effectiveness of the whole online service: it keeps track and tells if the problem has been solved. Of course, such a service became a hit in the country! We got an award because of it and many other municipalities are eager to implement it.
Please, share other "smart" good practices from your municipality. How do you finance them?
I will mention two practices. The first is about Energy Efficiency and is called «GreenSoul». The project's main objective is to achieve higher energy efficiency in public buildings by altering the way people use energy, consuming shared devices like lights and printers and personal devices like personal pluggable appliances.
In order to achieve this goal, the «GreenSoul» project aims to prove that behavioral change recommendations based on ICT monitoring data at public buildings can result in energy savings greater than 20%.
«GreenSoul» applies a two-fold strategy:
Persuade users to increase their energy-awareness and change their e-consumption habits through a variety of techniques, from persuasive social applications to physical interaction mechanisms linked to the networked devices.
Embeds intelligence into the networked devices to allow them autonomously to decide about their operational mode for energy efficiency purposes. GreenSoul devices will learn from users' habits, acting only when wasteful energy behavior is detected, or users do not heed device suggestions.
The second practice is about Active and Healthy Ageing where we run two projects: «Vicinity» and «Activage». For the municipality, the goal from our participation is to promote the autonomy of elderly people living on their own, to help them live healthy and independently at home as long as possible, through better prevention, innovative home care, community-based solutions. This is given a boost by the use of new innovative technologies and through the development of ICT services for the ageing community.
The projects are EU funded by the Horizon 2020 research and innovation action programme. We collaborate with European companies, universities and research centers, including the Information Technologies Institute-Centre for Research and Technology in Greece.
How do you evaluate the initiative of a unified platform for European municipalities and its main goal to keep European citizens informed about what is taking place in the European Union? How can the portal be useful to you and to the citizens of Pilea-Hortiatis?
It is a very positive and much-needed initiative, that furthers the possibilities of creating broader networks and a deeper knowledge and understanding of local developments across Europe. It is very important to share with the EU citizens the good examples and practices of the municipalities. And it can help bring European municipalities and citizens closer together.
In my opinion, it is also very important to learn from each other; not only from the good practices and innovations but also from difficult discussions and initiatives that were unsuccessful. We must be open and transparent to our citizens as well as useful. But also, as a Mayor, you have to be a contact point for your citizens.
Find out more about Pilea-Hortiatis here