Poznan's parks go digital
The 3D map of Poznan is a pioneering project for Poland
On top of the thousands of local buildings, you can now virtually walk through parks and greenery in Poznan. This is made possible thanks to a pioneering project that aims to create a 3D model of the Polish city – a first in Poland.
A three dimensions model of an entire city
As of recently, anyone can see a virtual representation of the Bambrów Poznań park which has been mapped on the innovative 3D model of Poznan, as reported by local authorities. The species and height of all trees on the three-dimensional map correspond to reality including their scale.
The necessary data is entered based on a document resulting from the park's inventory. It enables a 2D visualisation, too, as well as exporting, planning and drawing. In order to use the new function, one only needs to select the appropriate layer of the map - available in the main menu called "Park and squares development".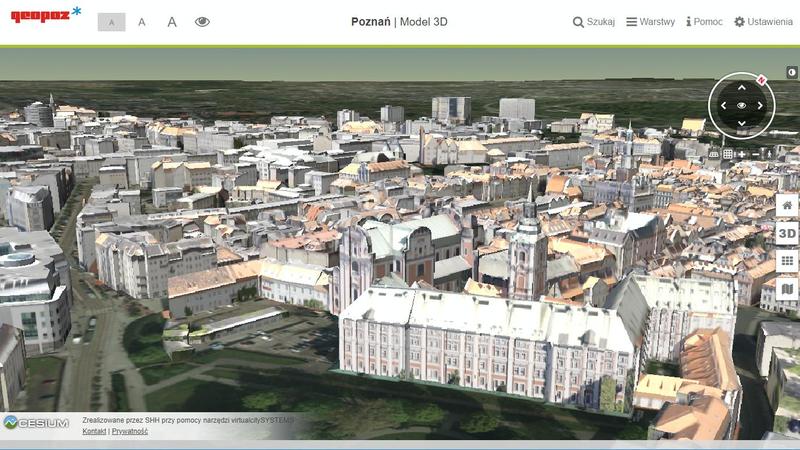 Thousands of buildings in Poznan are represented virtually through 3D models. Image by Smart City Poznan
Virtual maps – a useful tool for city planners
The three-dimensional map of Poznań is a pioneering project on a national scale. Thanks to it, it is easier to plan changes and manage the city more efficiently, remind municipal officials.
The 3D model covers the entire area of ​​Poznań, which spans for more than 262 square kilometres and boasts nearly 100,000 buildings. In terms of organization, the 3D model is an integral part of the Spatial Information System of the City of Poznań.
Three-dimensional visualization comes in handy for those who work on spatial planning and development. Furthermore, it has the potential to facilitate decision-making in the fields of estate management or environmental protection.
The 3D map also enriches the offer for companies planning to start construction investments in the Polish city. Similar models are already being successfully made use of in Berlin, Rotterdam or Helsinki.