Revitalization of the largest park in Lublin nears completion
Mayor Krzysztof Żuk personally inspected the works
The natural revitalization of the 23-hectare People's Park (Park Ludowy) in Lublin is soon going to be complete. This was made clear after Mayor Krzysztof Żuk personally visited the largest park in the city on Friday, 16 October. A key milestone in the process – the technical tests of the fountain, which is the heart of the water garden, have been successful, as was informed by the Polish Municipality.
Park Ludowy gets a major makeover with EU funds
The fountain, consisting of silver ball-shaped nozzles, is located in the central part of Park Ludowy and is surrounded by a natural green amphitheatre. Its bottom is made of a blue mosaic cube with illustrations of fish species that can be found in the Bystrzyca River which flows through Lublin. During Friday's inspection, it was demonstrated that the hydraulic system works properly.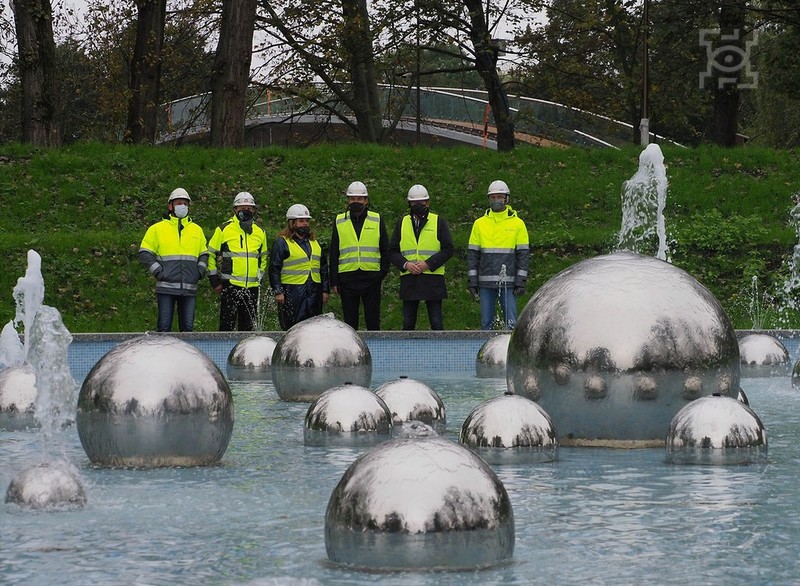 The Mayor of Lublin personally inspected the progress of the works in Park Ludowy – the largest in the Polish city. Photo: City of Lublin
Currently, work is underway on the construction of the main avenue furnished with a line of lamp posts. The green area is being prepared so that, following the model of Western cities, it will also serve as a place for rest.
The construction of all the other alleys of the park with a total length of about 8 km has already been completed. The alleys will meet the needs of various groups, including wheelchair users and other persons with restricted mobility.
The park will also dispose of natural tracks for cyclists with high levels of difficulty. Currently, an acoustic path and granite furniture are being assembled, which will not only make the park more attractive but will also make it suitable as a place for exercise.
The completed works so far include dog enclosures, installation of playground equipment, outdoor gyms and most of the park furniture. The final stage of technical work will be the installation of a monitoring system.
The overall revitalization of the People's Park began in 2019. The total value of the project is approximately 44 million Polish zloty (around 9.6 million euros) of which nearly half is European funding. The entire project is expected to be completed by 30 November.
"I am convinced that after revitalization, the People's Park will once again become one of the most beautiful green places in Lublin. We are already finishing the most serious works; we have the last touches in the field of landscaping and small architecture. I am glad that soon the residents will see the effects of many months of work in this largest park in Lublin" said Mayor Żuk, as quoted on the website of the Municipality.