Bruck an der Mur

Source: Municipality of Bruck an der Mur

Mayor
Peter Koch
Biographie
Histoire brève
The earliest settlement in the Bruck area, located in what is today the centre of the town, dates back to 20 November 860. Кing Otakar II of Bohemia built walls around the town in 1263. Bruck officially became a town in 1277 when it was granted town privileges by King Rudolph von Habsburg, who ruled after Кing Otakar II of Bohemia. Iron making was the main economic branch, which helped trade flourish during the Middle Ages.
Bruck an der Mur is a city of 16, 000 people located in the district Bruck-Murzzuscchlag, in the Austrian state of Styria. It is situated at the confluence of the Mur and Murz Rivers.
City Hall

Koloman-Wallisch-Platz 1, 8600 Bruck an der Mur
Metal products and paper are the main industrial output of Bruck an der Mur. An important rail junction is located in the town - the Graz-Vienna train line.
TOURISM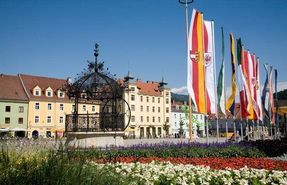 Source: Municipality of Bruck an der Mur
A 15th century Gothic church is one of the city landmarks. The building dates from the same period as the spectacular Kornmesser house, built in the Venetian style by Pankraz Kornmess.
The town was destroyed by a great fire in 1792. 164 houses were burned down and only two, preserved to the present day, were spared.