Enns
Source: Pixabay

Mayor
Franz Stefan Karlinger
Biography
Brief history
The first settlres of the area were the Celts who came to the territory around 400 BC. They made their settlemens around the Danube river where older settlements were found and estimated to be dating back to 4000 years ago.
Lauriacum, Roman camp with 6,000 soldiers, was located on what is today the territory of Enns. Combined with the surrounding territories, the area was made a municipium in 212 and about 30000 people lived there.
The castle of the town, Enisiburg, later Ennsegg Palace, was built around the year 900 to protect the locals from Magyar invasions. Enns is consideres to be Austria's oldest town - it was granted town privileges in 1212.
Enns is a town in the Austrian state of Upper Austria on the river Enns, which forms the border with the state of Lower Austria. The population of the town in 2011 was 11,275 inhabitants.
City Hall

Address: Hauptplatz, 11 4470 Enns

Telephone: +43 7223 82181-0
Glassware, jewelry, and roofing are some of the main industries in Enns, along with breweries. Retail trade is a significant factor for the development of the local and regional economy.
TOURISM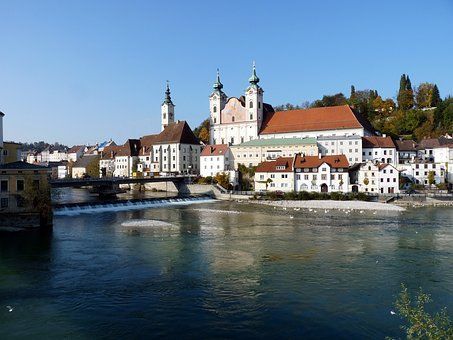 Source: Pixabay
One of the finest early Gothic buildings in Austria is the parish church (1308–43), along with the Stadtturm, or Town Tower (1554–68), the castle of Ennsegg (1565) and the old town hall (1547), now housing a local museum with Roman relics. The Baroque Abbey of St. Florian is to the west of the town.
The local museum displays the town charter, the official document that granted town privileges to Enns. It dates back to 22 April 1212. The date is also depicted on the Town Tower, the biggest landmark of Enns.