Innsbruck

Source: Pixabay

Mayor
Christine Oppitz-Plorer
Biography
Brief history
The earliest traces suggest initial inhabitation in the early Stone Age. Surviving pre-Roman place names show that the area has been populated continuously. In the 4th century the Romans established the army station Veldidena at Oenipons (Innsbruck), to protect the economically important commercial road from Verona-Brenner-Ausburg in their province of Raetia.
Innsbruck became the capital of all Tyrol in 1429 and in the 15th century the city became a centre of European politics and culture as Emperor Maximilian I. In 1564 Ferdinand II, Archduke of Austria received the rulership over Tirol and other Further Austrian possessions administered from Innsbruck up to the 18th century. He had Schloss Ambras built and arranged there his unique Renaissance collections nowadays mainly part of Vienna's Kunsthistorisches Museum.
During World War I, the only recorded action taking place in Innsbruck was near the end of the war. On February 20, 1918, Allied planes flying out of Italy raided Innsbruck, causing casualties among the Austrian troops there. No damage to the town is recorded. In November 1918 Innsbruck and all Tyrol were occupied by the 20 to 22 thousand soldiers of the III Corps of the First Italian Army. In 1938 Austria was annexed by Nazi Germany in the Anschluss. Between 1943-45, Innsbruck experienced twenty-two air raids and suffered heavy damage.
Innsbruck is the capital city of Tyrol in western Austria. It is in the Inn valley, at its junction with the Wipp valley, which provides access to the Brenner Pass some 30 km to the south. The population of Innsbruck is around 130 894 inhabitants (2016).
City Hall

Maria-Theresien-Straße 18,

6020 Innsbruck
Innsbruck is the economic centre of western Austria. It is also a substantial tourist centre, with more than a million overnight stays. Innsbruck is a university city, with several locally based colleges and universities.
The headquarters of Tiwag (energy production), Bank fur Tirol und Vorarlberg (financial services), Tiroler Versicherung (insurance) and MED-EL (medical devices) are located in Innsbruck. The headquarters of Swarovski (glass), Felder Group (mechanical engineering) and Swarco (traffic technology) are located within 20 km from the city.
TOURISM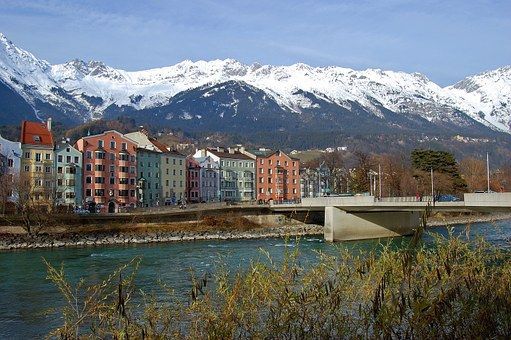 Source: Pixabay
Innsbruck is an internationally renowned winter sports centre, and hosted the 1964 and 1976 Winter Olypics as well as the 1984 and 1988 Winter Paralympics. Innsbruck also hosted the first Winter Youth Olympics in 2012.
In Innsbruck`s old town you can experience the exciting Middle Ages today. The old town is over 800 years old and home to many sights and attractions that reflect the city`s colorful history.