Available in:
Podijeli članak
Coronavirus chatbot educira građane Vinkovaca
Mnogi su hrvatski gradovi smislili inovativne načine kako pružiti građanima pouzdane informacije o virusu i novim ograničenjima
16. Travanj 2020. 11:30
Diana Todorova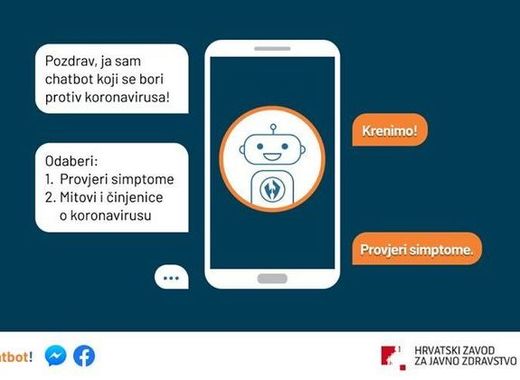 Izvor: The chatbot is named after what we all need at the moment – Hope. Source: City of Vinkovci
Službena stranica Grada Vinkovaca na Facebooku je među prvima u Hrvatskoj uvela chatbot aplikaciju koji interaktivno informira javnost u svezi gradske uprave i aktualnog rada Stožera civilne zaštite Grada Vinkovaca. Chatbot je za službenu stranicu besplatno izradila tvrtka mladih Slavonaca - Hero Factory koja je nedavno sličan program izradila za Hrvatski zavod za javno zdravstvo.
Kako pomaže Nada?
Chatbot je nazvan imenom koje nam u ovo vrijeme zaista treba - Nada. Funkcionira tako da korisnik pošalje upit, a chatbot automatski odgovara, u bilo koje vrijeme, bez potrebe za dodatnim stručnjacima u podršci – jer je već prethodno naučen kako da odgovori. Chatbot informira sve građane Vinkovaca i na sva pitanja se odgovara u bilo koje vrijeme. Trenutno su dostupni odgovori na sva aktualna pitanja vezana uz koronavirus, Stožer civilne zaštite Grada Vinkovaca, te e-Propusnice.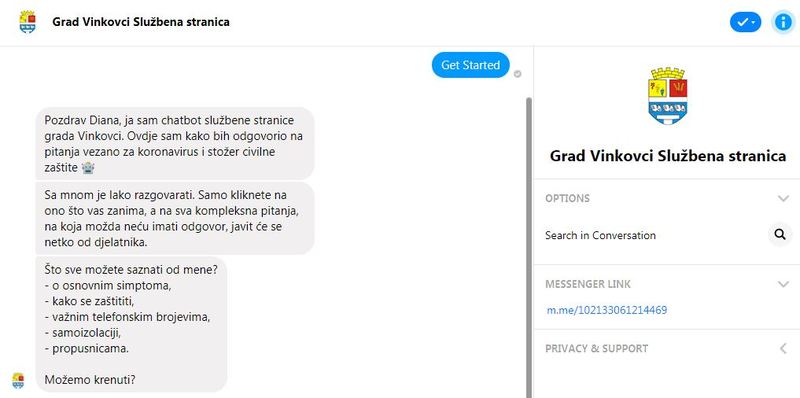 Nada može informirati građane o simptomima, važnim telefonskim brojevima i propusnicima

Uz pitanja Nade možemo također provjeriti imamo li nekih od simptoma virusa. Sve što trebamo napraviti je stisnuti jedan od ponuđenih odgovora. Tom prilikom chatbot upozorava da se simptomi koronavirusa pojavljuju od 2 do 14 dana nakon zaraze. U slučaju da nijedan od simptoma se ne razvije, Nada preporučuje da ne kontaktiramo liječnika kako bismo olakšali posao medicinskom osoblju.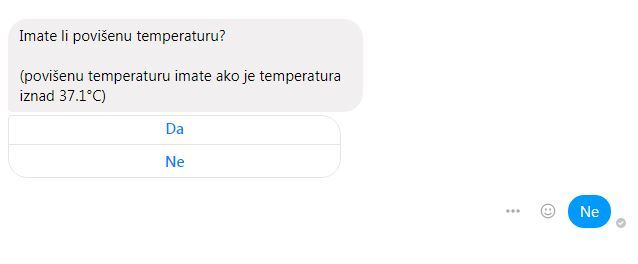 Nada može provjeriti i imamo li nekih od simptoma virusa
Digitalni asistent Andrija
Lokalne uprave poziviaju svoje sugrađane da također upoznaju Andriju. To je najme prvi digitalni asistent na bazi umjetne inteligencije koji svojim nadljudskim snagama pomaže u borbi protiv koronavirusa. On je namijenjen svakom hrvatskom građaninu, s njim se možete komunicirati na WhatsAppu slanjem ključne riječi "Pozdrav" na broj +385 99 775 3049.
U kontaktu s građanima, novi digitalni asistent educira ljude kako da prepoznaju simptome zaraze na sebi i drugima kroz asistiranu samoprocjenu. Osim toga, Andrija asistira ljudima u kontaktu prema nadležnim institucijama, upućujući svakoga na pravu adresu, čime štedi vrijeme i energiju građanima i liječnicima u ovim trenucima opterećenja na zdravstveni sustav.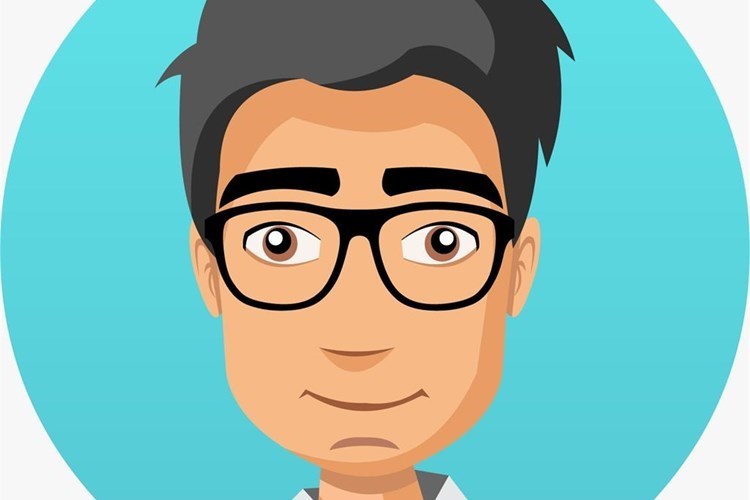 Andrija je ime dobio po ocu preventive Dr. Andriji Štamparu. Source: Vlada Republike Hrvatske
Osim Ministarstvo uprave koje je voditelj projekta, u njemu su uključene nekoliko hrvatskih IT kompanija. Sve uključene hrvatske tvrtke odlučile su bez naknade dati svoj doprinos i zajedno sudjelovati u nacionalnom naporu suzbijanja epidemije
Gradske uprave traže nove kanale komunikacije
U doba pandemije brojni su hrvatski gradovi smislili alternativne načine informirati građane.
Dubrovnik
Grad Dubrovnik uveo je novi kanal komunikacije – službenu Viber zajednicu. Ova grupa sadrži sve informacije i novosti vezane za koronavirus. Građanima se dijele službene i potvrđene informacije, mjere koje se poduzimaju u borbi protiv epidemije, mjere Grada Dubrovnika za prevladavanje krize, kao i upute i savjete za svakodnevni život.
Slavonski brod
S ciljem dvosmjerne komunikacije, Grad Slavonski Brod je također pokrenuo svoju zajednicu putem Viber aplikacije - "Grad Slavonski Brod COVID-19". U zajednici građani mogu u svakom trenutku zatražiti informacije oko bitnih upita vezanih za koronavirus, a na njih će se odgovarati u razumnim rokovima.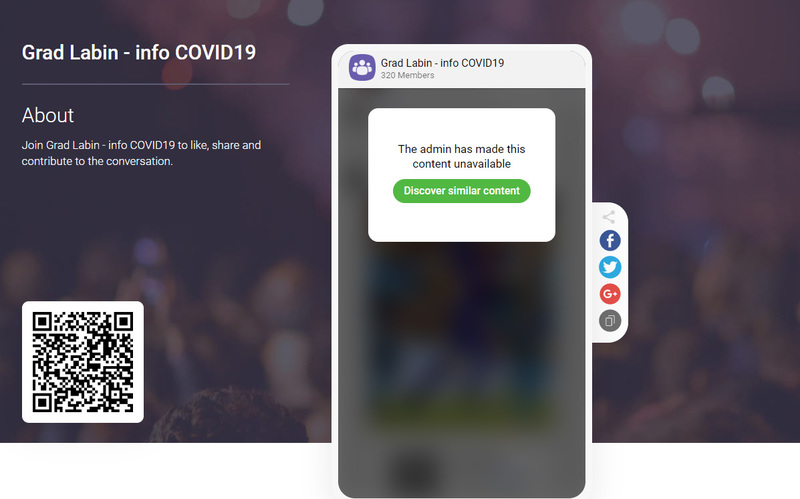 Gradonačelnik Labina Valter Glavičić pozvao je sugrađane da se pridruže grupi


Labin
Grad Labin isto ulaže napore u pravovremeno i točno informiranje svojih građana. Lokalne vlasti su također pokrenuli svoju Viber grupu "Grad Labin – info COVID 19" Gradonačelnik Valter Glavičić pozvao je sugrađane da se pridruže zajednici i tom prilikom poručio je da skupa smo jači.
TheMayor.EU stands against fake news and disinformation. If you encounter such texts and materials online, contact us at info@themayor.eu