Available in:
Podijeli članak
The City Library of Luxembourg celebrates its 10th anniversary
Entirely modernised and refurbished, the library of Luxembourg City celebrates a decade of reading with more than 26 000 subscribers
1. Studeni 2018. 14:30, 1373 impressions
Aseniya Dimitrova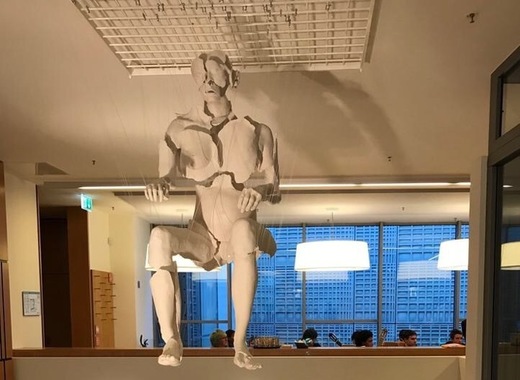 Izvor: © Ville de Luxembourg
Even if the Library City celebrates its 10 years, the City of Luxembourg disposes of a library for five decades now. Since its creation in 1968 on Theatre square with 4.000 volumes, the library has considerably increased in terms of size and diversity of the formats and services offered. The 26th of September 2008 marks the inauguration of the Library City, in the complex City Circle. Apart from 105.000 items in Luxembourgish, German, French and English, the Library City disposes of 35 working stations, as well as Internet access stations, a reading spot with journals, magazines, animations for young and adults. Moreover, each Saturday kids between the ages of 4 and 8 are invited to interactive readings. Two times a month programmes dedicated to adults are organized, namely the "Reading Tuesdays".
Being a crossroad of arts, readings and culture, the Library is now decorated with several pieces of art which stimulate the senses. "Particles" of Michèle Tonteling, represents a human-shaped mosaic composition, made of moulding of pieces of human body. These body printings form an entire body will distinctive shape. An installation in the large bay windows overlooking the rue Génistre sliding panels in the colours "multiplicity" designed by Beng Architects Associated SA has a twofold purpose: on one side it increases the degree of recognition of the building by recalling the visual identity of the City of Luxembourg, and on the other - it creates a solar protection inside the library.
Source: Ville de Luxembourg