Zagreb i Karlovac uveli "drive-in" testiranje na koronavirus, upozorenje za gradove u Dalmaciji
Cilj nove metode testiranja je ubrzati dijagnosticiranje i povećati broj testiranih osoba
4. Travanj 2020. 11:00
Diana Todorova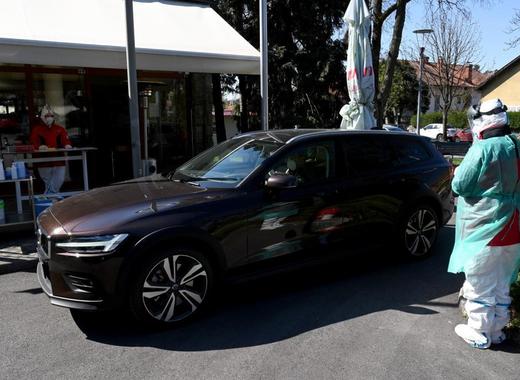 Izvor: Andrija Stampar Teaching Institute of Public Health, NZZJZ "Dr. Andrija Štampar"
U Nastavnom zavodu za javno zdravstvo "Dr. Andrija Štampar" u Zagrebu prvi put u Hrvatskoj uvedena je "drive-in" dijagnostika koronavirusa. Pri ovom testiranju osobe ne izlaze iz automobila, što povećava razinu sigurnosti osobe koja se testira i zdravstvenog djelatnika.
Pri ovom testiranju nema kontakata između osoba koje se testiraju i zdravstvenih radnika jer sve potrebne dokumente idu preko sustava e-uputnica, a osoba koja se testira se nalazi na unaprijed pripremljenoj listi. Iz Zavoda poručuju da će se naručivanje za testiranje i nadalje provoditi putem odabranog liječnika obiteljske medicine.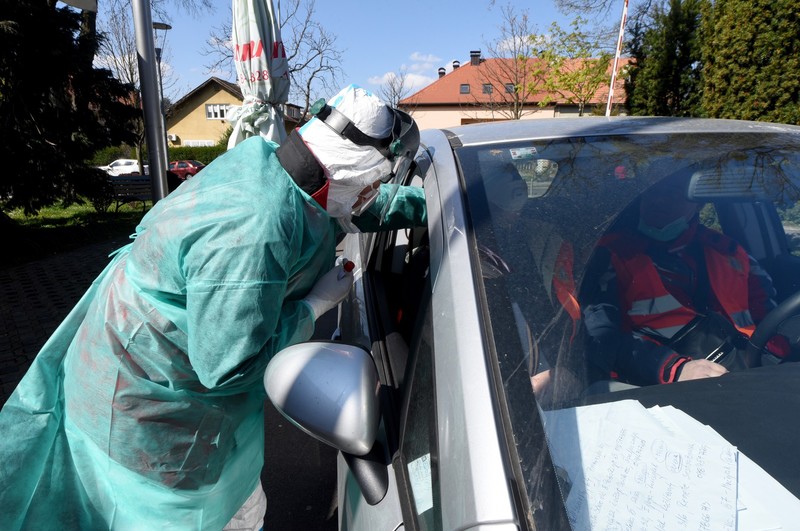 Prva "drive-in" dijagnostika koronavirusa u Hrvatskoj
Kako funkcionira "drive-in" uzimanje brisa?
Liječnici poručuju da čovjek koji je došao na "drive-in" testiranje mora sjediti dijagonalno što dalje od šofera i nositi masku. Na znak medicinskog djelatnika on spušta svoju masku, obrisak se uzima za par sekundi i nakon toga testirana osoba odmah može ići doma.
Pri "drive-in" testiranju Nastavni zavod za javno zdravstvo "Dr. Andrija Štampar" koristi test koji detektira sve tri gena koronavirusa, a liječnici uvjeravaju kako je test u potpunosti siguran.
"Drive-in" testiranje i u Karlovcu
U općoj bolnici Karlovac je također uvedeno "drive-in" testiranje. Svi pacijenti koji su se do sada testirali ispred donje zgrade bolnice, već se testiraju na javnom parkingu gdje je napravljen kružni tok. Prilikom uvođenja nove metode, liječnici opće bolnice Karlovac poslali su ohrabrujuću poruku, iščekivajući svoje pacijente pred zgradom sa znakom srčeka.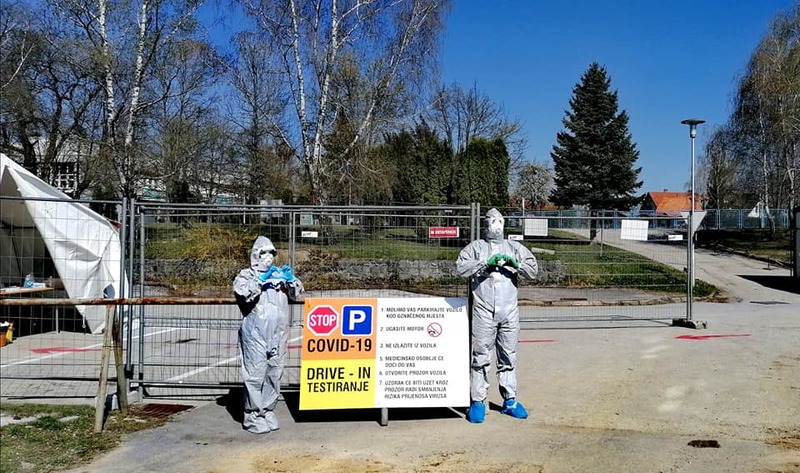 Ohrabrujuća poruka iz opće bolnice u Karlovcu
Ozbiljno upozorenje gradovima u Dalmaciji
Hrvatska je u četvrtak zabilježila upola manji rast broja novozaraženih koronavirusom. Ukupni broj zaraženih u zemlji stigao je 1011.
Do sada u zemlji od koronavirusa preminulo je 7 ljudi, a izliječilo se 88. Prilikom prezentiranja novih informacija o koronavirusu ministar zdravstva Vili Beroš je izrazio oštru kritiku mladima u gradovima u Dalmaciji: "U Zadru, Šibeniku i Splitu mladi se i dalje okupljaju u kafićima sa zatamnjelim staklima, zabavljaju se. To nije prihvatljivo ponašanje, ugrožavaju sebe i obitelji, poručio bih svima da budemo strpljivi".
Splitska policija također je upozorila građane da je na snazi Odluka o mjeri strogog ograničavanja zadržavanja na ulicama i drugim javnim mjestima. Budući da se tijekom vikenda najavljuje sunčano i lijepo vrijeme, strahuju da će se građani u većem broju zadržavati na javnim mjestima.
Državni i lokalni vlasti apeliraju da unatoč ljepšem vremenu ovih dana ljudi i dalje ostanu doma i da se pridržavaju mjera protiv širenja virusa. Upućena je i preporuka svima koji iz inozemstva žele doći za Uskrs u Hrvatsku da to ne čine. I kad bi došli u Hrvatsku, trebat će ići u samoizolaciju, upozoravaju vlasti.
TheMayor.EU stands against fake news and disinformation. If you encounter such texts and materials online, contact us at info@themayor.eu