Available in:
Oszd meg a cikket
New veterans' centre on its way to Sinj
The 6.3-million-euro project is expected to be completed by the end of 2021
2020. július 5., vasárnap, 17:00
Anton Stoyanov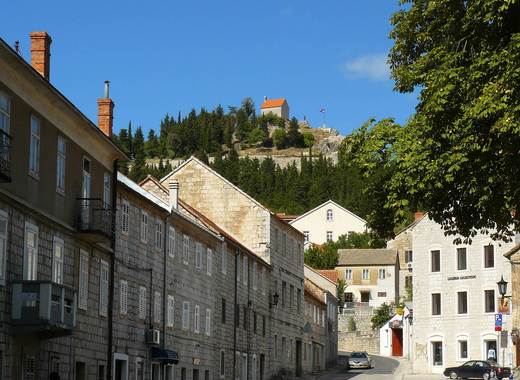 Forrás: Völkerwanderer on Wikipedia
Taking proper care of those who put their lives on the line for the freedom of their countries is a responsibility that is shared by all members of a community – be they representatives of national or local governments, or of ordinary citizens and business owners.
The Croatian town of Sinj is taking that belief to the heart through its cooperation with national authorities responsible for Veterans' affairs in the construction of a brand-new centre aimed at assisting those who have been in the line of duty, fighting for the country's freedom and right to self-determination.
Local and regional governments together for veterans
Construction of the new massive veterans' centre is set to commence in Sinj after the city's mayor, Kristina Krizanac, and Veterans' Affairs Minister Tomo Medved signed an agreement for the commencement of work.
The facility will cost approximately 6.3 million euros – or 48 million HRK and will boast a total of 130 beds and a capacity of over 2,500 users on a yearly basis. It is part of a larger push for strengthening the care for Croatia's veterans which will see the construction of three other centres in Sibenik, Daruvar and Petrinja. The projects are financed through the EU's Cohesion Operation Programme 2014-2020 which will provide 85% of the total required funding.
Upon the signing of the agreement in Sinj, Minister Medved, as quoted by croatiaweek, stated that "More than 50,000 Croatian veterans from Split-Dalmatia County participated in the Homeland War and virtually 600 gave their lives for Croatia and more than 8,600 disabled war veterans sacrificed their health. It is for them in fact and all Croatian veterans and victims who are faced every day with health, existential, social and other problems that we launched this project so that we can improve their health and general situation, including on the labour market, and to care for each and every one of them personally and enable them to lead a dignified life.".
TheMayor.EU stands against fake news and disinformation. If you encounter such texts and materials online, contact us at info@themayor.eu