Available in:
Oszd meg a cikket
Prof. Hrabálek: The quality of a society can be judged by how it looks after its elderly and sick members
Interview with Alexandr Hrabálek, Mayor of Hradec Králové
2020. július 9., csütörtök, 11:30
Aseniya Dimitrova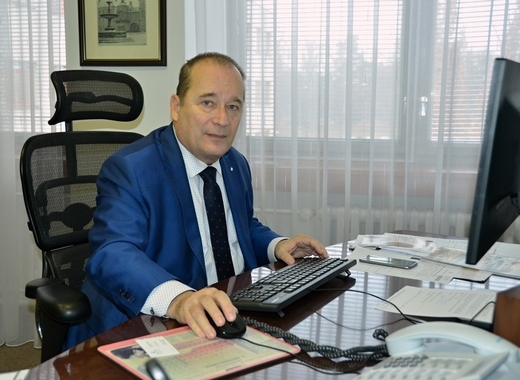 Forrás: Statutory City of Hradec Králové
Prof. PharmDr. Alexandr Hrabálek has been Mayor of Hradec Králové since 2018. He is also a Professor and from 2014 to 2018 Vice-Dean of the Faculty of Pharmacy in Hradec Králové, Charles University.
In this interview, he speaks about the post-Covid-19 recovery of the city, investment, digital services and why Hradec is among the most family- and senior-friendly cities in Czechia.
Mr Hrabálek, would you tell us a few words about Hradec Králové: what are your favourite places, what do you like the most about your city?
Hradec Králové is one of the old Czech towns that were given to Czech queens as a part of their dowry. Its history goes back to the Neolithic times, when the first people settled in the area. The city is situated on the confluence of two rivers – Labe and Orlice – as our predecessors quickly understood the convenience of the location.
Hradec Králové became a military fortress in the 18th century, part of the fortification system built by the Austro-Hungarian Empire, and served as such until the Battle of Königgrätz in 1866. After the bloody battle the fortress loss its former importance, and the town started to grow beyond its boundaries.
Major development came in the early 20th century, when the leading architects Gočár, Kotěra, Lyska, and many others, implemented their projects here. Quite a number of buildings were completed that are still well-known around Europe as examples of modern functionalist architecture.
The city is currently a major academic centre of the Czech Republic, because of the University of Hradec Králové with 5 faculties, two faculties of the Charles University (of pharmacy and medicine), and Faculty of Military Health Sciences of the University of Defence.
You can find many romantic places in the city, for instance, the above-mentioned confluence, the Sothern terraces of Archbishop Otčenášek, or you can take a walk along the beautiful banks of Orlice river. Visitors should not miss the Main Square, or the urban complex created by Gočár.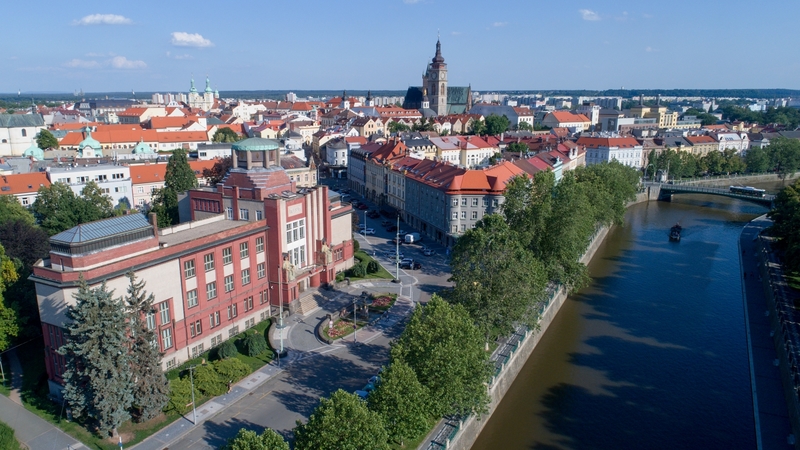 Hradec Králové boasts numerous wonderful examples of Art Nouveau, such as the Museum of Eastern Bohemia. Photo: City of Hradec Králové
The Covid-19 pandemic caused important changes in the ways we live, work and communicate. What are the most pressing issues for your municipality to face now that the pandemic seems to be subsiding?
Fortunately, the Covid-19 pandemic, in fact, has not affected our city. However, the same cannot be said about the economic impacts of the pandemic.
There are no large industrial corporations here, so the damage was caused mostly to the small businesses, which we, as the municipal government, tried to help and to compensate at least partially. Tax losses for the city can be estimated to be in the order of hundreds of millions.
With these regards, which investments will be put on hold and which will continue, despite the changed circumstances?
We assume it would be a serious mistake to cut down on investments in such a situation. The focus is on investments that can promote the development of businesses and their gradual recovery, and also help the citizens, since targeted investments can have a positive effect on employment. We haven't suspended any investment projects yet – on the contrary, we are preparing new ones.
This year the city received recognition for its electronic services – the so-called Zlatý erb. Please tell us more about how you managed to win the award and about the overall digital presence of Hradec Králové which has improved the quality of life of its citizens.
The city launched a completely new website last year, trying to make the citizen interaction with municipal authorities as simple and pleasant as possible. The available statistics provide us with information on what people are looking for the most, and what matters they need to arrange. That allowed us to adjust the new pages accordingly.
So far it has worked perfectly, and Zlatý erb just proves it. Furthermore, we have launched a new Citizen portal that enables electronic communication and gives the people the opportunity to manage things without the necessity to come to the City Hall building in person. We would like to continue in this direction in the future.
Recently, the municipality also ranked first in a competition for family and senior-friendly policies by the Ministry of Labour and Social Affairs. Please share some of the landmark projects and initiatives in this direction.
The quality of any society can be judged first of all by how it looks after its elderly and sick members. Not only do we have senior homes and daycare centres in the city, but we also operate a sophisticated system of individual assistance for senior citizens.
A network of health and social care services has been established to help the seniors in their everyday lives, there are dining halls, and recently we have opened a community house, where the elderly can meet and spend time together. This network has proved its worth during the pandemic – thanks to it we were able to provide assistance (material and psychological) for seniors who had become the most vulnerable group.
Currently, we have started building a house with daily assistance service to help the families taking care of sick or very old people: they will be allowed to bring their relatives here, for example during their working hours, and to leave them in the hands of health care professionals. The families will thus have time for their jobs, knowing that their next of kin are well taken care of.
What do you consider to be your greatest achievements since stepping into office?
I think my biggest success has been moving forward some of the things that my predecessor could not finish. This was possible because of the negotiating process, where we had to introduce such a way of communication that would work for all the parties, or should I say, it was the willingness that surprised them, since they did not expect it.
This new way of dealing with partners helped us to move on with the implementation of a major crossroad reconstruction project, which had been blocked by civil action groups. We also "unplugged" the process of constructing warehousing premises that had been started without a building permit, which was a problem the previous city government could not fix. And we gave a major boost to the project for a multifunctional arena for sport and culture, whose implementation, even when so desperately needed by the city, was not forthcoming for years.
Is there any project or an innovative practice from your city that you would like to share with the other mayors in the European Union?
Hradec Králové is surrounded by woods that serve as a wonderful recreation zone. At present we are building Silver Lake sport and leisure centre at the edge of the forest – a starting point for walks around the area.
There is a network of tourist paths, cycling tracks of various difficulty levels, inline skating alleys, small campfire sites, food kiosks and pools in the woods. As the forested area occupies several hundred hectares, this facility will provide a space for necessary rest and relaxation.
This kind of project can be recommended to all European cities, because places like these help the citizens to regenerate – and people definitely deserve this from their town authorities.
Follow the link to learn more about Hradec Králové.
TheMayor.EU stands against fake news and disinformation. If you encounter such texts and materials online, contact us at info@themayor.eu