Câmpulung Moldovenesc

Forrás: Catalin Dumitrescu

Mayor
Mihaita Negura
Önéletrajz
Rövid történet
The first written mention about the village of Câmpulung Moldovenesc dates back to April 14th, 1411. At that time the ruling prince of Moldavia was Alexandru cel Bun.
Historian Dimitrie Cantemir, in his well-known work "Descriptio Moldaviae", mentions the "Ocolul Câmpulung" as an autonomous region in northern Moldavia that has its own rules and leaders. This region consisted of 15 villages. Together with the rest of Bukovina, Câmpulung Moldovenesc was under the rule of the Habsburg Monarchy (later Austria-Hungary) from 1775 to 1918. Câmpulung was in the Austrian part of the empire after the compromise of 1867, administrative center of the eponimous district. Other main district cities were Dorna Watra (Vatra Dornei) and Wama (Vama) in 1900.
Later, between 1925-1950, Câmpulung Moldovenesc was the capital of the former Câmpulung County, the largest county in Bukovina.
"Câmpulung" means "Long Field" in Romanian and Moldovenesc ("Moldavian") is used to differentiate between this town and Câmpulung Muscel (Argeș County, Wallachia).
Source: Wikipedia
Câmpulung Moldovenesc is situated in the region of Bukovina, in north-eastern Moldova, Romania.
The town is located in the mountain area of Rarău Massif and Obcinele Bucovinei, on the banks of the Moldova River.
Câmpulung Moldovenesc is the fourth largest urban settlement in the Suceava county, with a population of 16,105 inhabitants, according to the 2011 census. It was declared a municipality in 1995 and a national tourist resort.
Town Hall

Address: 22 Decembrie 2, 725100, Câmpulung Moldovenesc, Suceava county
The main industries in Câmpulung Moldovenesc are dairy products, lumber, and ecotourism. Most of the local inhabitants work in bovine growth, milk industry and wood art.
Wood Art Museum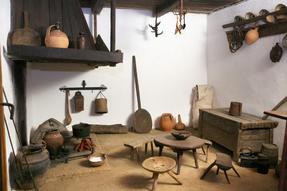 Forrás: Wood Art Museum
The main attraction of Câmpulung Moldovenesc's central area is the Wood Art Museum. It was founded in 1967, following the reprofilation of the Ethnography Museum and the Natural Sciences Museum. It is unique in the country and is among the few in Europe with regard to its theme and value of the exhibits. It has a rich heritage comprising over 15,000 pieces of wood and is based on the ethnographic collections made by Ion Stefureac and Constantin Braescu. The collections of the Art of Wood Museum present in a unique form the variety of the occupations of the locals on the Rarău and Giumalău Massifs, demonstrating once again that the Câmpulung Moldovenesc area was and is a center of wood civilization.