E-scooter scheme in Luxembourg City paused only one week after launch
The American company Bird is hopeful that the suspension is only temporary
21 ottobre 2019 11:30
Aseniya Dimitrova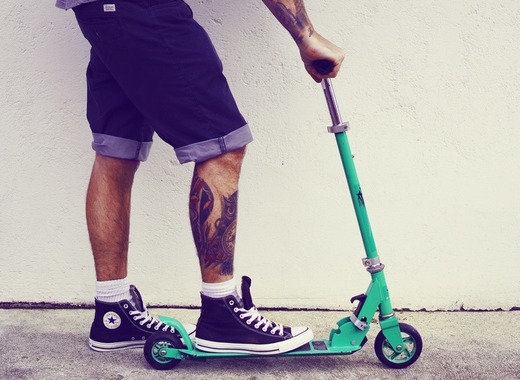 Last Thursday the local authorities of Luxembourg City announced taht the local e-scooter scheme has been suspended. The news arrived after several days of suspense and eager anticipation of a decision regarding the fate of the service, provided by Bird.
In fact, electric scooter sharing in the capital city was launched just this month – first rides took place on the 8th of October. The e-scooters were highly expected vehicle by loads of locals, as the country suffers heavily from traffic issues and accordingly – air pollution related to the great number of circulating and transiting vehicles.
The decision to remove all e-scooters of the American company comes after a meeting between Mayor Lydie Polfer and representatives of Bird which took place on the 17th of October. The company has been seeking a meeting for months before finally being able to hear the concerns and present its vision on how to address them and adapt its services to the needs of the city.
As for Ms Polfer, she has been critical from the very start. As quoted by RTL, she explained that the city has nothing to do with the installation of the e-scooters and had not been asked a permission. Even more, they have previously declared not to have any interest in the service.
A sustainable but contentious mobility solution
E-scooters are highly popular among active persons, wanting to quickly move from one place to another without the need to resort to a personal vehicle or to rely on public transport. Not only are they particularly convenient for shorter distances where no other option fits, but they are perceived as an efficient and sustainable alternative to the car.
Shared e-scooters usually work in a very simple way – a number of them is placed on dedicated parking areas within the city and clients rent them for a specific period or distance. Their rides and payments are operated through mobile applications, provided by the operator.
While in some cities e-scooters are growing in popularity, others have already experienced great troubles with the functioning of e-scooters which often goes out of control and have tried introducing regulations. Problems include the parking in unauthorized areas, driving on pedestrian sidewalks, impossibility to control speed, to name but a few.
TheMayor.EU si oppone a notizie false e disinformazione. Se incontri tali testi e materiali online, contattaci all'indirizzo info@themayor.eu