Funchal mayor attends the mega cleaning operation of the city
This initiative is hailed as necessary in the new context
06 ottobre 2020 20:30
Tzvetozar Vincent Iolov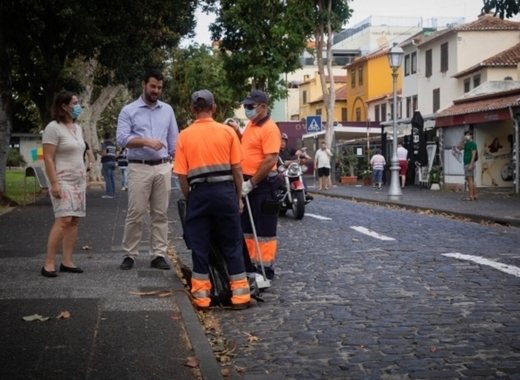 Fonte: Municipality of Funchal
Earlier today, the Mayor of Funchal, Miguel Silva Gouveia attended the combined cleaning and inspection work carried out by the municipal crews on the streets of the Madeiran capital. In this task, he was accompanied by Deputy Mayor Idalina Perestrelo. The operation, which includes more than 100 municipal employees aims not only to prepare the city for the autumn season but also to make sure that the streets are disinfected, and the pets are chipped and vaccinated.
Despite the decline in tourism visits, it is essential for Funchal to maintain its clean image
The initiative means that apart from the city cleaning services, it will also involve officers from the Public Security Police.
"We are carrying out an unprecedented operation in Funchal, because the times we live in are different and require different responses. This initiative includes urban cleaning activities, with the clearing of gutters to prepare for the rainy season, as well as inspection actions aimed at evaluating situations in which the public space is being used improperly," said Mayor Gouveia.
Likewise, the inspection includes the verification that companion animals are properly chipped and vaccinated. This goes for companion animals of people who use them to solicit money on the street. It is part of the effort of making sure that animals are being treated properly.
This activity, which was dubbed a "mega operation" by the city's website, will involve four of the municipal departments. The activities performed will be manual and mechanized sweeping of the main streets, cleaning of the gutters, disinfection of critical points, washing of urban furniture, collection of waste from the sorting bins and the already mentioned animal inspection.
"Despite the context of the pandemic in which we live and the decline in the tourism sector that does not allow us to have the cluster of people in downtown Funchal that we were used to, it is important to maintain the city with the presence of our employees, demonstrating that Funchal continues to be a good city to visit, excellent to live in, and a prosperous city for those who want to do business here," concluded Mayor Gouveia.
TheMayor.EU si oppone a notizie false e disinformazione. Se incontri tali testi e materiali online, contattaci all'indirizzo info@themayor.eu