The Urban Future Global Conference returns in 2021
Rotterdam will play host and TheMayor.EU will partner once again
05 agosto 2020 14:30
Tzvetozar Vincent Iolov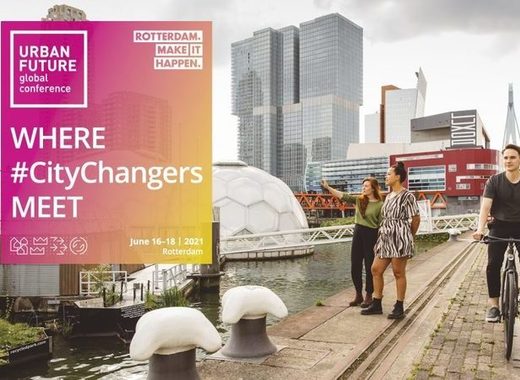 Fonte: urban-future.org
The Covid-19 pandemic might have dampened the spirits this year for the Urban Future Global Conference in Lisbon after the event was cancelled, but things are decidedly looking bright again. Organizers have rolled their sleeves and the wheels are already rolling for the Urban Future Global Conference that will take place in Rotterdam, 16-18 June 2021.
The largest event dedicated to urban sustainability promises to be as bold and enterprising as ever. It will count with more than 70 Dutch, European and international partners.
New host-city and a new thematic focus
Rotterdam had already been decided to welcome the UFGC and the organizers were quick to promise that many of the speakers will be back. The new roster of City Changers from all walks of life will be ready to deliver their riveting ideas, stories and experiences on how to transform cities into more wholesome places for living.
It has already become a tradition for each conference to place the emphasis on different themes and next year will be no exception. Here is a look at what will be discussed:
Urban Mobility – how to make traffic congestion a problem of the past,
Skills & Leadership – urban visionaries will inspire leaders of the future,
Circularity – a mindset that can easily become adopted by the next generations,
Districts – the local of the local, or how our cities shape our identities.
Another important tradition that will be honoured is the Young Leaders program. Those who were selected to participate in 2020 will get an automatic spot for the 2021 edition. What is better is that at the end of this year even more young talents will be offered a place at the Rotterdam UFGC.
Upon cancellation of the Lisbon event, the organizers informed that people who had already purchased their tickets will be able to use them for the conference in Rotterdam next year.
As usual, TheMayor.EU will be diligent in letting its readers know about all the news and developments coming out of this exciting event. Stay tuned via our website and social media channels.
TheMayor.EU si oppone a notizie false e disinformazione. Se incontri tali testi e materiali online, contattaci all'indirizzo info@themayor.eu