A 20-meter waterfall in Smolyan is on its way to becoming a top tourist attraction
For this purpose, a project is being implemented for the transformation of the natural landmark
rugpjūčio 12, 2020 21:30
Monika Dimitrova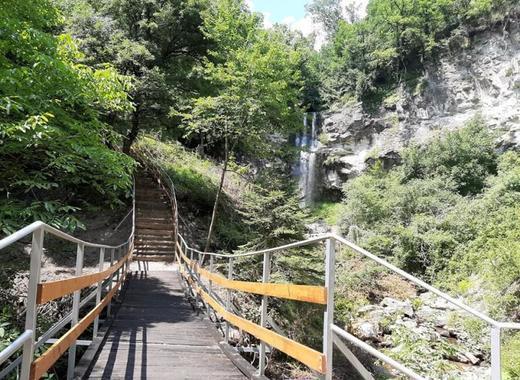 Šaltinis: Smolyan Municipality
The Bulgarian Municipality of Smolyan is working to turn the Smolyan Waterfall into a tourist destination that will attract visitors from the country and abroad. To achieve this goal, a project is being implemented to turn the natural landmark into a place of pure nature.
The waterfall was declared a natural landmark in 1968. It is hidden among residential houses on the western outskirts of Smolyan. Located on a small local river, it reaches a height of 20 meters but dense vegetation makes it hard to see.
The lush greenery and tall trees, in addition to hiding the waterfall, make it impossible to get to it. The tourist brochures mention the waterfall as an attraction, yet tourists find it difficult to reach it because there are no signs indicating the way.
The whole area is being rejuvenated
The Municipality plans to improve recreational possibilities and to rejuvenate the whole area. A pleasant park environment with all the necessary equipment is to be created, which will provide comfort and convenience to both the locals and the guests of Smolyan.
Cleaning and landscaping activities are already being carried out and the installations of a wooden bridge with protective railing, a metal fence, waste bins and large wooden benches are underway. The existing tourist markings are refreshed and renewed, and information boards are placed.
The overall mission of the project is to create an ecologically clean place for recreation that will improve the living environment for the inhabitants of Smolyan. The specific aims are cleaning and rejuvenating the area around the waterfall, creating an attractive park and increasing the environmental awareness of the people.
In addition, investments will be made in the creation and restoration of recreational areas, playgrounds, sports facilities and more. After the end of the project, Smolyan Waterfall is expected to become an attractive tourist destination, adding value to the nearby eco-trail "Canyon of Waterfalls", which is visited annually by thousands of tourists.
TheMayor.EU si oppone a notizie false e disinformazione. Se incontri tali testi e materiali online, contattaci all'indirizzo info@themayor.eu