Available in:
Pasidalink straipsniu
Cities should be trailblazers for climate protection and lead with great example
Birgit Hebein, deputy mayor of Vienna оn fighting climate change, the role of cities and tеchnology
spalio 18, 2019 11:30
Anton Stoyanov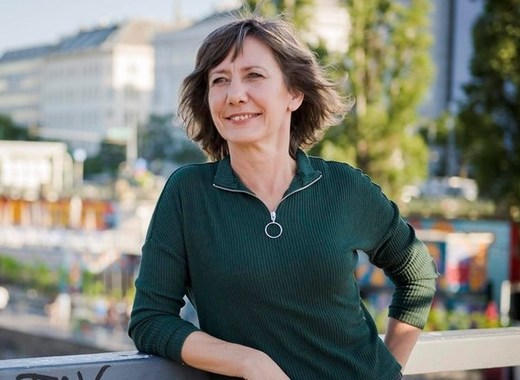 Šaltinis: Birgit Hebein/Facebook
Birgit Hebein, born 13 January 1967, is the leader of the Vienna Greens and deputy mayor of the Austrian capital. She is also city councillor for urban development, transport, climate protection, energy planning and citizen participation.
Before she entered politics, Hebein worked as a social worker at Caritas Vienna. She has also worked at different NGOs serving a social function. She became deputy mayor of the capital in June 2019, amidst the hottest summer in Austrian history.
Mrs. Hebein, over the course of your mandate, Vienna has become widely regarded as a European champion in fighting climate change. How would you describe the vital work you're doing for the city?
To me climate protection incorporates social justice and vice versa. I became the deputy mayor of Vienna by the end of June, at the beginning of Vienna's hottest summer ever recorded. One of my first steps was to create Vienna's first "Heat Map". The map combines climate reports with demographic data to indicate where in the city temperatures peak and where most elderly and children live. Ultimately, it's the youngest and oldest citizens who are most vulnerable to the heat. Within a couple of days we started a pilot project called "Cool Streets". On the basis of the "Heat Map" we chose three streets within the most vulnerable neighbourhoods and cooled them down. Space that had been taken by parking cars was given back to the people in the neighbourhoods. This very example showed that if you act fast you can improve the conditions for the locals – even with little money and time. When it comes to fighting climate change that is a guiding principle to me: Acting matters, talking doesn't. Within three months we were able to implement not only the "Cool Streets" but also a climate council with scientists as policy advisors, a climate budget to control our expenses in regard to green gas emissions and "climate protection zones" to promote renewable energy. To me, the past months have proven that combating the climate crisis will be hard work but is absolutely possible.
Vienna was hit hard by the summer heatwave, yet your administration acted swiftly and accordingly. What were the measures undertaken by your administration to remedy the crisis?
We implemented serval measures such as the "Cool Streets", spray mist was installed at many spots all over the city. It is important to find temporary solutions as well as sustainable ones, as extreme heat is not only a health but also a social issue. Due to extreme temperatures the elderly often stay home all day, thus the heat provokes social isolation. To improve the situation rapidly it was vital to work collaboratively with many different stakeholders such as district councils, NGOs and so forth. Most importantly, none of our measures would have worked without the commitment and dedication of hundreds of civil servants and public officials. We are currently working on a heat plan to prepare for next summer. This action plan is going to provide various measures such as opening cool spaces like churches, libraries or museums for the public or the enhancing transportation services for the elderly for the hottest days of the year.
With rapid technological development come many opportunities. How have you incorporated smart city solutions into your work of making Vienna a greener and cooler city?
The smart city strategy Vienna provides greenhouse gas emissions per capita by 50 percent by 2030 and by 85 percent by 2050. It is a long-term initiative by the City of Vienna to improve the city for its citizens in all areas of their lives. It is a holistic approach that comprises new technologies such as solar power stations with citizens as shareholders, sharing systems for cargo bikes, energy efficient LED technology for public lighting, smart traffic lights, climate-adapted streets and so forth. But Smart City means more than technological progress. For instance, we invested additional eight million euros to plant more trees, especially in dense neighbourhoods. Trees might be the most old-fashioned air condition you'll find, but they are still the most effective and sustainable one.
Let's talk about some of your landmark initiatives. Can you give us some details on the "Cool Streets" project which you have been implementing in the city?
We started with a pilot project and chose three streets in the hottest and most vulnerable areas in the city. We chose streets with shade-giving trees and temporarily banned driving and parking there. The regained space was cooled down with spray mist and equipped with benches. The people in the neighbourhoods conquered their streets and filled our idea with life. They celebrated weddings, built Vienna's biggest couch, children played, learnt how to spell their first letters performed a play... People sent us pictures of their day in the "Cool Street" every day. We evaluated the project on two levels. Firstly, a climatic examination showed that temperatures decreased by up to five degrees. Secondly, the social study reported that 92% of the people would like the repeat the project in their neighbourhood. That is why we are bringing them back next summer: Vienna will have 23 Cool Streets, one in each district.
A few months ago, you unveiled plans for the establishing of so-called "Climate Protection Zones" – how far reaching do you think the consequences of this initiative will be, in regard to climate protection in Vienna?
To reduce emissions we need to replace fossil fuels with renewable energy sources. 8 out of 10 new buildings in Vienna will be located in a "Climate Protection Zone" by mid-2020. There, heating, cooling and hot water preparation of newly erected buildings must be provided either by renewable energy such as geothermal energy, solar energy, biomass or district heating. With this measure we are reducing the CO2 consumption of new buildings by up to 80 % and thus saving up to 112,000 tonnes of CO2 by 2030 alone. This corresponds to over 1,000 car journeys to the moon and back.
You have set your sights on completely transforming Vienna by 2050 – reducing car traffic, drastically reducing greenhouse emissions, etc. Can you give us some more details on your approach towards such issues?
With the Smart City Vienna we follow a holistic long-term strategy covering all areas from infrastructure, energy and mobility to all aspects of urban development. Environmentally friendly mobility is an important remedy as car traffic is responsible for 42% of the emissions in Vienna. That means we have no choice but rethink the way we organize traffic within and around cities. We need to invest and promote public transport especially in the districts further from the centre. And we need to find common strategies with the regions surrounding Vienna, especially Lower Austria and Burgenland, to offer climate friendly alternatives for commuters. In respect to car traffic it is also vital to calm traffic in dense areas, unseal and renaturalize streets.
With Vienna serving as an example for many cities across Europe, what advice would you give to your colleagues when it comes to dealing with the effects of climate change in urban areas? What role will cities play in the future in combating climate change?
Cities play a major role in combating climate change. Not only because cities are very much affected by the climate crisis but because we bear responsibility. 75% of the CO2 emissions throughout the world is currently caused by burning fossil fuels in cities. However, cities should be trailblazers for climate protection and lead with great example. Take public transport – in Vienna we introduced the 365-Euro ticket in 2012. The Viennese can use all public transport for one euro a day. Now there are similar ideas for a national railway ticket. Cities have also been the arenas for millions of young people in Austria, Europe and the world, who have raised their voices to call for climate justice. They demand action - for a very good reason. We as politicians should listen to them, and make decisions which enable young people to have the future they are asking for. Fridays For Future are a plea to tackle challenges together, to listen to the young, the scientists, the entrepreneurs. To find cross-party and cross-country solutions and learn from each other. Combating the climate crisis is possible, if we as politicians are courageous and committed to act – not next month, not after the upcoming elections but now.
TheMayor.EU si oppone a notizie false e disinformazione. Se incontri tali testi e materiali online, contattaci all'indirizzo info@themayor.eu