Metro Barcelona upgrades its training system with new devices
This is part of training the automatic lines technicians working on Lines 9 and 10
spalio 15, 2020 16:00
Tzvetozar Vincent Iolov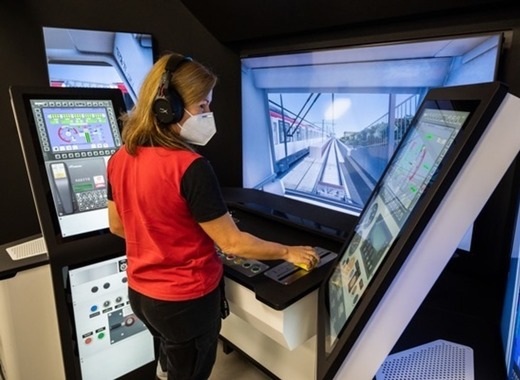 Šaltinis: TMB, Photo by Pep Herrero
TMB, the operator of the Barcelona subway network, informed commuters yesterday about the introduction of new training tools which will make their drivers and technicians even more skilled and with a greater capacity to respond to emergencies. This concerns the installation of a driving simulator and a virtual reality station at the Fira station on Line 9 South.
Did you know that Metro Barcelona is the only subway in Spain to have driverless trains?
The urban transit operator inaugurated the first automatic lines in the Iberian country already back in 2009. These are Lines 9 and 10, which are currently split into two sections with ongoing work in the middle that will join them to become the longest subway line in Europe.
High-tech technology as this also requires competent and skilled operators, which is why the 9000 Series Train Driving Simulator was installed. Manufactured by Alstom, it reproduces a train cabin on a real scale and counts with virtual reality settings and gamification.
The simulator is able to mimic real-life scenarios which require urgent intervention. These can involve anything from a malfunction or environmental incidents to overcrowded trains. Thus, the command centre technicians will be also trained as drivers without having to use the actual trains for the purpose.
The benefits of the virtual training will be to minimize costs and interruptions to the service and the timetables. This is important especially now that high efficiency is required in the context of the Covid-19 pandemic when more trains are running at peak hours in the subway in order to prevent commuter crowding.
TMB reported that there are very few metro systems that are equipped with such digital training simulators. This latest innovation is a step in the overall process towards full automatization of the subway network in the future.
TheMayor.EU si oppone a notizie false e disinformazione. Se incontri tali testi e materiali online, contattaci all'indirizzo info@themayor.eu