Available in:
Pasidalink straipsniu
Prague says no to fireworks on New Year's Eve
There will be no lights show in 2020
rugpjūčio 26, 2020 21:30
Aseniya Dimitrova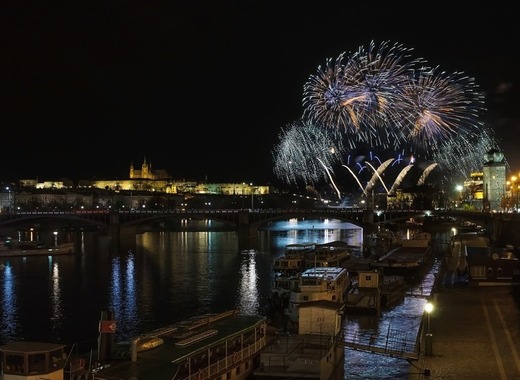 There will be no New Year's light show with fireworks in 2020 in Prague, Mayor Zdeněk Hřib has announced on Wednesday through his Facebook page. This is the result of the Czech capital's commitment to protecting animals and the environment from noise and pollution.
Celebrating peacefully with respect to animals and the environment
Prague will not organize any New Year's light shows or fireworks this year. "As we explained last year, we want to retreat from fireworks and pyrotechnics as many other modern metropolises do. The aim is to protect animals and the environment from noise, dangerous explosions and pollution. Entertainment should not cause hardship and harm to others" continued Hřib.
This time, however, due to the coronavirus, there will not be any alternative light performances. By doing this, the municipality will save about CZK 2 million (76 000 euros) in its crisis-laden budget.
Another reason is that the city cannot predict the hygiene restrictions that may be imposed during the winter season. The mayor also expressed his belief that the celebrations related to the arrival of 2021 can happen peacefully and while taking care, in the company of the loved ones. That includes one's pet friends.
This action makes Prague no exception, but rather the follower of a tendency. Motivated by similar concerns, several German cities, such as Berlin, Hamburg and Munich introduced legislation restricting the use of fireworks last year. Similar motivation led to the fireworks show to be banned in the centre of Amsterdam in 2019.
Fireworks this year also being cancelled in many places around the world due to the coronavirus. Bastille Day celebrations, for example, took place without fireworks in Lyon or Nice, and the same went for Independence Day celebrations in Salt Lake City and Chicago. The Prague Mayor added that the cancellation of the world-famous fireworks display in Sydney is also being considered.
TheMayor.EU si oppone a notizie false e disinformazione. Se incontri tali testi e materiali online, contattaci all'indirizzo info@themayor.eu