The Schengen Experience: how to play
Here's how to play the best educational game in Schengen, Luxembourg
lapkričio 13, 2019 21:30
Aseniya Dimitrova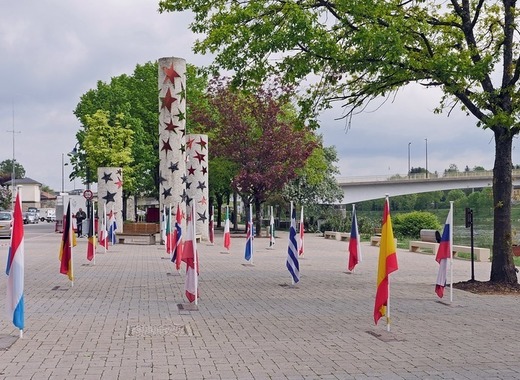 As we have already informed you, the Schengen European Center, based in Schengen, Luxembourg, strives to teach the values ​​of the European Union through gamification. Here is how to understand and play the game The Schengen Experience.
 Saving the freedom of movement
The rules of the game are not typical for an escape game, rather escape game techniques as well as immersive theater / role play are used. In fact, children find themselves in an alternative reality where the Prime Minister has decided to cancel the Schengen agreement. This is advertised on a radio transmission.
As a result, children and their carers are interviewed by a customs officer and then imprisoned until all documents are checked by the authorities. The goal of the game is to convince the Prime Minister to reopen the borders and save the freedom of movement.
Fortunately, the assistants at the Schengen Museum know that in the museum and the surrounding area there is secret and useful information available. The special mission begins when the children are released from their prison. After stealing code bags from the customs office, they have to find the codes to open security boxes in the suitcases.
 Some of the tools essential for the game the Schengen Experience
Through playful games in the escape room style, children collect important information about the Schengen treaties and the history of the European Union. After solving all the puzzles, they can open the security boxes to find the information to contact the prime minister.
 Children rescuing the Schengen Agreement
In the last part of the game, the leader of the group calls the minister and the children are invited to give the most convincing arguments in favour of reopening the borders. Finally, the minister announces on radio that thanks to the brave children he has changed his mind and that the Schengen agreement is to enter in force immediately.
"Our goal is for children to learn the fundamental values ​​of the EU during the game. They study the history of the European Union, its role in the development of peace and the growth of a strong economy. They also learn some of the cultural symbols of the member countries. In addition, they realize that our rights as European citizens are not obvious and must be protected. Through role play and the fantasy element, the information learned is emotionally related and is internalized in a more complete way. So far, the game proves very popular among children and educators and the effectiveness of this approach has been confirmed by the latter," says Kim Dumont of the Schengen European Centre.
The main target group are primary schools. The duration is 90-120 minutes and requires a preliminary reservation.
TheMayor.EU si oppone a notizie false e disinformazione. Se incontri tali testi e materiali online, contattaci all'indirizzo info@themayor.eu