Glasgow gets ready for Santa Dash 2019
Don a Santa costume and run for charity in Glasgow this December
2019. gada 19. Novembris, 21:30:00
Anton Stoyanov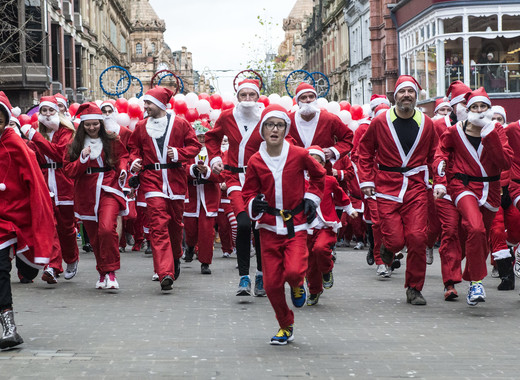 Avots: St Gemmas Santa Dash 2014 by Simon Ishmael Cliff on Flickr (CC BY 2.0)
Glasgow is gearing up for the 2019 edition of its annual Santa Dash – a charity run by people dressed up as Santa Claus, which will take place on 8 December. With registration recently becoming available at the City Council's website, you too can take part in this wonderful and festive event – and support a good cause.
Each year since its inception, the Glasgow Santa Dash has been more and more successful. The 5km run has had all of its available spaces sold out during each of its inceptions – that's why the Glasgow City Council has decided to raise the cap of participants all the way up to 10,000.
When registering at the City Council's website you'll see a few options before you. In the spirit of sustainability, the local government is giving participants the option to bring their own Santa Claus costume to wear, instead of purchasing one with the entry fee. By bringing your own attire, you will be entitled to a discount.
If you don't happen to have one on hand, don't fret, the full 15 pound entry fee entitles you to a suit as well as a City Council approved beard. Participants in the Santadash will be able to pick up their numbers and suits at the St. Enoch Centre prior to the race.
Racing for charity
According to the Glasgow City Council, the charity run has managed to collect over £250,000 for various charities since its first edition way back in 2006. This year's beneficiaries are set to be the Beatson Cancer Charity and The Lord Provost's Children's Fund – an organisation aiming to relieve child poverty and help young people living in Glasgow.
Lord Provost Eva Bolander said: "Everyone loves the Santa Dash. Now a firmly established highlight of our festive calendar. It enjoys great public support and is proud to be a unique, family-friendly event, as well as great fun. The fun starts in George Square where a sea of Santas will start their race to raise cash for a range of good causes. I look forward to waving them off and I'm grateful my Lord Provost's Children's Fund will benefit from some of the money raised."
Like the article? Subscribe to our newsletter to receive the latest from the EU cities right into your inbox.