Botoșani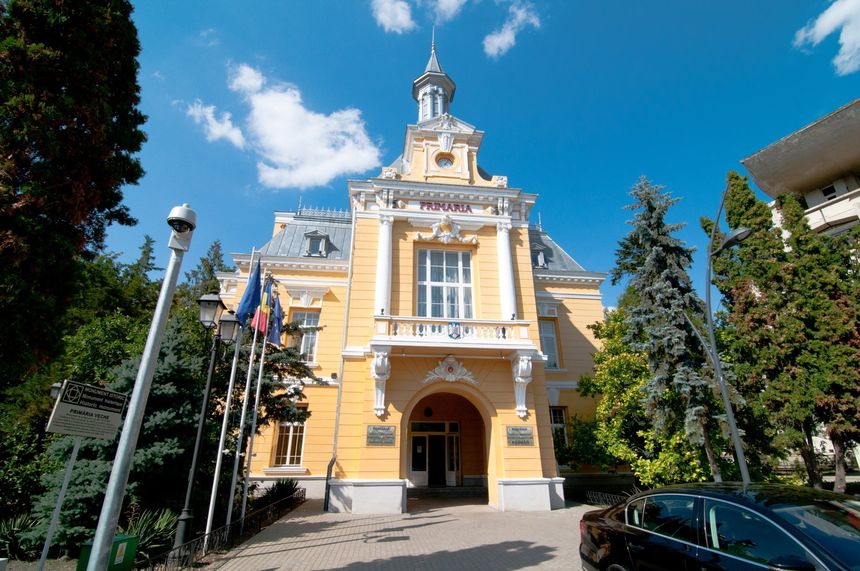 Avots: Botoșani Municipality

Mayor
Cosmin Andrei
Previous mayors
Biogrāfija
Pilsētas vēsture
Botoșani is the county town of Botoșani County, situated in the Northeast of Romania. It was first mentioned in The Chronicles of Moldavia, covering the history of the region from 1359 to 1594. Being placed at the junction of several commercial roads, the city was initially a market town; in the 16th century, it already had "the biggest and the oldest fair of Moldavia". Large communities of Jewish and Armenian traders were present in this city starting with the 17th century.
Botoșani Municipality has been legally registered as a territorial administrative unit in accordance with the Law no. 2 of 1968 on the administration of the territory of the Socialist Republic of Romania. According to the above Law, a territorial administrative unit is a legal person governed by public law acting in full legal capacity, and directly managing its own assets, as well as many banking accounts as necessary. In addition, the Law states the terms and conditions for the local autonomy within the territorial administrative units. The local autonomy is put into practice by the Local Councils in rural communes, towns, and cities acting on capacity of deliberative authorities, and then, by Mayors, acting on capacity of executive authorities. To date, Botosani Municipality has 250 permanent employees. According to the 2011 census, Botoșani has a population of 106,847 inhabitants.
City Hall

Address: Piaţa Revoluţiei №1, 710236, Botoşani
More than 7000 trade companies, family businesses, authorized natural persons, etc. operate in Botoșani municipality, accounting for over 70% of the county's GDP. Of these, 2,800 are trade companies (70% of all existing at the county level), averaging 26 companies per 1,000 inhabitants.
Notable is the high share of the SME sector in Botoșani (99.3% of all companies), which makes it the city's development engine. The main sectors of activity are trade (wholesale or retail), professional and administrative services, manufacturing, construction, transport and storage and financial intermediation alongside real estate transactions.
Green City
Avots: Botoșani Municipality
Botoșani is the town with the largest area of green space per capita in Romania (according to EU norms), without sonic pollution.
Keen on culture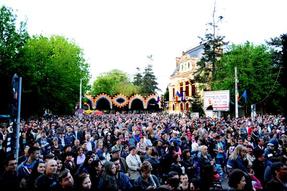 Avots: Botoșani Municipality
Here is the cradle of Romania's cultural greats: Eminescu, Enescu, Iorga, Luchian. Today, in Botoșani, there are functioning Theater, Philharmonic, Children and Youth Theater, museums, exhibition halls.
A cosmopolitan town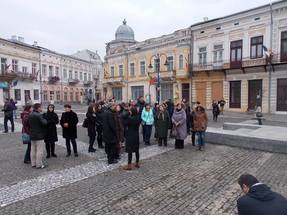 Avots: Botoșani Municipality
The old town center is a combination of the architectural pre-war and interwar styles, the result of osmosis between the inhabitants of different ethnicities and religions. The Armenian and Jewish quarters are unique.
The Ecumenical Route links churches and monasteries belonging to all religions that are one of a kind in Europe regarding their age and architecture.
Cornişa Aqua Park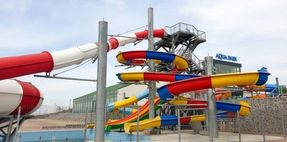 Avots: Cornișa Aqua Park
In Botoșani you will find the largest tourist and sports recreation park in Moldova: Cornişa Aquapark. Enter the fascinating world of entertainment that will fully satisfy your imagination, helping you to have a perfect relaxation day regardless of the season. You will have to choose between: indoor swimming pool, Olympic-size pool, children's pools and water slides; SPA, saunas of different types, hammam and massage; artificial skating rink; curling; sports grounds for minifootball, handball and lawn tennis; outdoor amphitheater; lake with boats; artificial river for rafting; tracks for cyclists; place for skateboard; wall for climbing; food-court area; playgrounds for children by age and for children with disabilities.