Metamorfosi

Fonte: Metamorfosi Municipality

Mayor
Efstratios Saraoudas
Biografia
Breve história
Metamorfosi is the historical continuation of one of the most ancient foci of life in the inland of Attica. The presence of human life and activity in the area of ​​present-day Metamorfosi has been identified based on archaeological findings, dating back some 4,600 years ago.
Before 1957 Metamorfosi was named "Koukouvaounes" - the name remains widespread, especially among the oldest inhabitants of the city.
It was recognized as a Municipality in 1972 by a community that was seconded by the Municipality of Athens in 1934.
Metamorfosi is part of the Athens urban complex that belongs to the North Athens Prefecture of the Attica Region. Located at the southeast foot of Mount Parnitha, it used to be a famous Athenian recreation place (because of its good climate) that has evolved into today's modern municipality, with parks, squares, sports facilities, shopping center, etc. The population, according to the census of 2011, amounts to 26 448 people, while according to unofficial estimates the total population exceeds 35,000.
City Hall

Address: 14451 Metamórfosi
The municipality's industrial zone is home to about 1,700 (large, medium and small) business units, some of which operate internationally.
TOURISM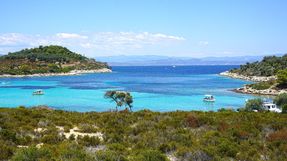 Fonte: Metamorfosi Municipality
Metamorfosi is a very popular and idyllic village in Sithonia. It offers a Blue Flag coast, white sand, green emerald waters and creeks surrounded by pine trees. The beach is well-organized providing also disabled access.