Disponível em
Compartilha o artigo
Sketching of Swan Bridge in Pärnu is over
The construction of the challenging and nuanced bridge is supposed to begin next year
Sábado, 17 de Outubro de 2020, 15:00h
TheMayor.EU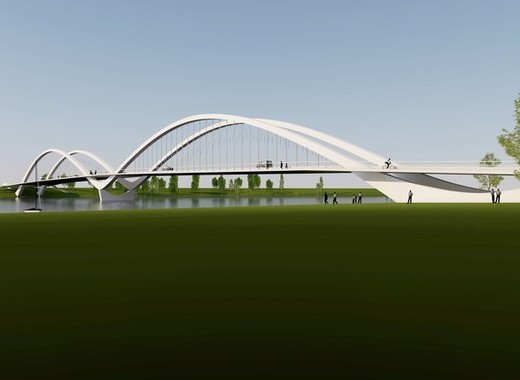 Fonte: Trilog Studio
The design works of Pärnu's third bridge have reached the intermediate phase with the sketch project of the bridge now complete. When the preliminary design process is over, next spring the city government will look for a builder of the eye-catching arched bridge which fully deserves its name.
Last April, the architectural competition for a bridge to connect Raba and Lai streets in the Estonian seaside resort city bisected by the Pärnu River, was won by Trilog Studio with their design called "Swan". The bridge structures will be designed in cooperation with the Swiss engineering firm Gruner Wepf AG and Stricto Project OÜ.
The bridge is a three-arched, elegant and modern construction with a length of approximately 350 meters. The 125 m bridge openings will be the longest in Estonia. In the sketch solution, the structures of the bridge including columns and their surroundings have been subjected to further fine-tuning.

"Our goal is to create a bridge which combines aesthetic appeal and clarity of construction, and, together with the surrounding footpaths and recreation areas, forms a pleasant and human-friendly urban space. We proceed from the desire to keep the banks of the river open and spacious and to connect the new roads smoothly with the existing ones," said the bridge's architect Mari-Liis Vunder, quoted by the city website.
Safe passage of cars, bikes, pedestrians and ships
The design of the roads and streets linked to the bridge has been based on the comfort and traffic safety of both light road users and cars. 4 m -wide footpaths and bicycle paths are planned on both sides of the bridge which will have three lanes with the middle one reversed.
The bridge will be connected to the existing street network by roundabouts with turbo ring circuits. What deserves special mention is that the riverside parking area will be completely relocated under the bridge and the utility networks will be hidden under the bridge slab. The height of the centre of the bridge carriageway is nine metres from the water surface, which ensures the safe passage of ships on the Rääma Street side of the Pärnu River.
TheMayor.EU stands against fake news and disinformation. If you encounter such texts and materials online, contact us at info@themayor.eu