Disponível em
Compartilha o artigo
The Mayor of Odessa greatly interested in having his city added to TheMayor.EU
This stated Gennadiy Trukhanov during a meeting with Mr. Boyan Tomov, founder of TheMayor.EU
Quarta-feira, 09 de Outubro de 2019, 11:00h
Monika Dimitrova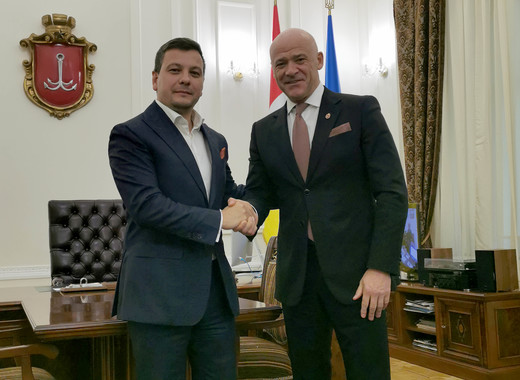 Fonte: themayor.eu
Mr. Boyan Tomov, founder of TheMayor.EU - the European portal for cities and citizens met with the mayor of Odessa, Gennady Trukhanov. Mr. Tomov was invited by the Mayor so that they can discuss the portal and its great development. Impressed by the work of TheMayor.EU, the mayor of Odessa, expressed his sincere desire to have his city included in the platform. During the meeting, Mayor Trukhanov congratulated his colleagues - the mayors of the municipalities of the European Union for their many successful good practices and projects implemented in recent years.
Mr. Tomov was fascinated by the green achievements of the city and by how many young people study, work and live in Odessa. He also met with representatives of the City Hall to discuss various possibilities for cooperation. It is very important for the Ukrainian city to be promoted among EU countries and the city plans to organize various events in this regard. Follow TheMayor.EU to be the first ones to learn about future cooperation between the European portal for cities and citizens and the city of Odessa.
Like the article? Subscribe to our newsletter to receive the latest from the EU cities right into your inbox.