Will Moses save Venice?
Mired in corruption allegations, the Moses flood defence project may not be completed before 2021
Quinta-feira, 14 de Novembro de 2019, 20:30h
Plamen Petrov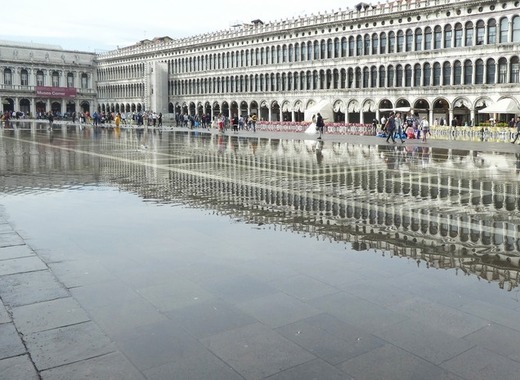 Italy declared a state of emergency in Venice after 1.87m high tides accompanied by strong winds engulfed over 80% of the Italian city, a Unesco world heritage site, wreaking havoc across it and dealing a blow to tourism.
The highest Acqua Alta in 53 years took the lives of two residents, overturned gondolas and an empty vaporetto (public water bus), flooded restaurants and shops and caused power cuts.
Worse was the damage done to historical landmarks such as the famous St Mark's Basilica. Its crypt was completely flooded and fears arose of structural damage to the basilica's columns. Blaming climate change for the disaster, the mayor of Venice Luigi Brugnaro said the damage to the city would amount to "hundreds of millions of euros" and appealed emotionally to the government to save one of the most beautiful cities in the world.
Quick to visit the disaster scene, Italy's Prime Minister Giuseppe Conte met with Brugnaro, Veneto Governor Luca Zaia, and Infrastructure Minister Paola De Micheli. Conte described the flooding as "a blow to the heart of our country" and said his government would act quickly to provide funds and resources under the special powers granted by the state of emergency.
He said the government would "accelerate" the building of structural defenses for the sinking lagoon city which is made up of more than 100 islands. What he meant was the notorious Mose project (its name alluding to the Biblical story of Moses parting the Red Sea) - a hydraulic barrier system to shut off the lagoon in the event of rising sea levels and winter storms.
What the Mose project entails
MOSE, the Italian word for Moses, is, in fact, an acronym for Modulo Sperimentale Elettromeccanico (Experimental Electromechanical Module). The project aims to prevent flooding through the installation of 78 mobile gates at three inlets - Lido, Malamocco, and Chioggia - which will separate the Venetian Lagoon from the Adriatic Sea.
De Micheli conceded that the Mose flood defence project was not expected to be operational until the end of 2021 but hoped that at least some of the defences would function by then.
Work on the project, carried out by Consorzio Venezia Nuova, began back in 2003 after much delay. Since then it has been plagued by corruption and bribery allegations that led to the resignation, in 2014, of former Venice mayor Giorgio Orsoni. He was accused of involvement in the embezzling of around €20m in public funds earmarked for flood defences.
The Mose project has already cost billions of euros. Venetians hope that these and future funds procured by the government will not simply go down the drain.
TheMayor.EU stands against fake news and disinformation. If you encounter such texts and materials online, contact us at info@themayor.eu