Betrayals, scandals and drama - one week to the EU elections
Stabbed in the back by Viktor Orban, Socialists polling ahead and Michel Barnier breathing down his neck. Can something go right for Manfred Weber? That and more in our EU elections update
15 Mai 2019 11:30
Anton Stoyanov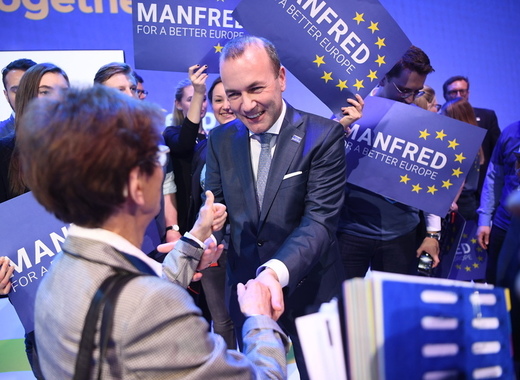 Sursă: European People's Party [CC BY 2.0]
With just one week to go until citizens across the continent cast their ballots for their preferred candidates, parties left, right and centre have been either imploding or plotting major comebacks. Since our last analysis was published, a lot of unexpected, yet foreshadowed things have transpired - Brexit was delayed – again; EPP Spitzenkandidat Manfred Weber's candidacy for European Commission president is taking nosedive after nosedive; the centrist political family ALDE announced its dissolution and future reformation.
With a few minutes to go before the clock strikes twelve and the European political landscape changes forever, all major parties are making drastic moves to either deal with their Achilles heel or seize new unexpected opportunities that might give them a leg up.
So, who's benefitted the most from the past month's events? Let's get to it.
Brexit ad infinitum
When Brexit was delayed yet again, it became legally necessary for the United Kingdom to participate in the elections for European Parliament. This provides a surprise boost to the Socialists' and Centrists' prospects as their member-parties Labour and the Liberal Democrats, respectively, are set to win quite a few seats. After the 2 May local elections, the LibDems were the party that increased its share of local councilors the most, gaining over 700 seats. It appears that they are the only party in the country that voters recognise as purely Remain-leaning.
The eurosceptics on the other hand will get a massive influx of "Farages" as the Brexit party is currently polling at around 27% - ahead of any other political party in the United Kingdom. As a result of its botched approach to the Brexit process, the Conservative party is polling 5th at around 10%, far behind everybody else, barely registering any signs of life. Some Eurosceptic MEP candidates have stated that they will be as disruptive as possible in the European Parliament in order get European heads of state to kick the United Kingdom out of the EU when the current extension runs its course.
Winners – S&D, Centrists, Hard Eurosceptics
Losers – Every sane person in the European Parliament
Et tu, Viktor?
Hungarian Prime-minister and leader of Fidesz Viktor Orban has withdrawn his backing from the EPP Spitzenkandidat Manfred Weber. An unfortunate turn of events for the Bavarian politician as he has spent a lot of his career defending and protecting the self-proclaimed "illiberal democrat" from scrutiny – both from within and without the party. Leader of the German conservatives Annegret Kramp-Karrenbauer (AKK for short) later stated that she is fully expecting Fidesz to leave the centre-right EPP.
Viktor Orban has long been flirting with the leader of Italy's far-right Lega Nord, Matteo Salvini. Earlier this month, the Italian interior minister announced the creation of a new rightwing Eurosceptic block in the upcoming European Parliament – we can only assume that that's where the Hungarian PM has set his sights. With Fidesz switching sides, that might spell out the end for the centre-right's hopes of staying the most powerful party in the European Parliament.
Manfred Weber's problems don't stop there however. Michel Barnier, the EU's chief Brexit negotiator has almost quite publicly revealed his aspirations for the post of European Commission President – despite not being any party's Spitzenkandidat. For a man who has nothing to negotiate (as the Brexit negotiation process was finalized a few months back), Barnier has been making a suspicious amount of visits to EU capitals – holding speeches and conferences on the Future of Europe. As we mentioned in our earlier analysis, the Frenchman might be able to snatch the top prize under the nose of Manfred Weber by virtue of being more of a compromise candidate.
Winners – Eurosceptics, every other major party, competing with the EPP
Losers – EPP, Manfred Weber
Goodbye, ALDE, it was nice knowing you
On Friday 10 May, French president Emmanuel Macron hosted a gathering of centrist parties in Strasbourg. Together with members of the current Alliance of Liberals and Democrats, Macron's Renaissance list aims to create a political family, with which to shape the future of the European Union. That pretty much spells the end for the current liberal bloc as many of its members might not be invited to join whatever succeeds it. Members of Macron's En Marche have long dismayed over the membership of certain parties in ALDE – such as ANO, the party of Czech PM Babis, which is openly Eurosceptic.
Some surprise guests were also present at the gathering – Italy's Democratic Party and the party of Portuguese Prime Minister Antonio Costa – both currently members of the Socialists and Democrats. Before resigning, former Italian PM Matteo Renzi laid substantial groundwork for his party's transition into Macron's centrist camp. However, it's still not certain whether such drastic steps will be taken by either the Portuguese socialists or the Democratic Party.
Winners – Centrists, maybe?
Losers – S&D, maybe? parties kicked out of ALDE
Final tally
Thanks to the lack of Brexit, the infighting within the EPP and some positive developments here and there (Spain and Poland), the Socialists and Democrats might be on the verge of victory. With the addition of Labour MEPs and the probable expulsion of Fidesz, current seat projections put S&D ahead of the EPP with 158 members to 156, respectively. That is of course only if some of its current members decide not to switch sides over to Macron and ALDE's upcoming European Parliament alliance.
The other big winner seems to be Michel Barnier. He is looking like the only possible compromise candidate – popular everywhere (besides Britain, obviously), not bound by the Spitzenkandidat process to any party and with rich experience in executive office.
If you want to find out more about our thoughts on the European elections, don't forget to check out our other analyses. You can be certain we will be looking at any and all developments and will be keeping you updated.
TheMayor.EU stands against fake news and disinformation. If you encounter such texts and materials online, contact us at info@themayor.eu