UK grapples with 2nd wave of COVID-19
Draconian measures are being introduced across all parts of the UK in order to combat the spread of the disease
23 Septembrie 2020 19:30
Anton Stoyanov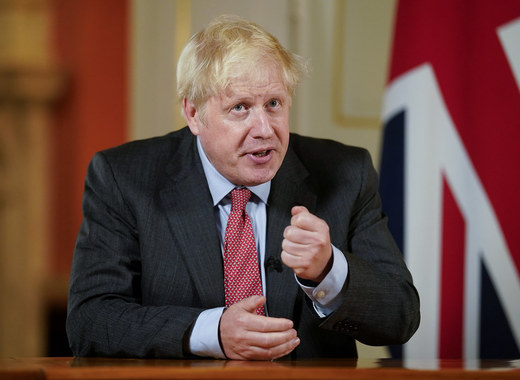 Sursă: Boris Johnson address to the Nation during Covid-19 by Number 10 on Flickr (CC BY-NC-ND 2.0)
Yesterday, 22 September, the UK began introducing new and tougher rules and regulations meant to curb the spread of COVID-19. With the country standing at a precipice, officials from all its constituent parts have agreed on imposing a range of new restrictions that will help them contain and deal with the disease while saving as many lives as possible.
A policy divided
Over the last few months, Westminster officials have been engaged in a constant PR battle as they attempt to explain their handling of the coronavirus pandemic. Many of their policy choices and statements have been conflicting or ineffective and then scrapped while some members of the government have allegedly been flouting the rules in their entirety. In this context, the latest changes to UK policy have also been mired in controversy.
After spending much of the last few weeks clamouring about the need for workers to head back to the office, and following a spike in confirmed cases, the government's official recommendation now states that as many people as possible should work from home. After promoting visits to hospitality establishments (such as restaurants) for days on end, it is now forbidden for these same establishments across England to be open after 10 PM.
Other changes include the mandatory wearing of face coverings by taxi drivers and passengers, retail staff and customers and inside hospitality venues. Large gatherings are also being restricted – starting from 28 September, weddings can be attended by a maximum of 15 people, divided into groups of 6 at most, while funeral attendance is being capped at 30. Despite that, spectators will once again be allowed into stadiums starting 1 October. The fines for not abiding by these rules are also being raised to £200 for first offenders.
Different approaches
Some parts of the UK differ in their approach, however. In Scotland, Nicola Sturgeon's government believes that support is far more effective than sanction when it comes to enforcing rules and is reviewing its strategy of containment. Nonetheless, some Scottish restrictions are far more stringent. For example, starting Friday, visiting other people's homes will be forbidden across Scotland, along with the introduction of a 10 PM curfew on bars and restaurants and a 6-person cap on the maximum number of attendants of gatherings.
Such a strict approach, falling well short of the March lockdown, also appears to be in line with the expectations of the general public across the UK. According to Ipsos MORI polling data revealed on 22 September, citizens are in favour of introducing new and tougher rules in order to stop the spread of COVID-19. For example, some 69% of those polled approved a total ban of travel into and out of the country, while 59% were in favour of the nighttime curfews. Meanwhile, a 51% majority declared that they support the closing of all hospitality establishments.
In his statement to the House of Commons, British Prime Minister Boris Johnson stated that the measures introduced in England could become even stricter should the situation not improve and that they could very well last for a period of 6 months. According to the PM, these new rules have been carefully measured and judged so as to achieve maximum effectiveness while causing a minimal amount of disruption to people's daily lives.
TheMayor.EU stands against fake news and disinformation. If you encounter such texts and materials online, contact us at info@themayor.eu