Available in:
Deli članek
Graz unveils new long-term education strategy
The city will place a special emphasis on digitalization and the digital skills of citizens
15. oktober, 2020 ob 19:30
Anton Stoyanov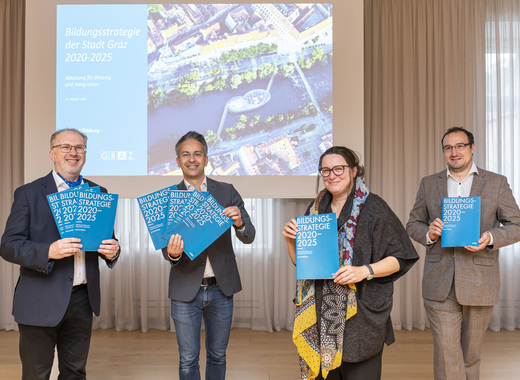 Vir: Stadt Graz/Fischer
The Austrian city of Graz has unveiled its brand-new 2020-2025 education strategy which will focus heavily on digitalization and improving the digital skills of local youth. Divided into 5 fields of action, 20 program ideas and 43 project goals, the strategy will bring the city's educational system into the future and will allow the city's young people to expand their skills in the areas that will be the most valuable.
Thinking about the future
Local authorities in Graz want to continue playing to their strengths – while simultaneously introducing new approaches that will help local youth better prepare for the future. Some of the key thematic areas on which the city wants to focus, aside from digitalisation which holds a special place of importance, are parent engagement, through the creation of new administrative offices and services and improving "strengths orientation" by providing additional support to secondary schools with specific profiles.
The city is also planning different ways to tackle one of the most important issues that educational establishments are currently facing – namely the lack of teachers and the additional training of current educational staff. Thus, Graz will focus heavily on providing better and improved spaces to establishments as well as on helping teachers obtain new skills.
"The education of our children is the most important raw material of our time. That is why a clear strategy and framework is needed here in particular with which the numerous partners can work in the best possible way, " stated Graz Education Councilor Kurt Hohensinner.
He further made a parallel with forest management, explaining that "Even those who are responsible for a forest think in terms of generations. Trees are planted. Your future children, grandchildren or even great-grandchildren will be able to use what we create. Many factors and conditions are responsible for the growth of a forest. Competencies are also similarly distributed in education. As school maintainers, we take care of a good breeding ground, an educational basis, and thus actively try to contribute to a prosperous future. "
TheMayor.EU stands against fake news and disinformation. If you encounter such texts and materials online, contact us at info@themayor.eu