Maastricht

Mayor
Annemarie Penn-te Strake
Biografija
Kratka zgodovina
In 50 BC today's Maastricht was a site of a Roman settlement called Trajectum ad Mosam ("Ford on the Meuse"). It is uncertain whether the Romans have first founded the settlement at the river Meuse, from which the city derives its name. It is known however, that Celts have lived there around 500 BC.
Between 382 and 721 it was the seat of a bishop and received city rights in 1204. After this the town was held by the dukes of Brabant, under the joint sovereignty of Brabant and the prince-bishops of Liège in 1284 and of Liège and the Dutch Estates-General in 1632.
The city was taken by the Spanish in 1579, by Prince Frederick Henry of Orange in 1632, and by the French in 1673, 1748, and 1794. However, it resisted the Belgians in 1830–32.
Post-war history
Maastricht was involved in WWII as early as the first day of the German invasion of the Low Countries in 1940. However, it also became the first liberated Dutch town in 1944.
Maastricht will forever play an important part in the history of the European Union. The city is famous for the signing of the Maastricht Treaty, the document that calls for the establishment of the EU, on 7 February 1992 by the members of the European Communities..
Source: Encyclopaedia Britannica
Maastricht is a city and municipality in the Netherlands, only 3 kilometres away from the border with Belgium. It has a population of 121,898 inhabitants (as of Dec 2019, CBS) and 60.03 km2 of area.
Maastricht is the largest city and the capital of the province of Limburg. It is part of the Meuse–Rhine Euroregion created in 1976.
Municipality of Maastricht visiting address

Mosae Forum 10

6211 DW Maastricht
Maastricht is a dynamic city with an international character thanks to dozens of international institutions and almost a quarter of its population being non-Dutch.
With a central location regarding the proximity to Brussels, Maastricht is characterized as a young, open, internationally oriented society in the heart of Europe.
Tourism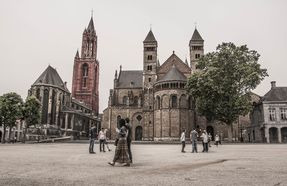 Maastricht boasts a high concentration of historical monuments. Among them is the oldest church in the country - the cathedral, dedicated to St. Servatius and founded by Bishop Monulphus in the 6th century.
When visiting the city do not miss the St. Servatius bridge over the Meuse, the Dinghuis, or former courthouse and the spectacular building of the town hall, constructed between 1658–64.
Maastricht is also home to the University of Limburg, a music conservatory, a symphony orchestra, art academies, and several museums.