Winners received their Tallinn Entrepreneurship Awards
Local companies find clever ways to survive the hard times
8 oktober 2020 18:30
TheMayor.EU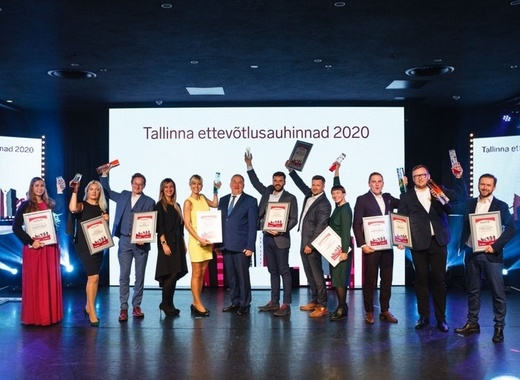 Källa: Kristi Hyrri, Ogilvy PR Estonia
At the culmination of the 17th Tallinn Entrepreneurship Day, the Estonian capital recognized on 7 October its daring and creative entrepreneurs who did not budge in the face of the coronavirus pandemic. Awards were handed out in seven categories: Real estate development project, Business-to-business collaboration project, Start-up company, Tourism act, Job creator, Responsible company and Solution for the future.
Seven wonders
The "Development Project 2020" award went to Mainor Ülemiste AS for their Lurich House, a EUR 31 million conjoined apartment and office towers. The development stands out in terms of innovative solutions - for example, one can open doors and order services, even with a subcutaneous chip.
The "Collaboration Project 2020" award was given to a partnership, including Marketing Communication Alliance OÜ, SA Tallinna Kultuurikatel and Eventech, for their Global Virtual Solutions - a unique way to bring together performers and participants from around the world in the context of a lockdown. The project offers the virtual tourist a comprehensive service from cyber security to network engineering, enabling the organization of and participation in memorable events.
The "Shining Starter 2020" award singled out the small start-up SRINI OÜ which is focused on complex special software solutions. Its vision is to create a management- and bureaucracy-free organization that allows employees to be paid a decent wage. 30 percent of the company's profits are distributed to all employees, thus increasing their sense of ownership.
The award "Tourism Act 2020" recognized the efforts of the staff of museum-visitor centre Paks Margareeta, housed in a renovated 500-year-old artillery tower, to uphold its reputation of an attractive UNESCO World Heritage Site.
"Job Creator 2020" is Bolt Technology OÜ, Europe's leading transport platform, with almost 200 jobs created in Tallinn and more than 550 jobs abroad during the year, in spite of the Covid-19 crisis.
The title "Responsible Entrepreneur 2020" was awarded to the leader of modern Estonian cuisine Leib Restoran OÜ, managed by chef Janno Lepik and sommelier Kristjan Peäske. Besides their core business, both of them support charitable initiatives such as SOS Children's Village and are regular donors to the Hille Tänavsuu Cancer Treatment Foundation. A project initiated by Peäske has raised EUR 100,000 in support of the Food Bank in three years.
Roofit Solar Energy OÜ became the recipient of the "Solution for the Future 2020" award for their invention of electricity-producing monocrystalline solar cells that are cleverly incorporated in traditional roofing materials.
Creativity in a time of crisis
In addition to the seven main categories, special awards for the Best applied research of the year were presented to Tallinn University of Technology, Tallinn University, the Estonian Academy of Arts and the Estonian College of Applied Sciences.
"It is all the more gratifying to see how restrictions have triggered creativity and made companies act and look for new solutions. I see that Tallinn companies are cordial, innovative and co-operative, and if necessary, they will find clever ways to survive the difficult times and turn them to their advantage," Aivar Riisalu, Deputy Mayor of Tallinn said at the award ceremony, quoted by the city website.
TheMayor.EU stands against fake news and disinformation. If you encounter such texts and materials online, contact us at info@themayor.eu