flying taxi in Paris, Source: © Volocopter
A test site for electrical air transport is in the making near Paris
Flying taxis could be the solution to traffic by the 2024 Olympic games - or even earlier
The Paris region's Urban Air Mobility project has just taken yet another step forward. The regional authority, together with airport manager Group ADP and urban transport operator RATP announced earlier this week the structuring of the Urban Air Mobility industry branch and the future creation of a test area at Pontoise airfield, 35 kilometres away from the French capital.
This announcement will likely be followed by the testing of fully-fledged electrical air taxis next spring.
Paris wants to be the global leader in Urban Air Mobility
On Wednesday, Paris region (formally Île-de-France), Groupe ADP and RATP Group agreed to do their utmost to help the new air mode of transport emerge on Paris' territory by focusing in particular on electric vertical take-off. This was deemed very important in view of the need for environmental transformation of the air transport industry, urban densification and is seen as beneficial for an accelerated economic recovery.
Furthermore, according to the President of Ile-de-France Region Valérie Pécresse, the development of the branch at Pontoise airfield is perfectly in line with the scope and priorities of the 2024 Olympic and Paralympic games.
A German company specialising in Urban Air Mobility will also be bringing in its own aviation experience. Volocopter was chosen as the first industrial player to test a fully-fledged electrical air solution for cities – the VoloCity taxi.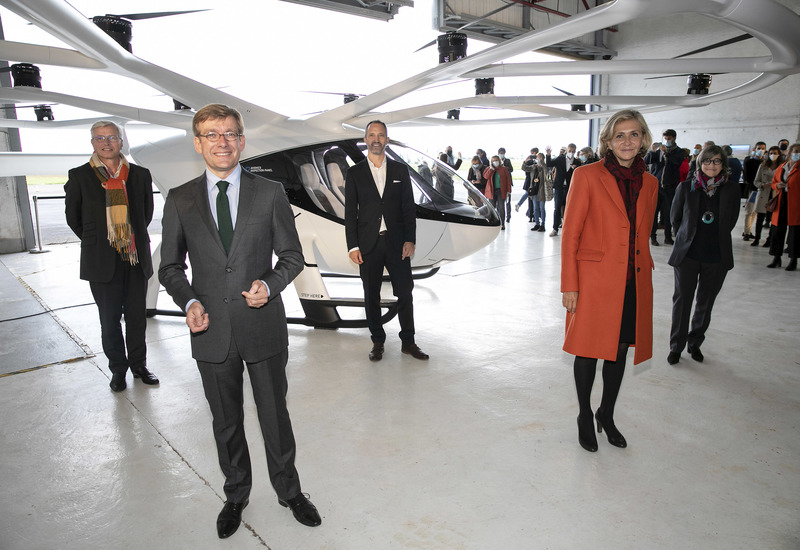 Franck Margain, President of Choose Paris Region, Edward Akrwright, Executive General Director of Groupe ADP, Florian Reuter, CEO Volocopter, Valérie Pécresse, President of Région Ile-de-France, Catherine Guillouard, President of RATP next to a VoloCity.
Photo: © Volocopter
The idea is for the new full-size test facility to benefit from the convenience of the location in the suburbs of Paris and from the secure aeronautical environment at Pontoise – Cormeilles-en-Vexin airfield.
The next step after the announcement is to make all the necessary preparations on the airside, the boarding areas and inside the buildings themselves, setting up parking, recharging systems and ground markings. This is expected to take place within the first half of 2021.
Should everything go as planned, parking, take-off and landing operations could be tested in a real aeronautical environment as early as June 2021.