Recycled bicycles bring joy to Aalborg's children, Source: Aalborg Municipality
Aalborg's kindergarteners receive second-hand bicycles for free
The municipality wants to teach young children how to ride a bike from an early age
On 10 May, the Danish Municipality of Aalborg shared that some of its kindergartens will now receive second-hand bicycles for free. This initiative is the result of a collaboration between the "Children's Lives in Healthy Balance" project and the second-hand shop GPS'en. Together, they will distribute recycled bicycles with the aim of teaching young children how to cycle from an early age.
Up until now, Aalborg's citizens have placed bicycles they no longer want in a container in Nørresundby. The GPS'en shop then restores the discarded bicycles, giving them new life. Commenting on their work, GPS'en Project Employee Torben Mark explained:
"These bicycles have been donated for recycling by citizens. They are in very different conditions. Some of them we can do nothing about, while others are really nice. Some need to be lubricated, have a chain changed or have new wheels, which we can sometimes find on other discarded bikes. We usually sell those bikes on, but we have a hard time getting rid of children's bikes, so they pile up a little over the years. That's why this project is a win-win. The bicycles are given new life and it is great that the children's institutions will accept them."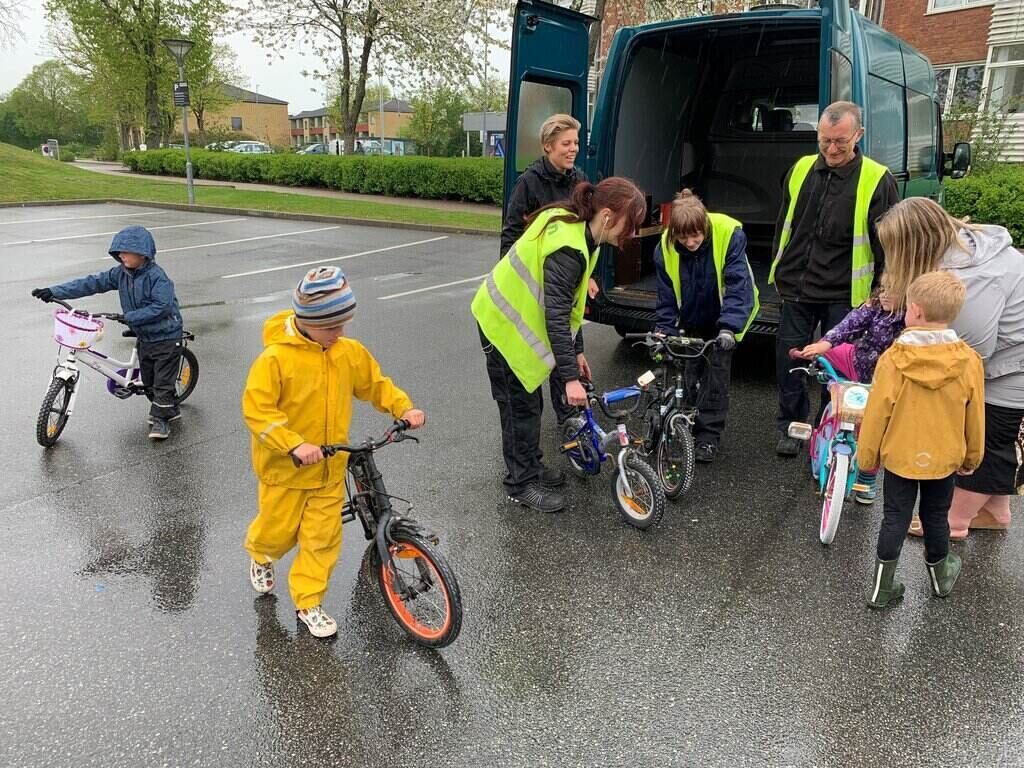 Children receiving their new bikes (Source: Aalborg Kommune on Facebook)
Leading an active life at an early age
In a press release, Aalborg Municipality reveals the goals behind the Children's Lives in Healthy Balance project, noting that it seeks to create a healthy environment for children. More specifically, it aims to teach them how to lead an active life from an early age. Councillor for Health and Culture Jes Lunde discussed this further, sharing that the foundations for active and healthy lifestyles are laid during childhood.
With the new initiative, children will not only learn how to ride a bicycle but also understand the benefits of sustainable practices. Explaining how the new bikes will impact the children, Pedagogical Manager at the Børnehaven Viaduktvej nursery school shared:
"Children want to move, and a bicycle gives them speed, freedom, and the feeling of mastering something. At the same time, it strengthens both their self-esteem and skills. We really want to focus on cycling games and increase children's joy of movement. To learn to ride a bike, you need well-functioning bikes."
Ireland / Development / Digital transformation
The government's new Living Islands Policy wants to reinvigorate offshore communities
Netherlands / Amsterdam / Development / Green City
The five islands have a combined area of more than 700 square metres
Croatia / Zagreb / Development / Energy efficiency
A new project calls for photovoltaics, charging stations and energy-efficiency renovations
Ireland / Development / Digital transformation
The government's new Living Islands Policy wants to reinvigorate offshore communities
Austria / Salzburg / Digital transformation / Education and Sport
It will show all open-air sports facilities in the city, plus 12 running routes
Lithuania / Digital transformation / Innovation and Research
The Baltic country prepares to respond to rising air traffic and to futureproof the sector
Spain / Madrid / Mobility
Locally designed, a prototype will be created next year so that the residents of the city can have their say as well
Spain / Mobility / Social City
The special offer popularizing railway journeys among the 18-30 age group will be available until 15 September
Belgium / Brussels / Mobility / Welfare and Health
The camera and goggles system helps patients to receive emergency specialised care, while they are still en route to the hospital
Spain / Mobility / Social City
The special offer popularizing railway journeys among the 18-30 age group will be available until 15 September
Italy / Florence / Culture and Tourism / Social City
In fact, in the UNESCO-protected old town priority will be given to long-term tenants
Belgium / Brussels / Mobility / Welfare and Health
The camera and goggles system helps patients to receive emergency specialised care, while they are still en route to the hospital
Estonia / Tallinn / Green City / New European Bauhaus
The practical art objects are competing for one of the 2023 New European Bauhaus Prizes
New European Bauhaus
Cast your vote before 24 May and do your part in promoting the NEB values
New European Bauhaus
The new itineraries are part of the DiscoverEU programme, which lets 18-year-olds travel by train between important European sites

Interviews / Read Twice
An interview with the president of the European Federation of Journalists

Interviews
A talk with the head of Mission Zero Academy on the benefits for municipalities if they go the zero waste way

Romania / Cluj-Napoca / Digital transformation / Interviews / Politics and Reforms
A talk with Nicolae Urs, one of the key figures behind the city's new data platforms and online services strategy