What the space in front of the Central Station in Amsterdam should look like after the renovations, Source: Gemeente Amsterdam
Amsterdam unveils 2 giant underwater bicycle shelters
That is an occasion for a big party this weekend
This Saturday, Amsterdam is throwing a big party around the Central Station. The reason: the opening of two new huge bicycle shelters, that took 4 years to construct. Build underwater, they are meant to clean the central area from parked bikes and make it tidier and more convenient for all users. Their total storage capacity of 11 000 bikes should be more than enough to do the job.
A new bicycle shelter calls for a party if you live in The Netherlands
Two new bicycle parking zones will soon open in Amsterdam – the first one is located on Stationsplein (the square in front of the Central Station), and the second one is located on the back of the station - on the IJboulevard. The latter is set to open in February.
As the city website informs, Stationsplein bicycle parking is built under the Open Havenfront - the water basin between the Prins Hendrikkade Street and the so-called Stationseiland (the artificial island where the Central Station was constructed at the end of the 19th century). It alone can store 7000 bicycles, which makes it is the largest bicycle parking facility in Amsterdam.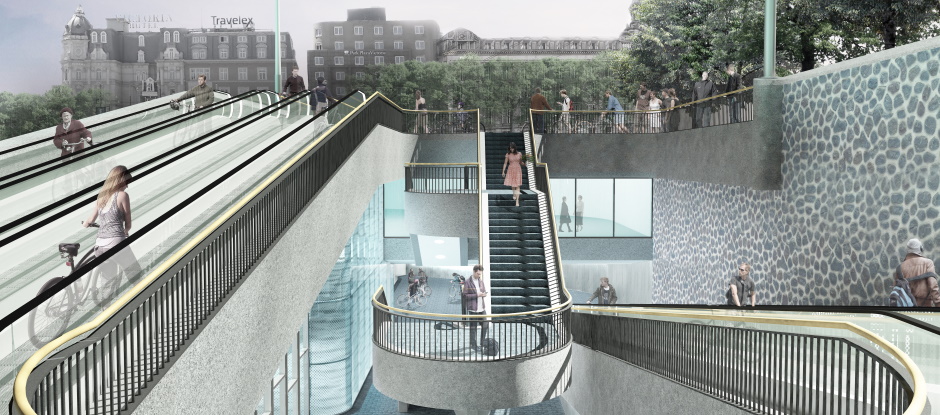 The entrance to the renovated area around the Central Station in Amsterdam.
Image: Gemeente Amsterdam
The underground parking facility is connected to the metro hall and Amsterdam Central Station, so travellers will soon be able to walk dry and without detours to and from public transport. On top of that, another bicycle parking is built, for some 4000 additional bikes. And this will not be the end, since the municipality is working on the construction of even more spaces for safe bike storage.
Moving the bicycle sheds under water, will give pedestrians more space around the Central Station. In the weeks after the opening, all bicycle racks will gradually disappear from the street. Without them, authorities explain, the street is easier to keep clean, it is tidy, well-arranged and safer.
To celebrate this improvement to the city's mobility and public space, Amsterdam is throwing a party this Saturday, 28 January, from 12:00 to 16:00. The program of the party includes:
Guided tours of the bicycle sheds
Rides on a historic tram
Boat trips around the Stationseiland
Songs of the Amsterdam Smartlap Choir
Puppet shows
And guests are invited to register for free using this link.
Germany / Mobility / Politics and Reforms
Many municipalities instituted privileges for EVs to promote sustainable mobility. Now, a lot more people are driving electric, so maybe it's time to normalise legislation
Portugal / Green City / Politics and Reforms
How to build local resilience by accelerating adaptation measures
Italy / Development / Economy and Finance
The idea dates back even to Antiquity, but how feasible is it?
Belgium / Brussels / Mechelen / Digital transformation / Politics and Reforms
Last week, the Chinese app was banned for Belgian federal employees for an initial period of six months
Germany / Digital transformation / Energy efficiency
Authorities have published two maps, one of the roofs and the other – of facades so that locals can make the right decision when choosing green energy
Bulgaria / Sofia / Development / Innovation and Research
The city wants new approaches to developing the urban environment and is willing to fund the best solutions
Spain / Barcelona / Culture and Tourism / Mobility
Successful candidates get a card allowing them to perform on the premises of the transit system
Germany / Mobility / Politics and Reforms
Many municipalities instituted privileges for EVs to promote sustainable mobility. Now, a lot more people are driving electric, so maybe it's time to normalise legislation
Portugal / Green City / Politics and Reforms
How to build local resilience by accelerating adaptation measures
Spain / Barcelona / Culture and Tourism / Mobility
Successful candidates get a card allowing them to perform on the premises of the transit system
Finland / Culture and Tourism / Welfare and Health
The Nordic country has topped that symbolic but prestigious classification for six years in a row now
Austria / Dornbirn / Social City
The city of Dornbirn has a new service for locals - house key registry with a unique number for every citizen
New European Bauhaus
The new itineraries are part of the DiscoverEU programme, which lets 18-year-olds travel by train between important European sites
New European Bauhaus
The European Commission has published its first progress report charting the achievements of the socio-cultural movement that combines beauty, inclusion and sustainability
New European Bauhaus
The 2023 edition of the creative initiative promises to be bigger, bolder and more inclusive

Interviews
A talk with the head of Mission Zero Academy on the benefits for municipalities if they go the zero waste way

Romania / Cluj-Napoca / Digital transformation / Interviews / Politics and Reforms
A talk with Nicolae Urs, one of the key figures behind the city's new data platforms and online services strategy

Bulgaria / Interviews / Read Twice
Veni Markovski's take on dealing with disinformation in the European Union's poorest country – Bulgaria