Discover how cities can enhance travel experience and communicate easily with citizens
We know that this article comes at a time when travel is the last thing on people's minds. Yet, tourism will return and cities need to be ready for it. Only time will tell whether there will be a significant disruption in the way people travel, but it's a good idea for city management to have a few tricks up their sleeve to enhance the long-awaited travel experience. We have an idea, and we bet you'll love it!
Travel post-COVID-19: the Uncertainties
It's been a year of turmoil in the travel industry. As many planned trips abroad got postponed indefinitely while others fell through completely, it's hard to say when (and where) people will travel next.
Restrictions are still being imposed overnight causing frantic repatriation attempts. Rules about masks and distancing vary between countries, and flights are scarce and overpriced… It's easy to see why people prefer to stay at home or at least in their own country.That clearly benefits domestic travel.But how can cities take advantage of this phenomenon right now?
How to make domestic travel more appealing?
There are many ways in which local tourist boards can improve the experience, such as offering combined tickets or a ticket + guided tour combos. But it can get really difficult to cater to every tourist's personal tastes, especially in cities where there's a lot to see. To get a better grip of this type of offering, all-in-one travel products come in handy.
Telelink's City Card is a great example of such a product. The flexible platform allows tourism boards to combine as many venues as they want under a single price point (and even provide personalized cards). Apart from museums and galleries,City Card can be configured to include discounts at local restaurants, entertainment and shopping venues, tours -even public transport. This creates an integrated experience for tourists and gives them the opportunity to explore the destination to their hearts' content and with no worries!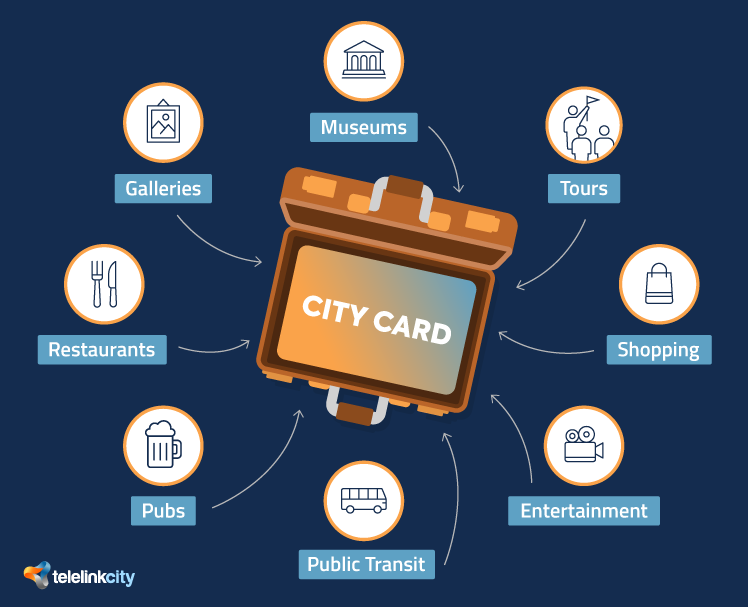 The information stored in City Card can serve as a city guide that is always at your fingertips
City Card operates as a website, a mobile application and a physical card. In this way, tourists can choose the type they prefer. Digital products provide an amazing amount of information, serving as a city guide that is always at their fingertips, while physical cards are geared towards people who are not tech-savvy or just prefer to stay offline.
The unique identifier of each City Card is a QR code automatically generated by the platform. The QR code can be downloaded and printed, or stored in the mobile app.
Physical cards have it displayеde on the back for quick access. When a tourist visits a venue included in the package, the employees there simply have to scan the QR code – and that's it! Depending on the perk included in the program, a discount or free entry is granted to the tourist.
The backend of the platform can be designed to provide a different level of access for city management officials and partners of the program.
Implementing a City Card in your city's tourism agenda
One of the best parts of the City Card platform is that it can be configured and deployed in just a few weeks – so that you have a fully operational travel product without having to wait. The platform is customizable, too, allowing your city's brand to shine.
The backend is easy to operate and doesn't require any IT expertise. City Card offers an extensive package of marketing collateral including print and digital materials that can be quickly customized for your destination.
City Card can be configured and deployed in just a few weeks
The City Card platform has already been implemented in two Bulgarian cities: Plovdiv and Varna.
Information is more important than ever
City Card can also help tourism boards effectively communicate the ever-changing rules and regulations during the COVID-19 pandemic in a timely manner. Instead of relying on social media or websites to provide information, the mobile app can serve as a hub, informing tourists about changes in venue opening times or distancing rules in real-time.
Tourist cards are a product that is successfully operating in a number of cities around the globe. What makes City Card different is that the platform is ready to be implemented in any city in just a few weeks. If we've piqued your interest, contact us to learn more about City Card and set your local tourism industry in motion right now!
Telelink City can partner with global and local institutions to efficiently integrate this innovation in your city.
Contact us:
Website: telelink-city.com
E-mail: telelink-city@telelink.com
This article was originally published on: https://telelink-city.com/city-card-smart-tourism-solution/
TheMayor.EU stands against fake news and disinformation. If you encounter such texts and materials online, contact us at info@themayor.eu