Dario Nardella, Source: EUROCITIES
Dario Nardella: Top priority is the further enhancement of the role of cities at European level
Interview with the Mayor of Florence and President of Eurocities
Dario Nardella was born on 20 November 1975 in Torre del Greco. In 2004 he started working for the City Council of Florence and in 2009 was re-elected as a councillor.
He has been part of the cabinet of Mayor Matteo Renzi, with the portfolio for Economic Development and Sports. In 2012 he was elected to the Chamber of Deputies. In February 2014, Renzi, in his last act as a mayor, appointed him Deputy-Mayor.
Dario Nardella was elected as the Mayor of Florence on 26 May 2014 and then as the first Metropolitan Mayor of Florence on 1 January 2015. In November 2020, Nardella was elected to become the President of Eurocities.
Mayor Nardella, congratulations on being elected President of Eurocities. What made your candidacy stand out among the competition and what will your priorities be for the next two years in this role?
Thank you. I believe my election has to do with the acknowledgement of my work as vice-president and my role as a leader of Eurocities's working group on cohesion policies. The top priority for next two years is the further enhancement of the role of cities at European level.
We can surely increase the political role of the network and become a relevant counterpart to the European institutions. I think Eurocities has grown stronger and we can move a step forward also in the relationship with member states and their municipal national organizations.
We also need to stay focused on green and sustainable city development. President Von der Leyen has said, "We are acting today to make the EU the world's first climate neutral continent by 2050". If we really invest, we can also think to anticipate the goal.
What do you consider as the biggest challenge?
We can all see that we have major challenges in front of us: getting through the second wave of the pandemic, moving towards recovery and a new 'normal' in our cities. In Eurocities, I want to highlight at least two priorities here, which are very important.
Firstly, we are in a crucial moment right now. Until the early spring of 2021, member states and the Commission will be negotiating national recovery plans. We must urgently join forces as cities and with our national governments to make sure that national plans provide the much-needed investments for our cities from the EU recovery funds.
Secondly, at the same time, we must work for a good framework at EU level that can support our cities in the green, digital and equality transition. Next year will be crucial to make sure that new or revised EU policies and programmes match what we need in our cities and help us to take action locally. As president, I will do everything I can to bring our shared message to the EU decision makers at the highest level and to reinforce our influence on EU developments.
What are your expectations and forecasts for the development of European cities in the near future?
The pandemic crisis had a disruptive impact on the social and economic aspects of our citizens' lives. Cities are reacting fast, though. They have shown resilience and creative attitude, and, above all, they have demonstrated that they can be the place where all these crises can be faced differently and models can be reshaped. Nevertheless, cities still have to confront many other challenges, such as climate change, rising inequalities, a weakening democracy.
European cities need to make a collective effort to become healthier, more thriving and more inclusive, contributing to the EU targets (such as climate neutrality) and staying closely linked to the SDGs. Cities must rethink the model of social and economic development by combining their vocations with new and renewed functions.
City management models need an integrated and holistic approach. The Eurocities network can boost the exchange of best practices of smart urban management with the aim at providing citizens with increasingly efficient services for the improvement of their daily lives. A fair digital transition that is capable of reducing the digital gap and promoting the community's enhancement.
Being part of a network gives the opportunity to share experiences, learn from each other and make one's voice heard. We are facing great opportunities for a change, in our daily lives and in important development projects. You can come out of crises with renewed energy.
In dealing with the emergency we can plan a different future, in which the goal of resilience will bring new opportunities for all. Cities are the living laboratories of change for environmental policies, innovation, the promotion of cultures and economic development. Today, more than ever before, we can say that the future of Europe is in the hands of its mayors.
You are demanding direct access for cities to EU funding and a greater say in the design of EU policies. How can these goals be achieved?
By involving cites more and more in the decision-making process, at the table where decisions are made and in particular in initiatives, such as the Next Generation fund and the New Green Deal. We will ask for an urgent meeting between the ExCom, the President of the EU Commission Von der Leyen and the presidency of the EU Council. We will bring evidence to the table about the deep finance gaps that we are facing as a consequence of the crisis.
We can also bring clear project proposals with us that can drive recovery. I think that is needed to improve urban development, as inspired by the Italian example of PON-Metro funds, which is amongst some of our concrete proposals.
Which good practices implemented in Florence would you like to see realized at European level?
The above-mentioned PON-Metro, which is precisely an example of cities' ability to be an urban authority and an intermediate body. An example of being able to plan and handle funds directly, based on the goals set by the EU Commission.
This can be reinforced at European level through the partnership principle that must be implemented now, and of which, cities should have been a part since the beginning. In the City of Florence, we currently have a positive experience of the Recovery Plan as well, which sees us directly involved in a multi-governance system with the Italian Government.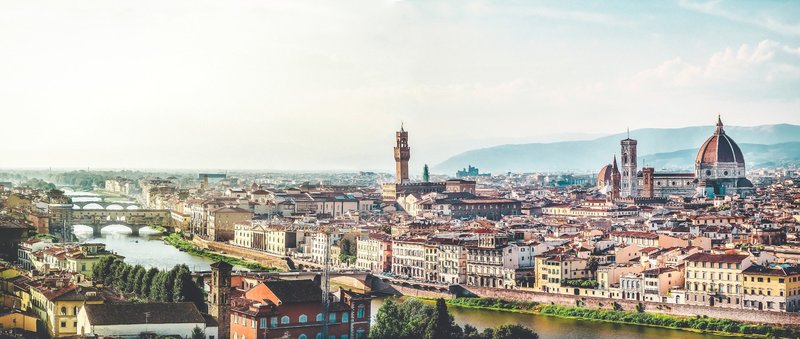 Florence is the capital city of the Tuscany region
How has the European Union helped Florence become a sustainable city? What else could be done at European level to help cities like yours implement a sustainable development agenda?
Through direct funds that support projects, such as Replicate ('REnaissance of PLaces with Innovative Citizenship And TEcnology'), which allowed us to implement a pilot smart city project through innovation technologies to create 'smart services' specifically aimed at efficient energy use and sustainable/alternative mobility.
In this regard, in order to support cities, the EU budget for urban development must radically accelerate the transformation of our cities to become more resilient, equitable and sustainable so as to allow them to implement their strategic plans, and move forward from words to facts, from planning to action.
To find out more about Florence, visit the profile of the municipality.
Netherlands / Amsterdam / Development / Public Spaces
It involves all the five senses, apparently
Germany / Mobility / Politics and Reforms
Germany's new approach has convinced hundreds of thousands of people to start using public transport for the first time
Bulgaria / Sofia / Mobility / Politics and Reforms
Drivers will be legally required to push their scooters manually in pedestrian areas and parks
Bulgaria / Greece / Athens / Sofia / Thessaloniki / Digital transformation / Mobility
Greece and Bulgaria are set to build one of the first 5G cross-border corridors in Europe
Finland / Digital transformation / Welfare and Health
The feline registry is expected to start operating in 2026
Luxembourg / Culture and Tourism / Innovation and Research
The team presented the final report about a year, which was supposed to put the Luxembourgish city on the cultural map of Europe
Netherlands / Amsterdam / Development / Public Spaces
It involves all the five senses, apparently
France / Lyon / Public Spaces / Social City
What you pay for having your car resting in the city will now depend on several different factors
Germany / Mobility / Politics and Reforms
Germany's new approach has convinced hundreds of thousands of people to start using public transport for the first time
France / Lyon / Public Spaces / Social City
What you pay for having your car resting in the city will now depend on several different factors
Denmark / Mobility / Social City
Fredensborg Municipality is inviting residents to take the bikes for a spin…lasting up to 3 months
Culture and Tourism / Mobility
After all, sleeping carriages are basically hotels on wheels
Estonia / Tallinn / Green City / New European Bauhaus
The practical art objects are competing for one of the 2023 New European Bauhaus Prizes
New European Bauhaus
Cast your vote before 24 May and do your part in promoting the NEB values
New European Bauhaus
The new itineraries are part of the DiscoverEU programme, which lets 18-year-olds travel by train between important European sites

Interviews / Read Twice
An interview with the president of the European Federation of Journalists

Interviews
A talk with the head of Mission Zero Academy on the benefits for municipalities if they go the zero waste way

Romania / Cluj-Napoca / Digital transformation / Interviews / Politics and Reforms
A talk with Nicolae Urs, one of the key figures behind the city's new data platforms and online services strategy