Illustration of "The Circular Playground", Source: Randers Municipality
Denmark's first playground built from plastic waste opens in Randers
Medical equipment, such as bottles of sterile water and anaesthetic tubes, were recycled for the "The Circular Playground" project
On 2 September, the Danish Municipality of Randers unveiled Denmark's first playground built from plastic waste. For the past two years, health workers from the Randers Regional Hospital, Aarhus University Hospital, and the Horsens Regional Hospital have sorted plastic waste from medical equipment.
More specifically, they have successfully collected 300 kilograms of plastic waste from bottles of sterile water and anaesthetic tubes. Now, this plastic waste has been transformed into play equipment for a new and sustainable playground located at the Randers Regional Hospital.
Focusing on sustainability
As its name suggests, "The Circular Playground" sought inspiration from the principles of circular economies. In other words, it is based on the idea of giving materials a circular life course where they can be transformed into something new rather than being discarded.
For this reason, the playground's manufacturers have used plastic waste from medical supplies instead of new materials. Taking this further, they have also used discarded shoes to create some of the playground's underlay.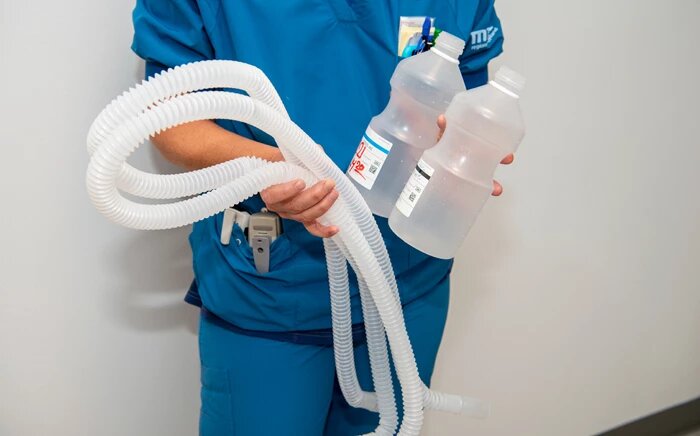 Hospital staff collected plastic bottles and anaesthetic tubes for this project
Source: Randers Municipality
As a result, the construction of "The Circular Playground" resulted in 54% less CO2e (CO2 equivalents) emissions when compared to the constructions of those built using new plastics. It is important to highlight that all the installed equipment can also be recycled once it needs to be replaced.
The result of a joint effort
Various bodies have taken part in the creation of "The Circular Playground" as the manufacturer KOMPAN, Region Midtjylland, Dansk Affaldsminimering, Randers Municipality, and the international strategic centre for circular economy Compas all worked together.
Regional Council Chairman Anders Kühnau commented on the successful collaboration, noting: "The future is to use materials for something else instead of discarding them, and we focus on that in the region's sustainability strategy. The Circular Playground is an example of how this can be done when we work together. The waste challenge is a societal problem that we cannot or must not solve alone."
Mayor of Randers Torben Hansen will officially inaugurate "The Circular Playground" on 10 September at 11:30 a.m.