electric bus novo mesto, Source: Municipality of Novo Mesto
Electric bus launched in Novo Mesto city centre
The bus called Leon will serve at the pleasure of both citizens and visitors of the Slovenian city
Earlier in the week, more specifically on Monday 25 May, a new service was launched in the Slovenian city of Novo Mesto – namely a new electric bus meant to facilitate traffic for both residents and visitors. The bus is called Leon and will serve at the pleasure of anyone who needs a ride through the city centre.
Green technologies in times of pandemic
The bus Leon can fit up to a total of five people within its premises. It operates within the Novo Mesto City Centre and is available Mondays through Fridays between 8 AM and 3 PM. One can also specifically request a pick-up by the bus, so long as the caller is within its range of operations by calling the phone number 031 663 067. In areas that allow for the vehicle's safe stopping, prospective passengers can also hail for a ride.
The electric vehicle is a vital part of the local government of Novo Mesto's environmental ambitions. The purchase was co-financed for some 80% of the total sum by the Eco Fund and it now stands available for all citizens and tourists who are on the lookout for a more environmentally friendly alternative to their travels.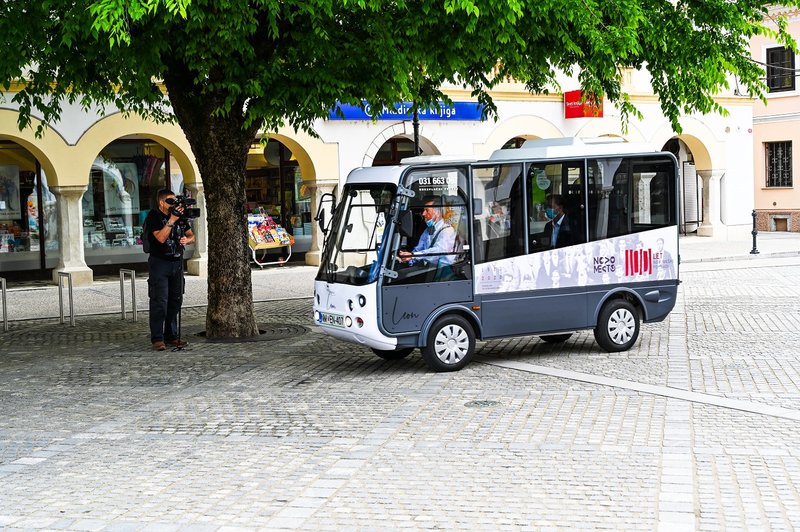 The inauguration Leon Source: Municipality of Novo Mesto
Leon is just the start, however, for local authorities in the Slovenian city. In the following months, the municipality will keep on making improvements to its sustainable transport network and will further bolster its bike-sharing services as well as improve the Rudi transport systems for the elderly and disabled.
Authorities are eager to point out that during the ongoing pandemic, all people who want to give Leon a try should come prepared with Personal Protective Equipment, as the wearing of a mask and the use of disinfectant are mandatory for everyone entering and using the vehicle.