Toomas Järveoja, Source: Elva Municipality
Elva is a well-acknowledged summer resort with pure nature and a cosy town vibe
Interview with Toomas Järveoja, Mayor of Elva in Estonia
Toomas Järveoja was born on 23 April 1961. He has been the Mayor of Elva since November 2017.
Mr Järveoja was a Chairman of the City Council of Elva in the period 1999-2002 and Head of Sports in that city (2005-2007).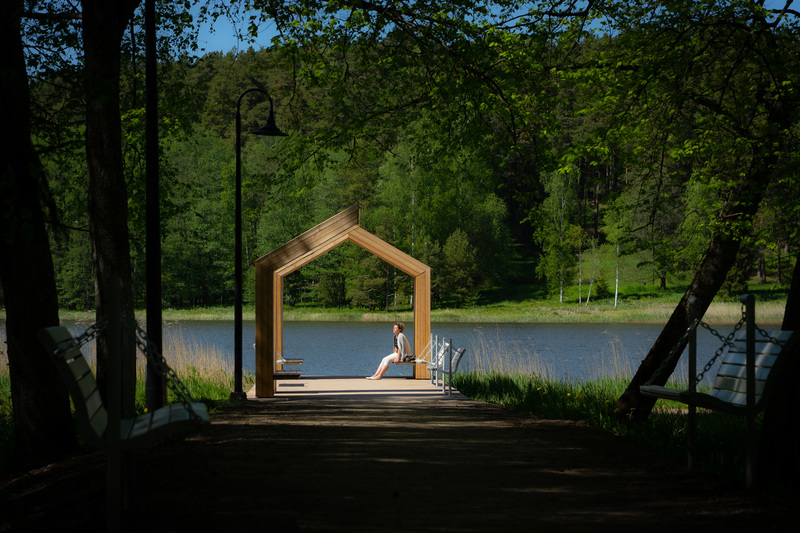 Elva – calm, beautiful public spaces and lots of nature. Photo by Elva Municipality
Mayor Järveoja, please describe Elva in a few sentences. What should our audience know about it?
Elva Municipality offers many beautiful places for a vacation: we have a lot of hiking trails, several lakes: Lake Verevi, Lake Arbi and Lake Võrtsjärv; beautiful historical places worth visiting, for example, the mansions in Palupera (1582) and Hellenurme (1641).
We have the only working watermill in Estonia, which is located in Hellenurme and was built in the 1880s. In that mill, one can see how our ancestors used to live and follow the whole process of turning grain into flour.
In the city of Elva, there is a lot to do and see. The beautiful Central Square was completed in December 2019 and offers activities for people of all ages.
Here, you will find yourself in a city which is surrounded by pine forests, four lakes, an adventure park, a nine-pin bowling alley and a restaurant. Elva also offers multiple cultural events. It is a perfect place for living or vacationing because there is something for everyone!
Several weeks ago, there was the grand opening of Elva Central Square. Please tell us more about this new architectural feat and how it was financed.
The solution was found among the proposals in the 2016 architectural contest. The winning entry was titled "Between the Currant Bushes". Its idea was to give visitors the joy of recognition and a chance to rediscover childhood memories.
Elva has always been a well-acknowledged summer resort due to its pure nature and a cosy summer town vibe. That is also the feeling which the new Central Square aims to provide for its visitors. There you can find yourself in the safe environment of the city garden as if you have come to visit your grandmother.
The renewed urban space is small town alike and we have used plants that are familiar from domestic gardens, such as current bushes and cherry trees. There are also cosy elements, such as hammocks, romantic benches and low park lights which all have a recognizably vintage look. The whole concept takes into account Elva's historically developed environment, yet at the same time, it strives to create added value with new quality.
Elva Central Square is a part of the Estonian Republic's 100th-anniversary architectural program "Good Public Space". The construction of Elva Central Square was co-financed by the EU's European Regional Development Fund with 1 million euros. The Municipality contributed another 2.2 million euros.
Your neighbour Tartu was named European Capital of Culture for 2024. What program are you planning together with the Tartu Municipality for when that time comes?
It is a huge opportunity to Tartu and its closest municipalities including Elva. At the moment the preparatory activities are ongoing.
We would definitely like to offer best kinds of experiences to our guests and introduce them to our biggest treasures: the incredible nature and various leisure activities, the charming Lake Võrtsjärv, our unique cultural traditions and local stories to tell, as well as different cultural events and festivals.
We are also part of the National Geographic yellow windows route "Living on the Edge" which combines 28 different locations all over Southern Estonia that are worth discovering. In Elva municipality, we currently have a National Geographic yellow window which is located in Palupera Mansion. We kindly invite everyone to come and discover Elva!
Other good news coming from the municipality is that one of the rounds of this year's FIA World Rally Championship will be held in Elva. What benefits will the event bring to your town?
That event is a huge opportunity for our enterprises and our people. Of course, it provides great financial value to the business sector in our region, but at the same time, the emotions from the rally and the opportunity to cheer are just as important considering the difficult times we have recently endured due to the coronavirus.
Elva municipality will get a chance to promote itself as an ideal tourist destination with beautiful nature through the rally advertising channels and broadcast, all of which is also extremely important to us.
Also, it is symbolic and definitely worth mentioning that the current World Rally Champion, Martin Järveoja, was born and raised in Elva. I believe that the home crowd is super excited about the event for that reason, too.
What are your thoughts on TheMayor.EU portal as a unifying platform for European municipalities? How can it be useful to you and your citizens?
I believe that it gives us a better opportunity to get to know other European municipalities and learn about their plans, visions, etc. It provides us with a chance to find inspiration from the activities done in other municipalities in Europe and perhaps we, too, could inspire others.
It gives us a great opportunity to introduce our municipality and the opportunities we have to offer.
What are the main goals that you are planning to work on in the near future to make Elva a better living place?
Elva is already a wonderful place to live in because of our beautiful nature and living environment, good public services (a lot of the services have been digitalized), a friendly and warm community, various cultural and sports events as well as our perfect location - the city of Tartu as the regional centre is only 27 km away.
Elva is a perfect place for families – we have a great educational system (including many different extracurricular groups), there are a lot of possibilities for sports activities (we have sports clubs, for example, FC Elva and BC Elva) and various possibilities for outdoor sports (for example, different hiking trails, stadiums or outdoor gyms). Our cultural calendar is full of events all year round for people of all ages and interests.
In the near future, we would like to develop new aspects of tourism in order to raise awareness in our region as an ideal tourist destination. We also want to move forward with our educational system and support more sports-related activities.
To that end, the construction of the Elva Sports Hall will be completed in the upcoming months which will provide our citizens with better opportunities to do sports and it will also give us a chance to organize bigger international competitions and other events, such as conferences and concerts.
We will definitely continue developing our open government practices and support the wellbeing of our families and children in order to make Elva municipality the best place to live in Estonia!
To find out more about Elva, visit the profile of the municipality.