How green cities really are can be a complex thing to calculate
Europe's greenest city? Depends on how you look at it
The European Environment Agency shows that public access to greenery is still out of reach for many
At the start of this month, the European Environment Agency released a briefing that summarized the state of greenery in the continent's cities. The study looked at total green infrastructure, comprised of urban spaces and total tree coverage.
The study found that cities in the north and west of Europe tend to have more green space than cities in the southern and eastern regions of the continent. The assessment looks at socio-economic and demographic inequalities in access to green and blue spaces in European cities.
The study looked at 38 EEA member countries
The study covered 38 countries from the European Economic Area (also EEA, though not to be confused with the Agency's abbreviation). In terms of capital cities, Oslo (Norway) is the greenest and Valletta (Malta), the least so.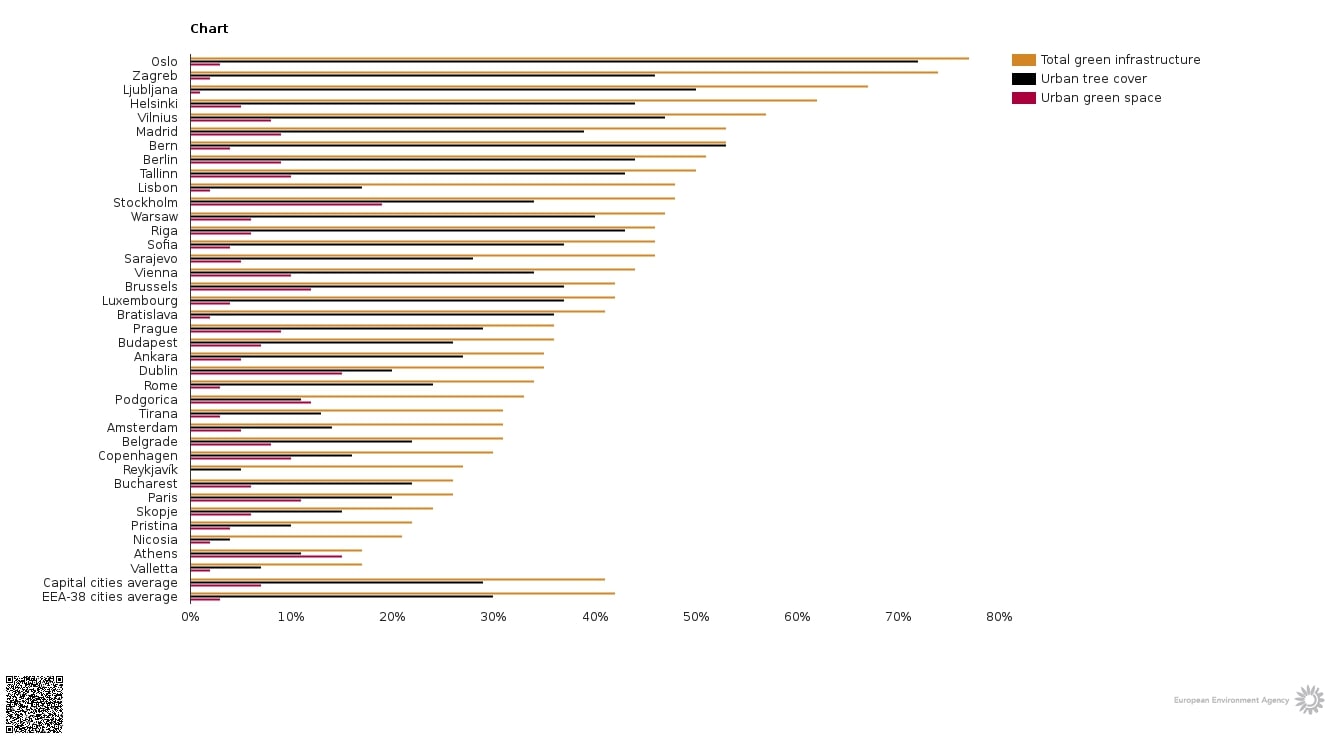 The ranking of European capital cities in terms of total green infrastructure.
Source: European Environment Agency
What was immediately apparent, as well, was that answering which city was the greenest and how green they are might be questions that have no easy, straightforward answers. In fact, the answers come with certain caveats.
For example, the city with the highest proportion of total green space (96%) is Cáceres, in the southwest of Spain. This may come as a surprise to many, given the southern location of that city.
The reality is that the administrative area of Cáceres is very large. It incorporates natural and semi-natural areas which surround the actual inhabited core. On the other hand, the city with the lowest total green space is Trnava (Slovakia) with only 7%.
Another thing that we have to take into consideration is that not all of the green spaces are publicly accessible. In fact, the situation is fairly dismal if we only take into account that dimension. On average in the EEA, only 3% of the total city area belongs to publicly accessible greenery. This varies between cities, with cities such as Geneva (Switzerland), The Hague (Netherlands) and Pamplona (Spain), seeing accessible green spaces account for more than 15% of the city area.
Another indicator that the EEA has looked at is the average urban tree cover, which stood at 30% for the 38 countries. Cities in Finland and Norway have the highest proportion of tree cover, while cities in Cyprus, Iceland and Malta, the lowest.
Across Europe, green space is less available in lower-income urban neighbourhoods than in higher-income ones, with differences often driven by the housing market, where properties in greener areas are more expensive.
While the World Health Organization recommends that all people reside within 300 metres of green space, less than half of Europe's urban population actually do. National and local guidelines vary across Europe and guidance on how to make access equal across social groups is rare.
Belgium / Development
And it will also advise you on the right way to do this
Ireland / Growing City
Despite the good news, preliminary data from the national census reveals a dire shortage in the housing market that will not go away anytime soon
France / Development / Public Spaces
The innovative project received funding from the participatory budget in Lille, France
Malta / Green City / Innovation and Research
Abandoned fishing gear is one of the most dangerous threats to the marine environment, but also to divers and underwater heritage
Croatia / Digital transformation
The town of Makarska has recently launched a new mobile service, aiming to cut down on paper use and stimulate citizens to go contactless
Finland / Vantaa / Green City / Innovation and Research
The invention promises to be revolutionary as it can decouple food production from agriculture and its environmental impacts
Malta / Green City / Innovation and Research
Abandoned fishing gear is one of the most dangerous threats to the marine environment, but also to divers and underwater heritage
Italy / Culture and Tourism / Mobility
Trenitalia has announced that it wants to reduce the phenomenon of domestic animals being left behind alone while their owners go on holidays
Italy / Turin / Public Spaces / Social City
The property, together with others that have been confiscated, will be converted for social welfare uses
Italy / Culture and Tourism / Mobility
Trenitalia has announced that it wants to reduce the phenomenon of domestic animals being left behind alone while their owners go on holidays
Italy / Turin / Public Spaces / Social City
The property, together with others that have been confiscated, will be converted for social welfare uses
Portugal / Braga / Education and Sport / Green City
The city also led awareness-raising actions to show the impressionable youths how circularity is created first-hand
New European Bauhaus
These will be spread across 11 EU countries and will serve to support the EU Missions
New European Bauhaus
The European Commission has accepted to develop the idea
Portugal / Matosinhos / Interviews / New European Bauhaus
An interview about AYR, one of the 2021 New European Bauhaus Prize winners

Portugal / Matosinhos / Interviews
A conversation with the Mayor of Matosinhos, Portugal's first UN Resilience Hub

Interviews
An interview with Nigel Jollands and Sue Goeransson from the European Bank for Reconstruction and Development

Greece / Athens / Interviews / Welfare and Health
An interview with the President of the City of Athens Reception & Solidarity Centre