European Green Capital 2022 finalists, Source: EGCA 2020 / European Commission
European Green Capital 2022 finalists announced
Dijon, Grenoble, Tallinn and Turin proceed to the final stage of the competition
The finalists of the next European Green City Awards have been announced. Four shortlisted cities will compete for the 2022 European Green Capital Award (EGCA) and another five urban areas have made it to the finals of the European Green Leaf 2021 (EGLA). All of them show brilliant results in terms of building urban resilience and sustainability.
Dijon, Grenoble, Tallinn, or Turin will become European Green Capital 2022?
This year's high-flyers among the large cities (above 100,000 inhabitants) include two French cities – Dijon and Grenoble, one Italian one – Turin and the Estonian capital of Tallinn. One of them will become the next European Green Capital 2022 and will win EUR 350,000 to kick-start its green year.
Each of the finalists has been assessed by independent sustainability experts against 12 environmental indicators. At this stage of the contest, the cities will have to convince an international jury of their commitment to sustainable development and of their aptitude to truly serve as role models for other cities while also demonstrating a communication strategy capable of engaging local citizens.
The winning city will join a prestigious club of 12 other green capitals, which have won the title since the first edition of the awards in 2010 to 2021. Should everything go as planned, the award ceremony will take place in 2020's winner, namely Lisbon, Portugal this autumn.
Five finalists at European Green Leaf 2021
Smaller towns and cities (20,000 to 100,000 inhabitants) will, of course, also win a similar recognition. After the success of the European Green Capital, the European Green Leaf Award was established in 2015 and is now looking for its 10th winner.
The urban areas that made it to the 2021 finals are Elsinore (Denmark), Gabrovo (Bulgaria), Lappeenranta (Finland), Nyborg (Denmark) and Ringkøbing-Skjern (Denmark). Up to two cities may win the award and receive EUR 75,000 each.
The environmental achievements of the five finalists have, too, been assessed by an international jury based on 6 environmental topic areas.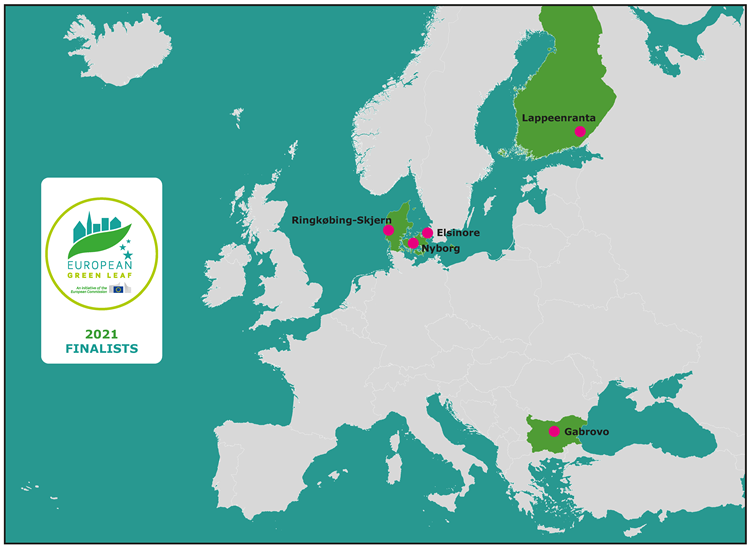 There can be up to two winners in the European Green Leaf 2021 award. Image: The European Commission
About the green city awards
EGCA 2022 & EGLA 2021 are an initiative of the European Commission, aiming to promote the efforts of cities to become healthier places, resilient to the future crises caused by climate change, biodiversity loss and scarcity of resources. Learn more about the awards and which cities have been honoured so far on their official website.