Helsinki lit up its buildings in the colours of the Ukrainian flag, Source: Mayor Juhana Vartiainen on Facebook
Finnish cities join forces to support Ukraine
Together, they will assist the country with around EUR 1.5 million
On 28 February, Finland's major cities teamed up to assist Ukraine. Together, they will provide support in the form of financial assistance or humanitarian aid worth a total of about EUR 1.5 million. These major cities are Helsinki, Espoo, Tampere, Turku, Oulu, Vantaa, Hämeenlinna, Joensuu, Jyväskylä, Kotka, Kouvola, Kuopio, Lahti, Lappeenranta, Mikkeli, Porvoo and Rovaniemi.
"The war in Ukraine has caused a humanitarian emergency and help for those in the middle of the war is now important. The cities want to show their support for the Ukrainians in this very sad and shocking situation," commented the mayors of the country's major municipalities.
On Facebook, the Mayor of Helsinki Juhana Vartiainen revealed that the capital will donate EUR 350,000 to support the citizens of Ukraine. Aside from this support, the municipality is suspending its cooperation with the Russian cities of Moscow and St. Petersburg.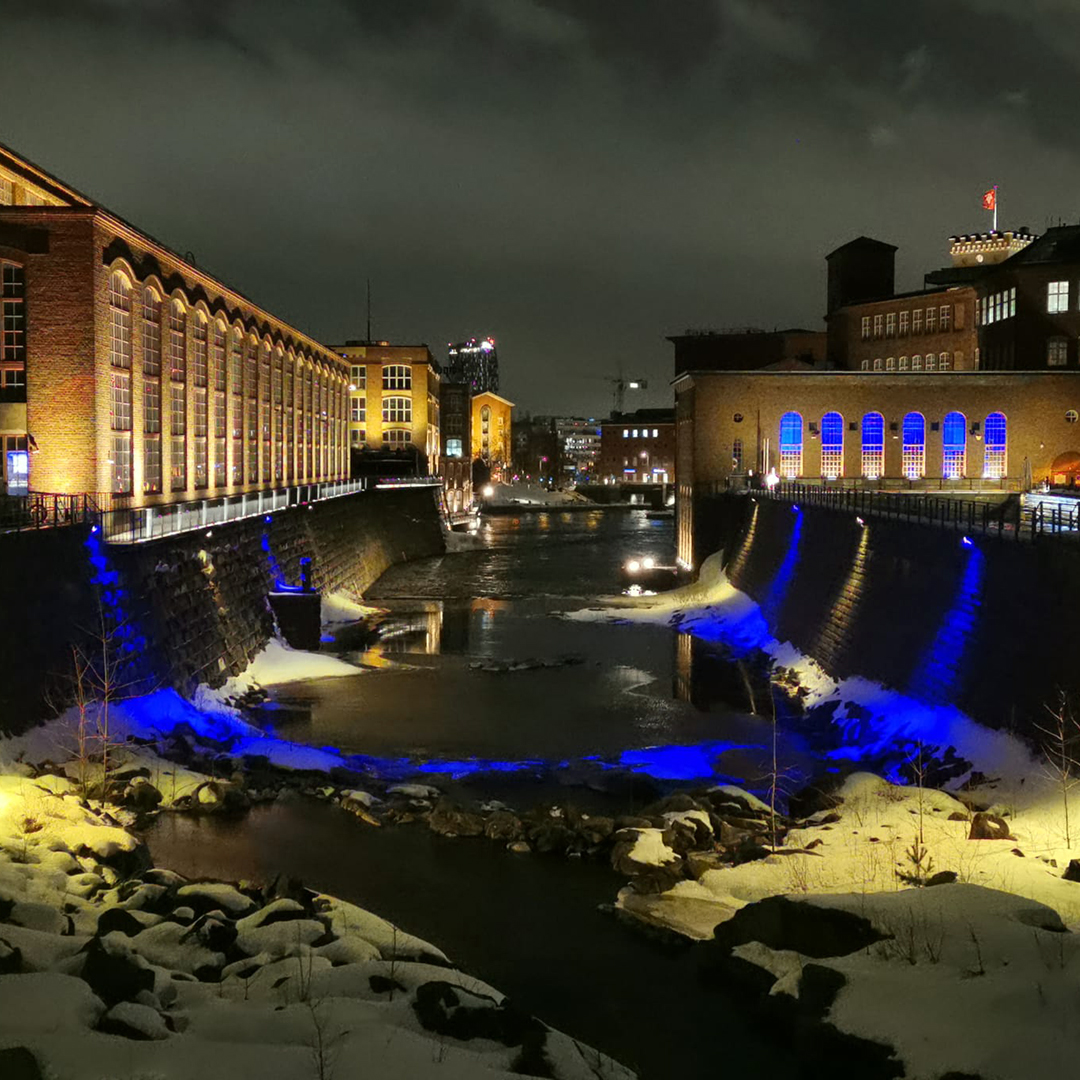 Tampere lit up the Tammerkoski channel with the colours of the Ukrainian flag
(Source: City of Tampere on Facebook)
Being a twin city of Kyiv since 1954, Tampere has also set aside EUR 150,000 to help the victims of the war. Mayor of Tampere Anna-Kaisa Ikonen discussed the municipality's stance, sharing:
"We want to support the Ukrainians in the middle of the war. The crisis in Ukraine has also hit our residents hard, as our twin city of Kyiv is at the centre of the war. The goal is to get help moving efficiently and as quickly as possible."
Urging others to provide assistance
Besides making financial contributions and sending humanitarian aid, Finland's major cities are encouraging other municipalities in the country to step up and cooperate in any way that they can.
Pirkkala, a city with just about 20,000 inhabitants, has now followed the examples of the larger municipalities, announcing that it will support Ukraine with financial assistance worth EUR 20,000.
Ireland / Development / Digital transformation
The government's new Living Islands Policy wants to reinvigorate offshore communities
Netherlands / Amsterdam / Development / Green City
The five islands have a combined area of more than 700 square metres
Croatia / Zagreb / Development / Energy efficiency
A new project calls for photovoltaics, charging stations and energy-efficiency renovations
Ireland / Development / Digital transformation
The government's new Living Islands Policy wants to reinvigorate offshore communities
Austria / Salzburg / Digital transformation / Education and Sport
It will show all open-air sports facilities in the city, plus 12 running routes
Lithuania / Digital transformation / Innovation and Research
The Baltic country prepares to respond to rising air traffic and to futureproof the sector
Spain / Madrid / Mobility
Locally designed, a prototype will be created next year so that the residents of the city can have their say as well
Spain / Mobility / Social City
The special offer popularizing railway journeys among the 18-30 age group will be available until 15 September
Belgium / Brussels / Mobility / Welfare and Health
The camera and goggles system helps patients to receive emergency specialised care, while they are still en route to the hospital
Spain / Mobility / Social City
The special offer popularizing railway journeys among the 18-30 age group will be available until 15 September
Italy / Florence / Culture and Tourism / Social City
In fact, in the UNESCO-protected old town priority will be given to long-term tenants
Belgium / Brussels / Mobility / Welfare and Health
The camera and goggles system helps patients to receive emergency specialised care, while they are still en route to the hospital
Estonia / Tallinn / Green City / New European Bauhaus
The practical art objects are competing for one of the 2023 New European Bauhaus Prizes
New European Bauhaus
Cast your vote before 24 May and do your part in promoting the NEB values
New European Bauhaus
The new itineraries are part of the DiscoverEU programme, which lets 18-year-olds travel by train between important European sites

Interviews / Read Twice
An interview with the president of the European Federation of Journalists

Interviews
A talk with the head of Mission Zero Academy on the benefits for municipalities if they go the zero waste way

Romania / Cluj-Napoca / Digital transformation / Interviews / Politics and Reforms
A talk with Nicolae Urs, one of the key figures behind the city's new data platforms and online services strategy