Everything in the cemetery is made from natural materials, Source: City of Ghent
First natural cemetery in Flanders: no tombstones and biodegradable coffins
The main principle behind the cemetery is that it takes 25 years for the human body to decompose and become a part of nature
This Wednesday, the first natural cemetery in Flanders opened, in the town of Drongen, a satellite town of Ghent in Belgium. There are no tombstones or divided burial plots, nor paved paths. All the coffins need to be biodegradable, as well, since people can lease a plot there for only 25 years – the time it takes for a human body to be absorbed by nature.
Everything in the cemetery, such as place markers and benches, is made from felled trees and stumps, and if the family wants to honour the deceased, they can put up a named birdhouse in the cemetery.
New traditions born out of a shift in culture
This is not the first natural cemetery in Flanders, however, Drogen's is the first where people can bury their loved ones' bodies. Up to this point, natural cemeteries were places where only the scattering of ashes and the burial of urns was allowed.
The dead are given a place where they can become one with nature again. There are no memorials, but relatives can hang a birdhouse with the name of the deceased on a tree.
Urns and coffins must be made of biodegradable materials, while people can lease the land for 25 years. People can reserve a place in advance, though, and there is room for a total of 600 graves on the property.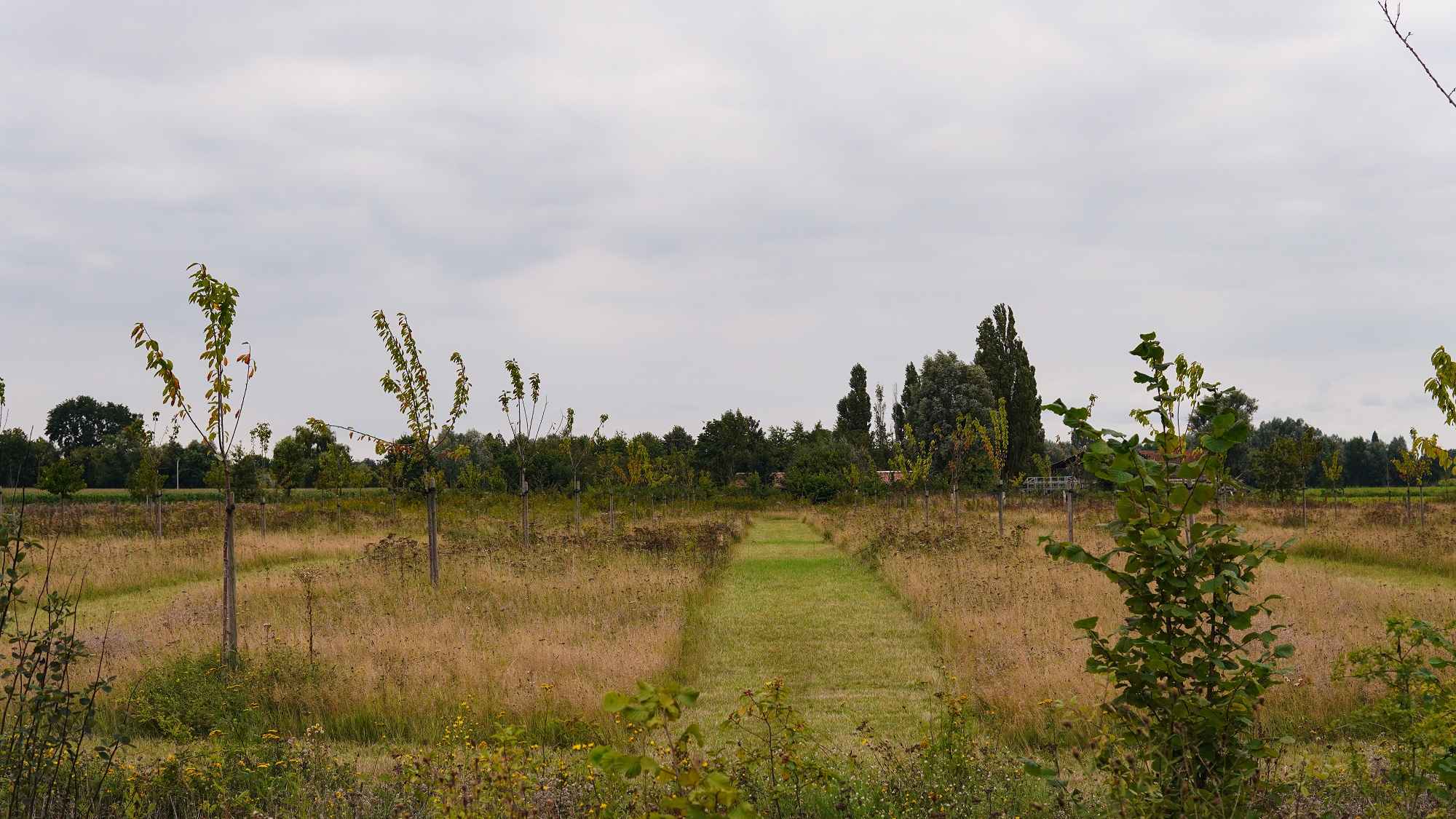 In a couple of years, the cemetery will become a cherry orchard,
Source: City of Ghent
The Drogen Cemetery currently has 72 cherry trees and the developers preserved much of the features and landscape on the plot. A nice touch to the concept of the natural cemetery is that there are no evergreens – the usual types of trees used for cemeteries.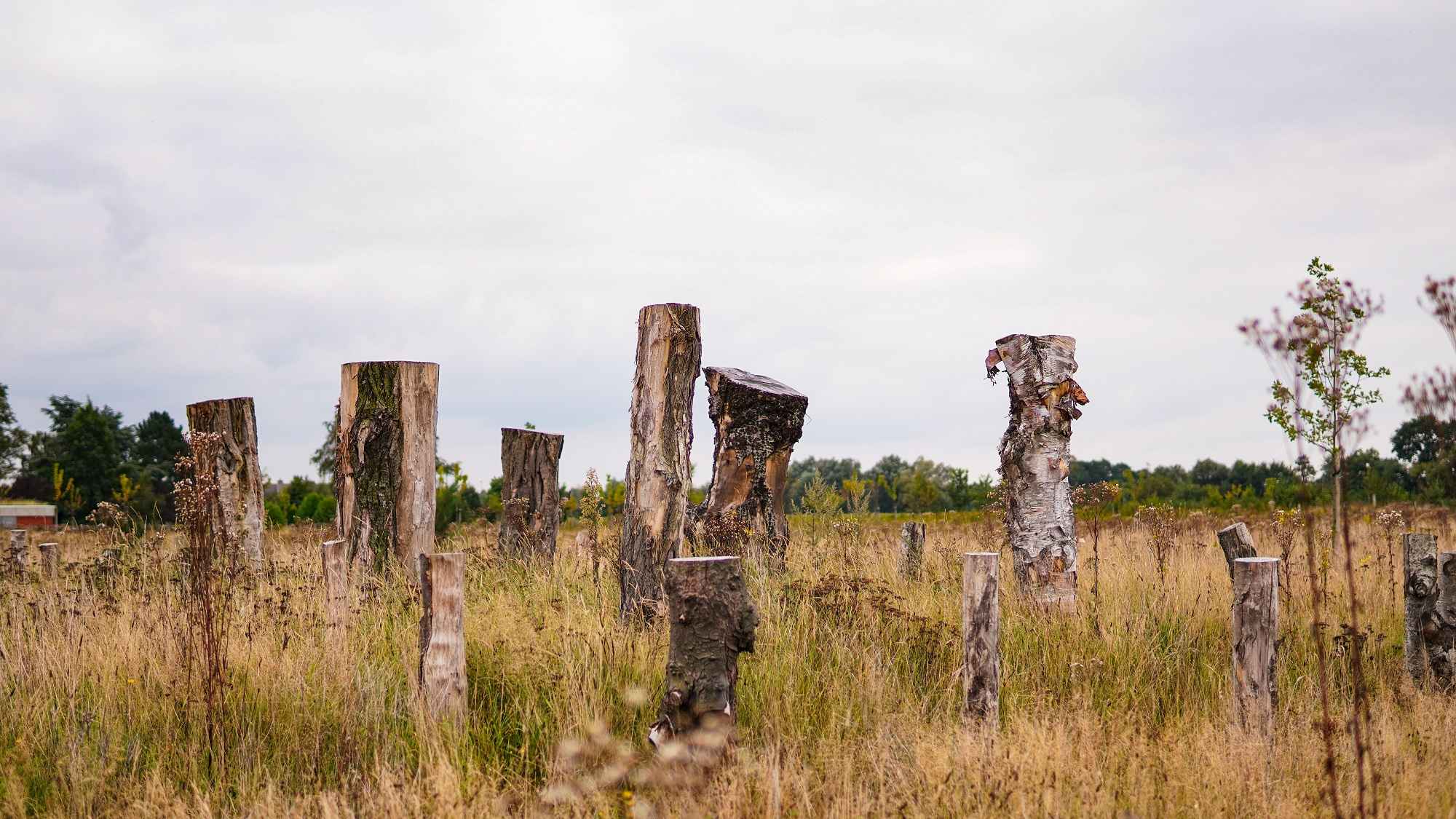 Bronze age burial mound in the cemetery, Source: City of Ghent
Evergreens are usually planted so a cemetery can seem frozen in time, with the season barely noticeable. Here, though, the passage of time is somewhat built into the concept, so seasons will be clearly noticeable.
Reconnecting with the Bronze Age
Archaeologists have also discovered a Bronze age burial mound and have marked its contours with wooden posts and a moat. And, more importantly, people can bury urns on the ancient burial mound, creating a link between the distant past and the present.
Filip Watteeuw, Alderman of City Archaeology, was quoted in a press release, saying: "The City conducts archaeological research on all new developments. This also happened in connection with this new natural cemetery. The research has yielded a lot. It is great that the archaeological finds are incorporated in the new cemetery and given a new function."
Belgium / Development
And it will also advise you on the right way to do this
Ireland / Growing City
Despite the good news, preliminary data from the national census reveals a dire shortage in the housing market that will not go away anytime soon
France / Development / Public Spaces
The innovative project received funding from the participatory budget in Lille, France
Croatia / Digital transformation
The town of Makarska has recently launched a new mobile service, aiming to cut down on paper use and stimulate citizens to go contactless
Finland / Vantaa / Green City / Innovation and Research
The invention promises to be revolutionary as it can decouple food production from agriculture and its environmental impacts
Spain / Innovation and Research / Mobility
Commercial unmanned aerial vehicles will far outnumber their crewed counterparts by the end of the decade and solutions are urgently needed
Italy / Turin / Public Spaces / Social City
The property, together with others that have been confiscated, will be converted for social welfare uses
Portugal / Braga / Education and Sport / Green City
The city also led awareness-raising actions to show the impressionable youths how circularity is created first-hand
Finland / Vantaa / Green City / Innovation and Research
The invention promises to be revolutionary as it can decouple food production from agriculture and its environmental impacts
Italy / Turin / Public Spaces / Social City
The property, together with others that have been confiscated, will be converted for social welfare uses
Portugal / Braga / Education and Sport / Green City
The city also led awareness-raising actions to show the impressionable youths how circularity is created first-hand
Spain / Barcelona / Social City
This is just one of many measures that the municipal authorities have taken to tackle this social ailment
New European Bauhaus
These will be spread across 11 EU countries and will serve to support the EU Missions
New European Bauhaus
The European Commission has accepted to develop the idea
Portugal / Matosinhos / Interviews / New European Bauhaus
An interview about AYR, one of the 2021 New European Bauhaus Prize winners

Portugal / Matosinhos / Interviews
A conversation with the Mayor of Matosinhos, Portugal's first UN Resilience Hub

Interviews
An interview with Nigel Jollands and Sue Goeransson from the European Bank for Reconstruction and Development

Greece / Athens / Interviews / Welfare and Health
An interview with the President of the City of Athens Reception & Solidarity Centre