Mayor Marek Hattas presenting the projects, Source: City of Nitra on Facebook
Four projects will transform Nitra into a greener city
The Slovak municipality will use EUR 6.7 million to renovate its parks and green areas
On 23 February, the Slovak City of Nitra announced that it has received EUR 6.7 million from the Integrated Regional Operation Programme (IROP) for four green projects. These are the restoration of the 150-year-old City Park, Nitra's Castle Hill, the inner block on Štúrova Street and the primary school complex on Škultéty.
Becoming a greener city
The renovated parks and areas will make the city more attractive and improve residents' quality of life. According to a press release, Nitra will put more than EUR 5.7 million towards the renovation of the city's most popular place, the City Park.
Undergoing the largest renovation in its 150-year history, the park will acquire more greenery, new workout equipment, a picnic meadow with barbecue areas, an observation deck, new lighting, sidewalks made of natural materials and benches. Taking this further, the municipality will also repair the existing frog fountain. Commenting on this, Mayor Marek Hattas shared:
"It is fantastic news for all inhabitants of our city. The park is probably the most popular place in Nitra, but many parts of it need repairing. I feel that the playgrounds do not meet the safety criteria, the sidewalks are in a state where they need major repairs, and some places in the park […] are waiting to be used to their full potential. We will implement all this thanks to money from the operational programme. We will take the city park in Nitra to a completely new level."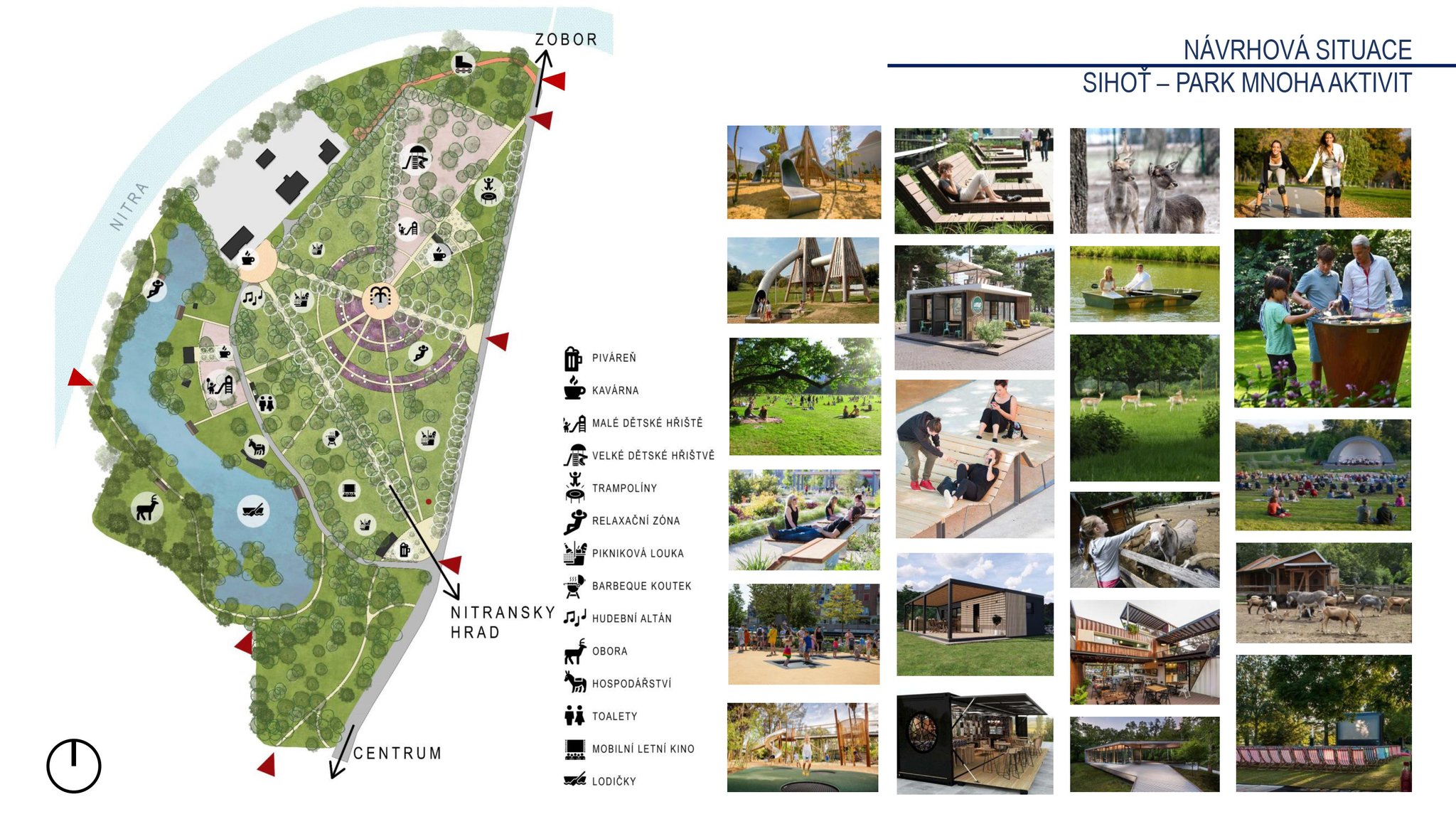 A plan of the future park (Source: City of Nistra on Facebook)
Small-scale projects with a big impact
Aside from renovating the City Park, the municipality will revitalise Castle Hill. More specifically, it will use EUR 760,000 to make it more accessible by restoring the old gate on Jesenského street. Beyond this, it will add rest areas, benches, and viewing platforms in addition to restoring sidewalks and lighting. Mayor Hattas explains that the municipality will further revitalise the greenery in the area and implement anti-erosion and water retention measures.
Approximately EUR 160,000 will then be put towards the revitalisation of Štúrova Street's courtyard, where the municipality will add a gazebo, children's playground, and more greenery. Finally, it will use around EUR 37,000 for water retention and management of rainwater at Škultéty Elementary School.
See the gallery above for illustrations of the future City Park.
Netherlands / Amsterdam / Development / Public Spaces
It involves all the five senses, apparently
Germany / Mobility / Politics and Reforms
Germany's new approach has convinced hundreds of thousands of people to start using public transport for the first time
Bulgaria / Sofia / Mobility / Politics and Reforms
Drivers will be legally required to push their scooters manually in pedestrian areas and parks
Bulgaria / Greece / Athens / Sofia / Thessaloniki / Digital transformation / Mobility
Greece and Bulgaria are set to build one of the first 5G cross-border corridors in Europe
Finland / Digital transformation / Welfare and Health
The feline registry is expected to start operating in 2026
Luxembourg / Culture and Tourism / Innovation and Research
The team presented the final report about a year, which was supposed to put the Luxembourgish city on the cultural map of Europe
Netherlands / Amsterdam / Development / Public Spaces
It involves all the five senses, apparently
France / Lyon / Public Spaces / Social City
What you pay for having your car resting in the city will now depend on several different factors
Germany / Mobility / Politics and Reforms
Germany's new approach has convinced hundreds of thousands of people to start using public transport for the first time
France / Lyon / Public Spaces / Social City
What you pay for having your car resting in the city will now depend on several different factors
Denmark / Mobility / Social City
Fredensborg Municipality is inviting residents to take the bikes for a spin…lasting up to 3 months
Culture and Tourism / Mobility
After all, sleeping carriages are basically hotels on wheels
Estonia / Tallinn / Green City / New European Bauhaus
The practical art objects are competing for one of the 2023 New European Bauhaus Prizes
New European Bauhaus
Cast your vote before 24 May and do your part in promoting the NEB values
New European Bauhaus
The new itineraries are part of the DiscoverEU programme, which lets 18-year-olds travel by train between important European sites

Interviews / Read Twice
An interview with the president of the European Federation of Journalists

Interviews
A talk with the head of Mission Zero Academy on the benefits for municipalities if they go the zero waste way

Romania / Cluj-Napoca / Digital transformation / Interviews / Politics and Reforms
A talk with Nicolae Urs, one of the key figures behind the city's new data platforms and online services strategy