Urmas Sukles, Source: Haapsalu Municipality
Haapsalu is renowned for its clean nature and curative sea mud
Interview with Urmas Sukles, Mayor of Haapsalu in Estonia
Urmas Sukles was born on 26 November 1958. From 1993 to 2002, Mr Sukles was mayor of Haapsalu. After that, he was chairman of the board of Heal Ltd., Delegatsioon Ltd. He has served as mayor of Haapsalu continuously ever since his election in 2009.
From 2013 until 2020, Mr Sukles was also a Member of the EU's Committee of the Regions, now serving as an alternate member.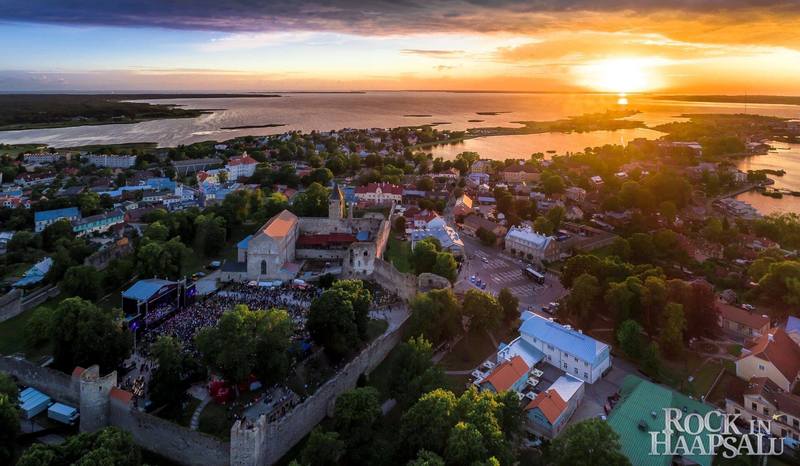 Haapsalu is the administrative centre of Lääne County. Photo by Haapsalu Municipality
Mayor Sukles, please describe Haapsalu in a few sentences. Why is it known as 'the Nordic Venice'?
Haapsalu is a town located on the western coast of Estonia with a population of 13 500. It is surrounded by the sea and its Old Town is made up of well-kept little medieval wooden houses and winding streets that seem to lead all the way into the sea. At the heart of the Old Town lies the medieval Episcopal Castle.
In 1930, German writer Rosa Kaulitz-Niedeck wrote a book called Ein nordisches al fresco about Haapsalu and it was this book that inspired Haapsalu to become known as 'the Nordic Venice'.
As a famous resort town Haapsalu attracts numerous tourists. How did the coronavirus pandemic affect the influx of tourists this year?
Due to travel limitations, Estonia has seen a considerable increase in domestic tourism. Since the three Baltic states had low infection rates, we formed the so-called 'Baltic travel bubble' with our neighbours from Latvia and Lithuania, and their citizens have also discovered that Estonia and Haapsalu are beautiful destinations worth a visit.
There was an approximate 25% drop in the number of tourists during the summer months, and it is still impossible to predict what the autumn and winter period will bring. Sea connections with Finland have resumed, however, and Finnish visitor numbers are on the increase again.
70% of the tourists come from Finland. How do you promote Haapsalu among other countries?
Finland is, indeed, the main tourism market for Estonia and Haapsalu, but we have seen an increase in tourists arriving from other European countries and Asia every year, in particular during the summer months. We promote our town at different tourism fairs and organise family trips.
Our other large neighbour is Russia whose visitor numbers are second after Finland. Haapsalu is actively promoted in Russia – we organise a yearly 'Haapsalu Day' for tourism agencies in St. Petersburg, including a seminar and a gala concert in the evenings.
The municipality organizes and conducts a number of ecologically oriented initiatives. Please tell us about the most important ones among them.
Haapsalu is renowned for its clean nature and curative sea mud. The town has a long history of mud therapy treatments – a service that our spas provide to this day.
We care about our nature and have set up a high-quality wastewater treatment system. We also aim to keep our sea water clean.
We highly value the pine forests surrounding Haapsalu. There are campaigns to raise people's awareness about collecting and sorting waste. Energy-saving solutions are used in the building and reconstruction of houses.
What are the main goals that you are planning to work on in the near future to make Haapsalu a better place to live in?
Located 100 km from the Estonian capital Tallinn, Haapsalu also counts with a good urban infrastructure. We maintain our historical heritage – we just finished renovating the Haapsalu Episcopal Castle – and we continuously build and renovate our schools. Our excellent sports facilities include a football stadium that has hosted a UEFA Under-17 Championship group games, a swimming pool, a fencing hall, a tennis hall, etc.
We keep our streets and utility networks in good order and also make good use of the European structural funds. Furthermore, we maintain our historical buildings such as the Railway Station (also home to the Estonian Railway and Communications Museum) and the Kuursaal Resort Hall. A major future project is the rebuilding of the Tallinn-Haapsalu railway.
What are your thoughts on TheMayor.EU portal as a unifying platform for Europe's municipalities, and how can it be useful to you and your citizens?
This platform is a great tool that allows observing the activities of other towns and provides useful ideas. We are strong when we are united, and this platform unites us.
To find out more about Haapsalu, visit the profile of the municipality.
Belgium / Development
And it will also advise you on the right way to do this
Ireland / Growing City
Despite the good news, preliminary data from the national census reveals a dire shortage in the housing market that will not go away anytime soon
France / Development / Public Spaces
The innovative project received funding from the participatory budget in Lille, France
Croatia / Digital transformation
The town of Makarska has recently launched a new mobile service, aiming to cut down on paper use and stimulate citizens to go contactless
Finland / Vantaa / Green City / Innovation and Research
The invention promises to be revolutionary as it can decouple food production from agriculture and its environmental impacts
Spain / Innovation and Research / Mobility
Commercial unmanned aerial vehicles will far outnumber their crewed counterparts by the end of the decade and solutions are urgently needed
Italy / Turin / Public Spaces / Social City
The property, together with others that have been confiscated, will be converted for social welfare uses
Portugal / Braga / Education and Sport / Green City
The city also led awareness-raising actions to show the impressionable youths how circularity is created first-hand
Finland / Vantaa / Green City / Innovation and Research
The invention promises to be revolutionary as it can decouple food production from agriculture and its environmental impacts
Italy / Turin / Public Spaces / Social City
The property, together with others that have been confiscated, will be converted for social welfare uses
Portugal / Braga / Education and Sport / Green City
The city also led awareness-raising actions to show the impressionable youths how circularity is created first-hand
Spain / Barcelona / Social City
This is just one of many measures that the municipal authorities have taken to tackle this social ailment
New European Bauhaus
These will be spread across 11 EU countries and will serve to support the EU Missions
New European Bauhaus
The European Commission has accepted to develop the idea
Portugal / Matosinhos / Interviews / New European Bauhaus
An interview about AYR, one of the 2021 New European Bauhaus Prize winners

Portugal / Matosinhos / Interviews
A conversation with the Mayor of Matosinhos, Portugal's first UN Resilience Hub

Interviews
An interview with Nigel Jollands and Sue Goeransson from the European Bank for Reconstruction and Development

Greece / Athens / Interviews / Welfare and Health
An interview with the President of the City of Athens Reception & Solidarity Centre